Indian mutual funds add record 3.2 crore folios in FY22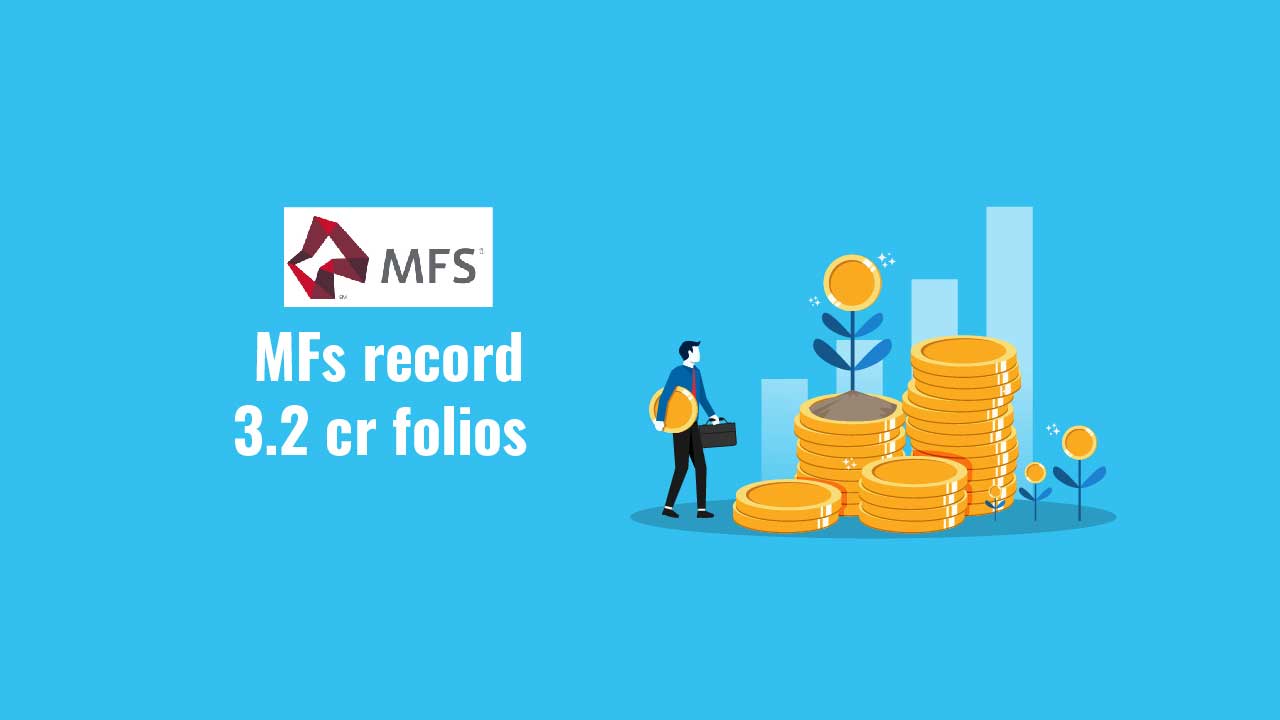 ---

One of the best gauges of retail participation in mutual funds is folio numbers. Now, folios are not unique to individual investors but only unique to AMCs. For instance, an individual investor with investments in 5 AMCs would have 5 folio numbers.
Despite that folios are a good retail gauge. For FY22, the number of folios rose from 9.78 crore folios to 12.95 crore folios, an addition of 3.17 crore folios or an accretion of 32.41% folios in one single year.

The increase of 3.17 crore folios in FY22 becomes more significant when you consider that in FY21, the number of folios added were just about 81 lakhs. That is a near four-fold increase in folio additions in one year.

This can be attributed to Increasing awareness about mutual funds, ease of transactions through digitisation and surge in equity market indices. Some even sardonically attribute to the TINA factor, but we shall not get into that space.

With a hardening of bond yields, the attractiveness of bond funds is reducing. Even from a treasury perspective, the debt funds were giving sub-inflation returns. Also, the skewed tax treatment of debt funds has been another dampener.
As of the close of March 2022, the assets under management (AUM) of equity funds has crossed the AUM of debt funds for the first time. This has been driven by robust markets and by a surge in MF folios.
 



It is estimated that out of 12.95 crore folios, nearly 10.34 crore folios pertain to individual investors. What is more important is that the number of SIP folios has gone up closer to the 5.5 crore mark.
That means, the rise in folios and the surge in interest in mutual funds are being driven by systematic investment plans (SIPs), which are more financial planning driven, better attuned to leverage rupee cost averaging and also more methodical.

If you look at the folio numbers for FY22, it actually represents a quantum and sizable jump. For instance, the total mutual fund folio accretion was 59 lakh in FY16, over 67 lakh in FY17, a healthy 1.60 crore in FY18, about 1.13 crore in FY19, nearly 73 lakh in FY20 and 81 lakh folios in FY21.
In comparison, the total mutual fund folio accretion of 3.17 crore in the latest fiscal FY22 represents a quantum jump in retail participation in the mutual fund markets.

It is really hard to pinpoint any one reason for this surge. You could point to factors like simplified KYC and onboarding, digital opening of accounts, apps to execute transactions, shift out of traditional asset classes like FDs, endowments and real estate etc.
In addition, it must be mentioned that the aggressive information and awareness campaign carried out by AMFI, "Mutual Fund Sahi Hai" campaign has also helped build investor awareness.

At the AMC level also there have been some serious initiatives. Even as AMCs are enhancing their digital capabilities, they are aggressively expanding and deepening their branch and distribution network to cover Tier-2 and Tier-3 cities.
Incidentally, a chunk of the folio accretion is actually coming in from the Tier 2 and Tier 3 cities in India. In the last couple of years, hybrids and passive funds and ETFs have also contributed to folios in a big way.

Finally, here is an interesting piece of statistics. The two largest accretion in folios did not belong to the Big-3 AMCs. The top performer in terms of folio accretion was Nippon India MF which saw mutual fund investor folios grow by 70.22 lakhs to 1.70 crore folios.
At second place was Axis Mutual Fund, which added 47.81 lakh investor accounts, taking its total tally to 1.28 crore folios. ICICI Prudential stood third in terms of folio accretion.
Start Investing in 5 mins*
Rs. 20 Flat Per Order | 0% Brokerage
About the Author
Open Free Demat Account
Account belongs to
By proceeding, you agree to the T&C.