Interview with Blue Dart Express Ltd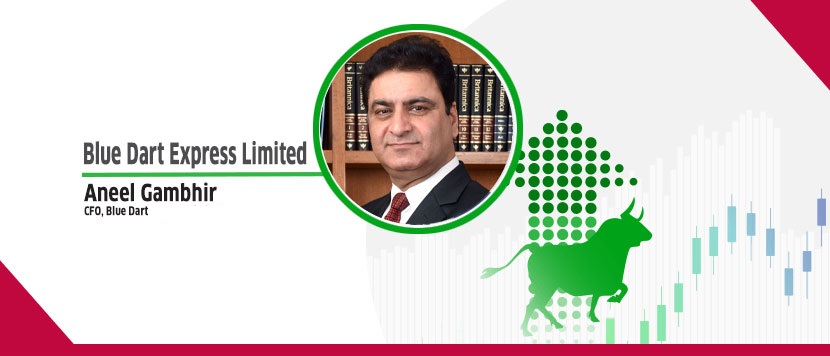 ---

We're working hard to ensure that Blue Dart helps the country achieve its goal of becoming a tech-driven major and to bring the rest of the globe at the doorsteps of every Indian citizen.
In conversation with Aneel Gambhir, CFO, Blue Dart.
What are the key growth triggers for the Indian logistics and courier services industry?
Digitization, automation, changing customer behaviour as well as benefits from governmental initiatives are key growth triggers for the Indian Express Logistics industry going forward.
As we navigate our way through multiple lockdowns and consequent unlocks, the need for the logistics sector to adopt technological solutions has never been more apparent. Working from home was only the start of what is now a technological revolution. The logistics sector is going to see organizations make leaps across the tech space and a future outlook for the industry seems to be a space where faster results can be expected without compromising on quality. Technological innovations such as real-time ordering, end-to-end inventory visibility, autonomous warehouses, and significant use of robotics will help propel the sector to levels that mirror the global standard.
At Blue Dart, we have always been market leaders with our cutting-edge technology. With the onset of the pandemic, the value of digitization became a necessity, even more so than it was prior to the event. Our IT teams were at their action stations, geared up to take on any curveballs coming their way. Blue Dart, as a part of the DPDHL Group, aligns itself with the Group's 'Strategy 2025 – Delivering Excellence in a Digital World'. In an effort to ensure supply chain continuity as well as a smooth internal process flow, Blue Dart's innovation has been on an upward growth trajectory. We pioneered the Contact Less Delivery service allowing access to over 16 digital wallets, Credit and Debit Card, Netbanking, UPI and BHIM.
Our recently launched, Blue Dart Med-Express Consortium will leverage drone technology to build robust healthcare infrastructure in remote areas. We aim to consistently build on this asset as we move forward and include lean operators that will help us ramp up and achieve high service levels at short notice. We are keen to find a balance between Artificial Intelligence and Augmented Intelligence.
Sporadic changes in customer behaviour is another trend noticed during the last two waves. The 'new normal' has witnessed a rise in revenge buying - an act of overindulging in retail therapy by individuals who have missed shopping at their favourite outlets due to the pandemic. With a prediction of the third wave, this trend too will continue, going forward. The nation has acclimatized to the 'new normal' and is leading recovery across industry verticals. Even as the vaccine against COVID-19 safeguards health and safety to a large extent, consumers continue to prefer online purchasing over in-store purchases. The integral role that logistics plays in bridging the gap between B2B, B2C, C2C and D2C customers, will continue to remain prominent, going forward as well.
Lastly, the resources provided to the industry by the Government of India, positions the sector to reach new heights. Policies like the National Logistics Policy, the National Air Cargo Policy, the planned Dedicated Freight Corridors, the new initiatives announced in the Union Budget for FY 2022, and now the Draft Drone Rules 2021, all point towards bridging the gap, bringing down cost and increasing efficiency for the logistics industry. Further, the Prime Minister has announced around Rs 100 lakh crore for the 'Gati Shakti' master plan to accelerate the development of transportation and logistics infrastructure in the country. With all these policies in place, this sector is set to become a lot more streamlined and a lot less fragmented.
What is your earnings outlook for the coming quarters?
Our most recent quarter results highlight new highs for revenue and earnings. Blue Dart posted Rs 895 million profit after tax (the previous year corresponding quarter was at Rs 414 million) for the quarter ended September 30, 2021. Revenue from operations for the quarter ended September 30, 2021, stood at Rs 11,236 million. Revenue from operations for the first half of the year 2021-22 stood at Rs 19,884 million and profit after tax at Rs1,189 million. Revenue during the quarter stood at Rs 11,236 million with a growth of 30%, over the same quarter of the previous year; sequentially quarter revenue growth is at 30%. EBITDA for the quarter is Rs 1,690 million, a growth of 46.6% over last year. EBITDA margin was also improved to 14.96% as compared to 13.31% of the previous year. Revenue for the first half of the year stood at Rs 19,884 million with 55% growth over the previous year. EBITDA at Rs 2,582 million which was negative Rs 7 million last year. The consolidated EBITDA margin for the quarter stood at 22%. Healthy top-line growth with better realization continued cost efficiency program and financial re-engineering helped the company improve its margin.
Blue Dart, together with its wholly-owned subsidiary, paid off the majority of bank borrowings during the quarter which would help the company reduce its finance cost. Recently, Blue Dart Aviation purchased one more leased aircraft in our pursuit of improving efficiency to create value for our stakeholders. With this, Blue Dart Aviation now owns three of its six 757 B-200 aircraft.
To appreciate the outstanding effort of every team member contributing to Blue Dart's success, we have proposed a token ex-gratia payment of €300 equivalent in rupees for all our colleagues, except senior management. A cost of Rs 359.50 million towards ex-gratia has been recognized in the financials of the quarter ended September 30, 2021, as an exceptional item.
Our government's unwavering focus on improving infrastructure with the construction of new roads including dedicated corridors, logistics parks, economic zones, dedicated rail corridors, waterways is expected to propel the industry further; schemes like 'Make in India' and 'Atmanirbhar Bharat' as well as the extension of the PLI scheme to various sectors, is likely to give an impetus to economic activity. The vaccination drive that is being administered extremely effectively also seeks to bring India back on its growth path.
These initiatives are expected to boost the overall economic scenario within the nation. Mirroring this, Blue Dart, with its air and ground infrastructure, passionate teams and emphasis on delivering excellence, remains cautiously optimistic for the upcoming quarters.
In early September, Blue Dart conducted drone-delivery trials for medical and emergency supplies, as a part of the government's 'Medicine from the Sky' in Vikarabad, Hyderabad. Can you shed some light on the company's future plans for drone delivery?
Blue Dart is known for its emphasis on speed, reliability, innovation, and most importantly, our customer-centricity. Each new product or service that is launched has aided us in providing individualized solutions for our customers with unparalleled service quality. This helps us remain the nation's trade facilitator, a trusted brand among customers, and a provider and investment of choice for all our stakeholders.
Our market differentiator remains our ability to remain agile by consistently updating and upgrading our services to mirror our customers' logistics requirements. Blue Dart's capabilities include an unparalleled reach to over 35,000 locations across the country. We aimed to branch out into the remotest parts of the country, leveraging the use of our drone technology, not only to increase our reach but also to build a more robust healthcare infrastructure for those living in the interiors of the nation. The Blue Dart Med-Express Consortium is a natural extension of the air express part of our service portfolio, which helps us achieve this goal.
Areas that are shadowed by heavy forest cover or situated in hilly regions such as the North East require a more robust logistics route to upgrade their healthcare accessibility. We are keen on being their Providers of Choice too and bringing the world, especially the healthcare aspect of it, to their doorstep.
Going forward, our Drone flights will be deployed through an immersive delivery model to optimize the current healthcare logistics within Telangana. We will, therefore, be happy to collaborate with other State Governments and help every single individual in our nation receive the healthcare they deserve by facilitating last-mile logistics to these regions.
Our need for consistent innovation and passion for tech-based solutions ensures that we keep all windows open for any opportunities that help us follow our credo of, 'Connecting People, Improving Lives. We're working hard to ensure that Blue Dart helps the country achieve its goal of becoming a tech-driven major at par with other developed countries. This will not only highlight India's potential but will also bring the rest of the globe to the doorsteps of every Indian citizen. We are happy to be a part of it.
How is Blue Dart investing in modernizing IT systems and integrating new technologies to improve its performance?
If the pandemic has emphasized the value of something, it has to be the value of technology and digitalization. Blue Dart has always stayed one step ahead of the curve by embracing future-ready technology and digitalization. Our tech-based solutions help us remain a market leader with speed, dependability and innovation. A focus on increasing tech and automated solutions has always been a part of our business strategy and continues to be so, going ahead.
The logistics industry is extremely customer-centric and customer experience is what sets Blue Dart apart in a very competitive environment. Ensuring a smooth and hassle-free experience for our customers is always a priority. We, therefore, went over every touchpoint and reconfigured anything that could pose a potential challenge for us in the future.
Application programming interface (API) based solutions for our customers have been enhanced for exchanging manifests at detailed levels to ensure an automated and seamless supply chain, from pre-pick up till post-delivery (inclusive of collections).

To provide a superior experience, we use technology-enabled mobility solutions for administering specialised pickups of product returns, which also include quality control checks, product image verification and close coordination for timely pickups.

For real-time tracking of shipments, options are made available using the Application Programming Interface, the Website, Customer Dashboards and Mobile Solutions.

The Control Tower and Network Modules work in tandem to form the Digital Twin of the supply chain providing real-time visibility of the operations. This helps in ensuring minimal exceptions and smoother operations.

Our core values include a 'Right First Time' principle, wherein we strive to remain error-free and bring great value to our service quality offerings. We, therefore, strengthened our offerings such as customised solutions built for our top customers to manage Tamper-proof Packaging checking and secure delivery to the specific recipient with OTP confirmation.

A 360° view of the customer helps the sales teams focus on the needs of the customer and also work with them to develop solutions to support them, grow their business and solve their logistics challenges.

A personalised tracking tool for recipient shipments has been enabled on a unique URL link, which allows tracking, plotting delivery landmarks, visual display of the courier on the map as well as the option to provide NPA feedback on the service.

We pioneered the Contact Less Delivery service in the industry by allowing access to 16 digital wallets, Net Banking, Credit & Debit cards, UPI and BHIM. This allowed our customers to send and receive their shipments with us, without the fear of contagion and the concept of contact during delivery was eliminated entirely.

We launched the 'My Blue Dart' mobile application to allow our customers to book a shipment, track a shipment, and find price estimates, etc. on the go.

Our drone delivery leverages the use of future-ready technology to ensure that our reach extends into the remotest parts of the Indian Heartland and provides every individual with the robust healthcare infrastructure that they deserve.
  
Blue Dart's technology-based solutions remain one of our key pivots and a major pillar in our effort to deliver exceptional service quality. We will continue to invest in our digitized solutions not only to remain one step ahead of the curve but also to improve efficiency and overall customer experience.
Start Investing in 5 mins*
Get Benefits worth 2100* | Rs. 20 Flat Per Order | 0% Brokerage
About the Author
Open Free Demat Account
Account belongs to
By proceeding, you agree to the T&C.
Start Investing Now!
Open Free Demat Account in 5 mins
Enter Valid Mobile Number