Interview with Meghmani Finechem Ltd.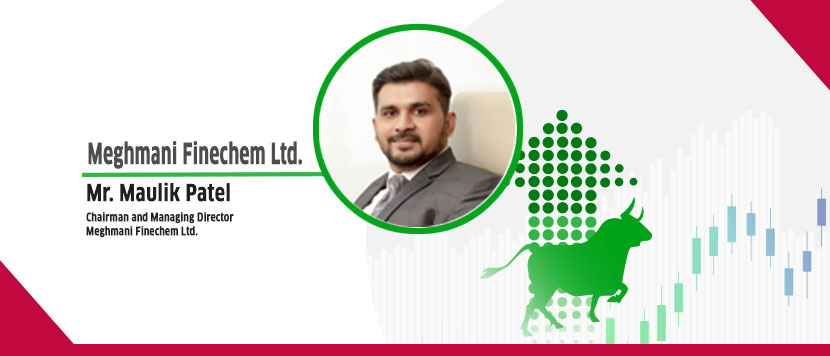 ---

Meghmani Finechem: Serving growth with strategic capacity expansion plans and products.
"We are investing more to maintain the growth and create exceptional value for our shareholders," says Maulik Patel, Chairman and Managing Director of Meghmani Finechem Ltd.
What is your outlook on the chemicals sector?
Indian chemical sector has done well in the past few years and is further expected to improve its good momentum. Even if you see during the Covid-19 pandemic, sections like necessity products, agrochemicals and pharmaceuticals were not much impacted. As the Indian economy would grow in the upcoming years, the overall chemical sector is also expected to perform well. Multiple factors are expected to support this growth. Both the domestic and export demand for all types of chemicals is expected to witness a significant jump. Much talked about China plus one strategy is going to be a key growth driver in this area. With a recent initiative like PLI schemes to boost manufacturing, the chemical sector is also expected to benefit to a great extent because of feedstock demand from those industries. So overall, we are very optimistic about the growth of the chemical sector and we are also preparing to serve that growth well with strategic capacity expansion plans and the launch of new products.
Meghmani Finechem's sales and net profit for Q1FY22 almost doubled as against Q1FY21. Which factors have contributed the most to help you outperform?
One obvious factor behind growth is the recovery from Covid-19 shock which is leading to recovery across sectors. But if I talk about Meghmani Finechem in particular, the most crucial factor behind the good growth in both the topline and bottomline is the capex we incurred last year and the improvement in realization. We have started to enjoy the fruits for which we invested last year in terms of capacity expansion of the caustic soda plant. In the second quarter of the last fiscal, we commissioned a Hydrogen Peroxide plant as well which significantly helped us improve our revenues and profits. In upcoming quarters too, we are expected to continue benefiting from the strategic investments we made in FY21. In the meantime, we are investing more to maintain this growth and create exceptional value for our shareholders.
China power shortage and the hurricane IDA strike in the US have resulted in a strained supply chain for caustic soda. How are these developments expected to help your revenues?
The Indian chemical industry faced impact due to China power shortage, as the facilities over there are not working on their full capacity and thereby entire chemical supply chain has been impacted. China has been the major supplier of all chemical products, and hence it will have an impact on global supply and price for all sorts of chemicals. Along with that, the Hurricane IDA strike in the US too had pressure on the supply of caustic soda and also drastic hike in logistic cost had an impact on the supply chain. The cost of various raw materials started moving up due to the supply issue and at the same time because of high demand globally and also in India, realization prices for various products have also moved up. In such a scenario, topline growth will be achievable for all the companies, but the challenge will be to pass on the hike in price to its customers. This can be a structural change and which might open avenues for chemical companies in India and we (India) can stand strong for the alternate hubs (other than China) for sourcing various materials. 
Can you shed some light on your capital expansion plans? What are your top strategic priorities? 
We are getting into Epichlorohydrin (ECH), CPVC Resin and increasing the capacity of Caustic Soda. Capex for the same has already started and all the projects are moving as per schedule.
We are quite optimistic about the ECH (Epichlorohydrin) production facility, as we will be the first in India to produce the same using raw material from 100% renewable resources. Demand for the same is expected to grow in double digits in the coming years. Currently, we are planning to set up a 50,000 tons per annum of ECH production facility at our existing factory in Dahej. It is expected to get commissioned in Q1FY23.
Apart from our investment in the ECH segment, we are also aligned to set up a chlorinated polyvinyl chloride (CPVC) facility with an estimated annual production capacity of 30,000 tons. Currently, 95% of India's CPVC resin demand is fulfilled by importing and also demand of the same is expected to grow at 13% CAGR in India. Once we commission our plant, we will be the largest producer of CPVC resin in India. CPVC resin plant is expected to get commission in Q2FY23.
Also, we are expanding our caustic soda capacity from 2,94,000 TPA to 4,00,000 TPA. We will be benefited from it as the demand for caustic soda and realization of it has surged since last six months and it is expected to continue with the same momentum.
These investments will strengthen our fully integrated complex as part of raw material for ECH and CPVC will be coming from the plant itself. It is in line with the overall growth trajectory of the company of reaching Rs 2000 crore as topline by FY2024 from Rs 831 crore in FY2021.
What are your growth drivers? 
The company's current growth driver is its product portfolio: Chlor-alkali, Chloromethanes and Hydrogen Peroxide. The demand for all these products is expected to surge in coming years and hence there will be growth led by these segments. Also, FY22 will be the year when our Hydrogen Peroxide plant will be utilized for an entire year.
Medium-term growth drivers are the new product segments we are entering, i.e. Epichlorohydrin and CPVC resin, and additional capacity expansion in Chlor-alkali production. The demand for ECH and CPVC that are currently imported in India is expected to grow at a CAGR of double-digit owing to which there is vast scope in these two products. Full utilization of existing capacity and new capacity additions will lead to further growth.
For long-term growth, the management is strategizing to get into more speciality chemicals, in which we will be the first in India to produce and it will be intermediate for the Pharmaceutical and Agrochemical industry. It will improve our margins and be based on our core strengths (fully forward and backward integrated plant) hence further improving our efficiency.
Start Investing in 5 mins*
Rs. 20 Flat Per Order | 0% Brokerage
About the Author
Open Free Demat Account
Account belongs to
By proceeding, you agree to the T&C.