Sectors bought and sectors sold by FIIs in March 2023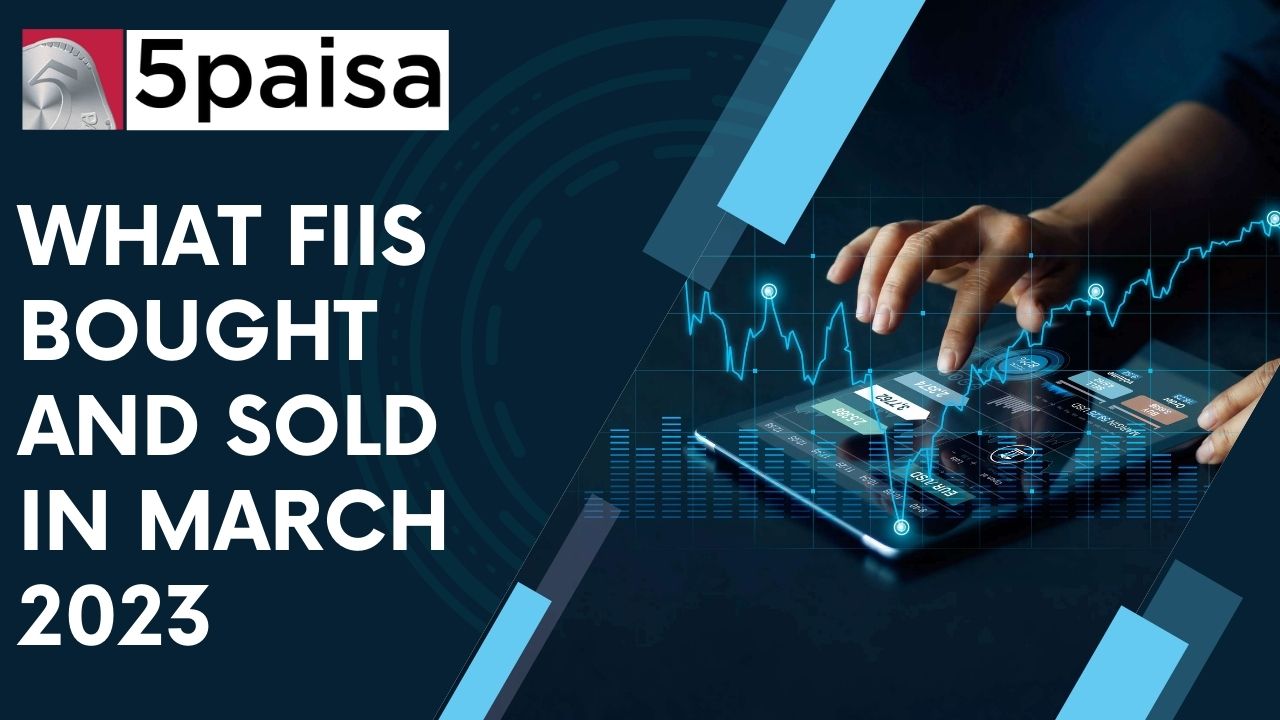 ---

The calendar year 2023 has started off on a cautious note as far as FPI flows are concerned. January 2023 was a sort of shocker with FPI selling of $3.54 billion, although the selling tapered to a more manageable $639 million in February 2023. After seeing net FPI selling of $4.21 billion, FPI action turned around in March. For the month of March 2023, the FPIs were net buyers to the tune of $966 billion. However, there is a twist to the tale. There was an inflow of $1.90 billion on a single day in early March 2023 when GQG Investments (run by Rajiv Jain) infused the tranche of funds into Adani group companies. Actually, if that deal is excluded, FPIs would have been net sellers in March 2023 too. We will not get into that.
Why are FPIs selling so aggressively in 2023?
The table captures the net FPI flows across IPOs, secondary markets, debt, and hybrids along with an overall picture.
Calendar

Month

FPI Flows Secondary

FPI Flows Primary

FPI Flows Equity

FPI Flows Debt/Hybrid

Overall FPI Flows

Full Year 2022

(146,048.38)

24,608.94

(121,439.44)

(11,375.78)

(132,815.22)

January 2023

(29,043.32)

191.30

(28,852.02)

2,308.27

(26,543.75)

February 2023

(5,583.16)

288.85

(5,294.31)

1,155.19

(4,139.12)

March 2023

7,109.65

825.98

7,935.63

(2,036.42)

5,899.21

Total for 2023

(27,516.83)

1,306.13

(26,210.70)

1,427.04

(24,783.66)
Data Source: NSDL (all figures are Rupees in crore). Negative figures in brackets
Why has there bene persistent selling by FPIs? It is partly to do with macros and partly to do with micros. At a macro level, FPIs are concerned about the global hawkishness of the Fed, possibility of an economic recession in the developed world, an evolving banking crisis and supply chain bottlenecks. At a micro level, FPIs are concerned over rising interest rates in India, the impact on solvency and weak rural demand. All these factors have led to aggressive selling in equities and debt in the last 5 quarters.
Sectoral preferences of the foreign investors
Here is a quick look at the sectors where FPIs were net buyers and the sectors were FPIs were net sellers in March 2023. The left side shows the positive flows and the right side shows the negative flows or the outflows on a net basis. We have just look at the top 6 flow sectors on the positive side and the negative side.
Where FPI money flowed in

Where FPI money flowed out

Sector

Amount ($ million)

Sector

Amount ($ million)

Services

+879

Information Technology

-839

Power

+390

Oil and Gas

-829

Metals & Mining

+357

Healthcare

-192

Automobiles

+327

Financial Services

-69

Capital Goods

+305

Telecommunications

-56

Construction

+270

Textiles

-41
Data Source: NSDL
Actually, if you scratch the surface, the overall picture looks slightly skewed since the positive flows are largely driven by the GQG Investment in Adani group while the negative side is driven by genuine selling in two sectors. Let us look at that in greater detail.
Sectors where FPIs were heavy buyers and sellers in March 2023
Let us first focus on the sectors where the FPIs were aggressively buying in March 2023.
The FPI buying was largely driven by two sectors in March 2023. There was an inflow of $879 million in the Services sector followed by power sector inflows at $390 million. What was the trigger for both these flows? Incidentally, both were GQG driven.
 

GQG Investments had infused nearly $1.9 billion into Adani Enterprises and other power companies of Adani group like Adani Green, Adani Transmission etc. The Adani story literally accounted for most of the FPI inflows in March 2023.
 

That was not the entire story. For instance, Metals saw FPI inflows of $357 million while automobiles also saw impressive net inflows of $327 million. Metals saw some FPI interest on the back of China revival hopes, while the automobiles sector was seen by the FPIs as a play on the India story.
 

Finally, two more sectors also got good inflation in March 2023. Capital goods saw inflows of $305 million while construction saw inflows of $270 million in March 2023. This was largely on the back of a revival in the capital cycle and a recent boost to housing. Infrastructure boost has been another trigger for construction sector flows.
Let us now turn to the sectors where FPIs were aggressively selling in March 2023.
Unlike the FPI buying which was driven by the GQG Investment, the FPI selling was driven more by pragmatic issues. IT and oil were the two sectors to witness the bulk of the outflows in the month of March 2023.
 

Let us talk about IT first. The IT sector saw FPI selling of $839 million on concerns that the banking and financial sector crisis could spill over to the IT companies. After all, Indian IT companies are largely dependent on the BFSI sector for order flows. In addition, IT is also up against weak tech spending and pricing and margin pressures.
 

The second sector to face selling pressure in March 2023 was oil and gas sector which saw FPI selling of $829 million, almost at par with the IT sector. On the oil and gas front, there has been aggressive selling in Reliance, even as the PSU downstream companies have come under pressure on the back of a bounce in oil prices.
Finally, let us look at how the assets under custody (AUC) of FPIs looks like as of the close of March 2023. Now, Assets under custody (AUC) is the closing market value of all the equities held by FPIs. It is therefore a function of stock market performance and FPI flows. FPI AUC had peaked at $667 billion in October 2021 and from that point, it fell to a low of $523 billion in June 2022. As of the close of March 2023, the FPI AUC stands at $542 billion. That is still a long way off the peak.
Start Investing in 5 mins*
Rs. 20 Flat Per Order | 0% Brokerage
About the Author
Disclaimer
Investment/Trading in securities Market is subject to market risk, past performance is not a guarantee of future performance. The risk of loss in trading and investment in Securities markets including Equites and Derivatives can be substantial.India consu
Open Free Demat Account
Account belongs to
By proceeding, you agree to the T&C.