10 Investment tips from Lord Ganesha!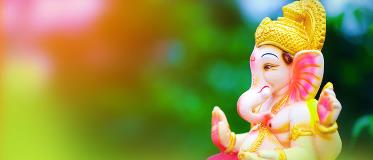 ---

The festivities of Ganesh Chaturthi begin with the installation of the idol and conclude on the 10th day with its immersion in a water body. These 10 days signify a joyous phase in your life, while the immersion reminds you that good times in life can be ephemeral.
Lord Ganesha is said to have 108 different names. Let us look at 10 such names of the 'Lord of Prosperity' to commemorate the festivities and find some interesting takeaways for investors.
Gajanana (The wisdom of an elephant)
The elephant and the whale are the only two mammals that have brains larger than humans. Wisdom, here, is the ability to distinguish between the good and the bad, which the elephant has in plenty. As an investor, your biggest challenge is to distinguish between the good news and the bad news, the good stocks and the bad stocks, and the good decisions versus the bad ones. For this, you need to imbibe the basic qualities of the Gajanana.
Mangala Murthy (The eliminator of negativity)
Negativity implies a different meaning here. As an investor, it is essential to surround yourself with positive people and positive ideas. Like a Mangala Murthy, you need to eliminate the negative people from your vicinity and also eliminate the negativity in your mind. Most of your investment decisions are conditioned by your past experiences or by your observations in real life. Don't let that negativity come in the way of making intelligent and rational investment decisions.
Ekadanta (The one with the broken tooth)
The broken tusk of Lord Ganesha has a larger significance. It represents out-of-the-box thinking. Ganesha had committed to Veda Vyasa to write down the Mahabharata non-stop; Ganesha promised the latter that when his pen would stop, he would break a part of his tusk and use that as a pen. Remember, investing is also all about flexibility and out-of-the-box thinking. You could start with certain assumptions but will, without a doubt, have to adapt and improvise along the way. Don't get too caught up in your ideas, i.e. don't be rigid. Make changes, adapt, and just move on.
Lambodara (The one with an appetite)
Ganesha's stomach signifies an appetite that can be easily digested and one can refer to this if they wish to understand about risk appetite. Many investors often tend to confuse between risk appetite and risk-taking capacity. While your risk is driven by your risk appetite, the actual risk you take should be circumscribed by your risk-taking capacity. When it comes to investing, you must always cut your coat according to your cloth. Indiscriminate risk-taking is at the root of most investing problems.
Dhumravarna (Significance of smoke)
Ganesha's vision straddles the apparent, the latent, and the ambiguous. The smoke or the haze represents the grey areas when we invest. You always make investment decisions, even when the future is uncertain. That is because of the grey areas in investing, where a clear vision, an ability to see through the clutter, as well as the ability to use data and analysis in the best manner possible come in handy.
Vidyapati (Knowledge at the core of action)
Lord Ganesha is known as the Vidyapati as he is the only one to have mastered the 18 different forms of knowledge. In terms of intellectual breadth and depth, he is unmatched. For every investor, the hunger to learn new ideas and experiment with new strategies is very important. A copycat approach can only take you so far as an investor. For real success, you need to expand your horizons and apply your own skills and in-depth knowledge.
Ganapati (Master of subtleties)
The Ganapati form is an extension of the Vidyapati. Ganapati is not just about knowledge, but also about subtleties. Remember, these subtleties are at the core of your investing. As the market gets more complex, the factors that you will need to consider before investing will also become manifold. When it comes to this, it is not just information that will help you, but insights; and these insights only come from understanding the subtleties of the financial markets.
Chintamani (Overcoming mental blocks)
Chintamani is all about the power of the mind. The mind can be a positive weapon as well as a self-destructive one. The Chintamani is all about using your mind in a positive way. This involves two stages; removing mental blocks and bringing in positive ideas. As an investor, you would have realized that not addressing your mental blocks stops you from being a successful investor. You have to first remove the blocks pertaining to mid-caps, small calls, higher growth stocks, etc., before you can apply the right ideas and strategies.
Kshipra (Not being too rigid)
Kshipra is not about flexibility in the strict sense of the term; it is more about moving on. It is about a person who does not get caught in the past and just gets on with his/her life. This is an important quality for an investor. Many investors, even the best of them, tend to hold on to past experiences too closely. Mistakes are to be learnt from, not to be brooded over. As an investor, you will make good decisions, bad decisions, and even atrocious decisions. Your job is to just learn, move on, and focus on the core task.
Lambakarna (One with an ear for listening)
Keep an ear to the ground and keep the other on the whispers in the market. If you meet a really successful investor, you will find that they listen as well as ask a lot of questions. That is their way of learning. This is why Lord Ganesha has a small mouth and large ears. As an investor, you need to always keep your eyes and ears open for new ideas. The day you put yourself in a closet, you stop being a serious investor.
Start Investing in 5 mins*
Get Benefits worth 2100* | Rs. 20 Flat Per Order | 0% Brokerage
Open Free Demat Account
& get benefits worth 2100*
Have Promo code?

Use code ACT2100
Enter Promo code
By proceeding, you agree to the T&C.
Start Investing Now!
Open Free Demat Account in 5 mins