5paisa is now trusted by over 2 million customers, and counting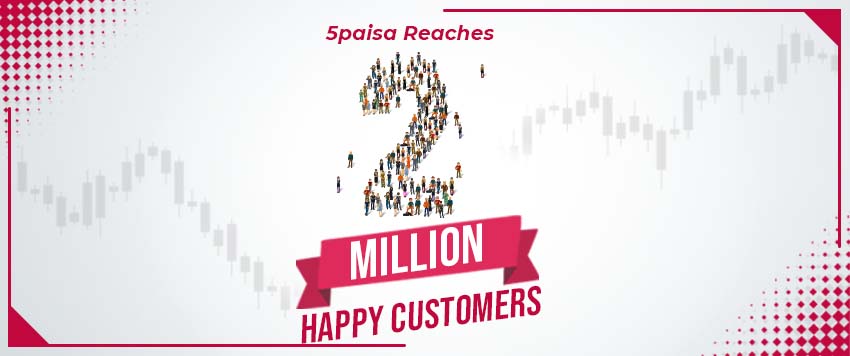 ---

In a short span of just 5 years, we, 5paisa Capital Limited (5paisa) have built a trusted, durable and sustainable bond with our customers. This fact is reflected in our pace of customer acquisition – average monthly rate of customer acquisition now stands at 1,25,000 versus 1,000 in 2016.

In fact, the quarter ending September 2021 marked our highest-ever quarterly customer acquisition at 3.4 lakh.

Today, we serve more than 2 million customers and want to extend our heartfelt gratitude to each one of them. Let us put this into perspective. Historically, traditional brokerages took at least a decade to achieve this milestone, while we have done it in a fraction of that time.

This feat provides testimony to two important facts. First, our motto of 'making investing easy and rewarding' resonates well with our customers. Second, we have successfully 'walked the talk' to imbibe this motto in everything that we do.

Needless to say, our management team has the foresight, vision and ability to not just develop but also implement winning strategies. In this write-up, we highlight some of the crucial decisions actioned by team 5paisa to achieve this important milestone. 
 
Pioneering ahead

Our ability to keep our ears close to the ground and gauge market trends swiftly; coupled with our strong execution capabilities have enabled us pioneer several concepts in the discount broking space in India.

With an aim to make the procedure for opening demat account simpler, easier and more transparent; we have been implementing several measures. That we were the first in the industry to launch these initiatives was an added bonus.

Back in 2016, the concept of Do-It-Yourself (DIY) virtually did not exist. Processes were largely in physical form and required manual interventions. At that time, we were the first brokerage to introduce complete digital opening of accounts.

Our processes were paperless, human less and did not require any physical signing or uploading of forms.

Back then, 5paisa became the first brokerage firm in India to start Aadhar-based demat account opening (one of the first broking companies to get UIDAI AUA license). We were also the first broker to introduce Electronic Delivery Instruction Slip or eDIS concept and scrap usage of Power of Attorney (PoA) for the purpose of opening a demat account.

This has now become an industry standard. From the 1st day of our operations, we opened 100% of demat accounts digitally. We were also among the first brokerages to provide robo-advisory services on mobile back then, when it was still a very nascent concept.
 
Extending investing beyond metros; guiding millennials

Our strategy of expanding the universe of investors helped us stand apart in a market where most of the incumbent large full service brokers were looking to churn existing investors. This strategy was the outcome of our in-depth market analysis which suggested that there is a vast universe of potential investors outside the big metros.

So, we enhanced our focus on acquiring customers in tier 2 and tier 3 towns of the country. Similarly, we identified millennials and DIY investors as other key target segments. Our ability to cater to them in the language of their choice acted as an important ice breaker, providing us an avenue to put a foot in the door.

We draw inspiration from the words of the father of marketing, Philip Kotler – "The best advertising is done by satisfied customers". Our efforts are focused on hyper-personalization and localization to create superior customer experiences.

As a result, favorable word-of-mouth and organic initiatives bring 65-70% of new customers to our universe every year. This metric has grown from 35-40% levels in 2018. We have achieved 100% growth in customer acquisitions, every year, for the past 4 years.
 
Delivering superior customer experience, consistently

Customer-centricity is at the heart of all our activities. It is our constant endeavor to provide easy-to-use, simple and beneficial investing platforms and solutions to our customers. Our app is rated highly on all these parameters and was downloaded by 10 million+ users. The overall rating of our app stands at 4.3 stars.

In 2016, 14-15% of industry's Average Daily Turnover (ADTO) was routed through mobile apps. Right from the start of our journey, we derived 75-80% ADTO from our mobile app. Currently, brokerage industry generates 35-40% of ADTO via mobile apps and we have maintained this metric between 75-80%.

Our app as well as our social media platforms (including our YouTube vides) are available in several Indian languages (8, including English), reaching a larger set of users. Every day users use 1 of the 7 regional languages.

Our app acts as a single-point investment destination for users. In addition to stocks, users can invest in mutual funds, buy insurance/gold, invest in US stocks and also avail loans through a single app.

Fast-tracking growth through technology

Cutting-edge technology forms the backbone of our business. Technology has the potential to drive growth at relatively lower costs, enhance efficiencies and create sustainable value for all our stakeholders. Over the past three years, technology has enabled us to do more with the same number of people.

We continue to build our technology capabilities with the primary objectives of serving existing customers better and acquiring more customers. All-round improvement in business processes is the secondary objective behind raising our tech-quotient.

While our journey so far has been exemplary, there are miles to go before we sleep. Keep watching this space to know more about our future journey.
Also Read:-
Start Investing in 5 mins*
Rs. 20 Flat Per Order | 0% Brokerage
Open Free Demat Account
Account belongs to
By proceeding, you agree to the T&C.