Adani enters the telecom, should we ring the death bell for other players yet?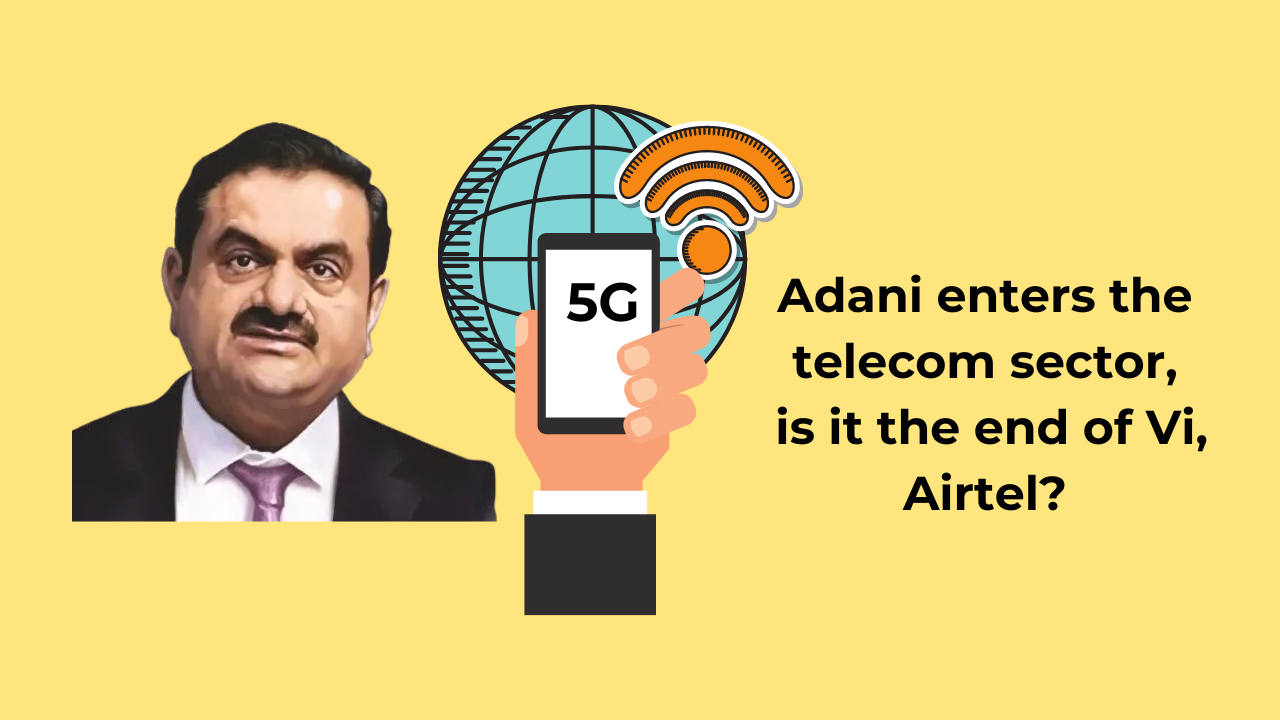 ---



Wherever Ambani goes, Adani follows. Be it petrochemicals, renewable energy, or telecom, Adani wants it all.
Recently, the Adani group announced that they will be bidding for 5G spectrum. Spectrum is basically the airwaves, through which your calls are connected.
This news sent chills across the telecom companies, that were already struggling to fight the dominance of Reliance. 
Adani's move was shocking as well as mysterious, as the company said that they don't intend to enter the consumer services space, and they only want to acquire spectrum for developing a private network at its ports, airports, and other businesses.
The question here is why does it require a private 5G network and are they really being honest with their plans?
With 5G world would be a completely new place. A place where machines will humans. Where your Alexa would automatically pay your bills, and order medicines, and groceries, based on your consumption habit.
Your AC would automatically switch on when you are just 10 minutes away from home.
5G would change a lot of things, not just for individuals but for enterprises as well, they could automate a lot of processes with 5G.
Organizations working on IoT, Machine learning, and Robotics could deploy 5g and create revolutionary products.But these operations would require uninterrupted high-frequency data and let's admit, the network provided by telecom companies is sometimes shaky and unreliable.
Adani reportedly is working on Super apps and a big data centre venture for which it requires high-frequency data with low latency.
While this is the narrative that Adani has shared, we aren't really sure if it is true because c'mon who shells out billions for high frequency data? I know Adani is one of the richest men in Asia, but still, it doesn't make sense economically.
Further, not only Adani but a lot of tech companies like TCS, and Google want to set up their own 5G networks in India. Unlike Adani, they politely requested the DoT to let them set up these networks.
The telecom companies did oppose the move, but surprisingly, DoT agreed to the request of IT companies. 
The center was so kind to them, that under its new rules, IT companies were not required to bid for the spectrum, rather they would be allocated it separately on the basis of their demand. Also, they do not have to pay any license fees to the government, unlike telcos.
Telecom companies were not happy with this decision and they felt it was wrong on part of the centre.
Why am I telling you this story?
Because it is also one reason, why we are not buying Adani's narrative. If Adani wanted to really set up private networks it would have rather bought it directly from the government just like other IT companies, rather than participating in the 5G auction.
You see, getting a spectrum license is a costly affair. For example, since FY11, Bharti Airtel has spent about $18 billion in spectrum purchases in its India business (including M&A), which is almost 50% of the company's total CAPEX in India.
According to Credit Suisse acquiring a 100 MHz block on a pan-India basis in 3.5 GHz band is likely to cost Rs 317 billion (Rs 31,700 crore) and 500 MHz in 26 GHz band is likely to cost another Rs 35 billion (Rs 3,500 crore).
It would have been more economical for the company if it went through the other route, as the government has waived off license fees for private players.
Clearly, its decision to acquire spectrum is a part of its long term strategy to enter the consumer services space.
Whether it is venturing into the consumer space or not, is a question for tomorrow. The real reason why it is willing to shell out millions right now is private enterprises.
You see there are a lot of companies, and aspiring start-ups that want their own private networks, but they don't really have the money and time to acquire licenses, spectrum, and 5g equipment but Adani has.
So, Adani can offer private network to other enterprises that are willing to set up their captive networks, but that is again going to hit the telcos as enterprises contribute 40% to their revenue.
So, what do you think, with its move to bid for 5G spectrum it is going to disrupt the telecom industry just like Reliance did in 2016, or it is going to stick by its narrative.
Start Investing in 5 mins*
Rs. 20 Flat Per Order | 0% Brokerage
Disclaimer
Investment/Trading is subject to market risk, past performance doesn't guarantee future performance. The risk of trading/investment loss in securities markets can be substantial. Also, the above report is compiled from data available on public platforms.
Open Free Demat Account
Account belongs to
By proceeding, you agree to the T&C.