Ashish Kacholia Portfolio: March 2022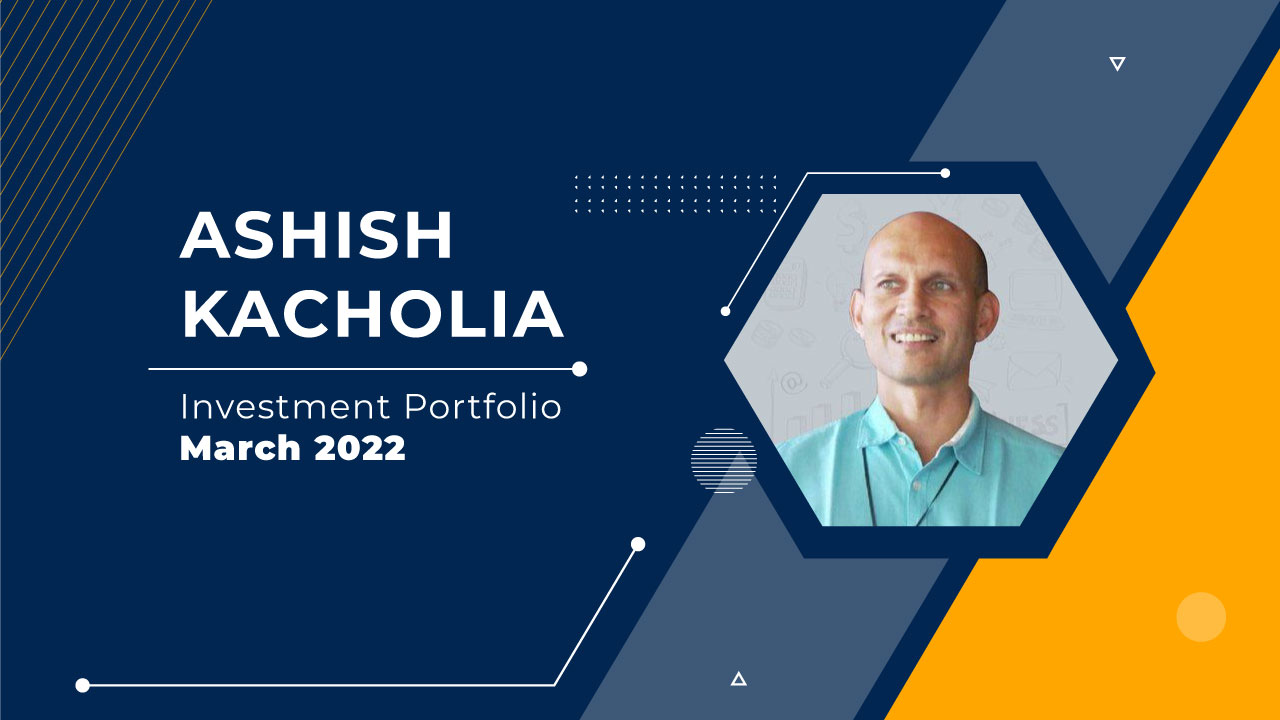 ---

Ashish Kacholia is well known and respected in the equity markets for his focused approach to value investing. His deep grasp over mid-cap and small cap stocks in India have helped him generate substantial returns over the years. He started off with Lucky Securities in 1995 but eventually went on to become one of India's ace value investors on his own account.

As of the close of March 2022, Ashish Kacholia held 35 stocks in his portfolio with a market value of Rs.1,844 crore, and such value could be very dynamic in a volatile market scenario. Here is a snapshot of his top holdings of Ashish Kacholia ranked in rupee value terms.
| | | | |
| --- | --- | --- | --- |
| Stock Name | Percentage Holding | Holding Value | Holding Movement |
| NIIT Ltd | 2.2% | Rs.172 cr | No Change |
| Mastek Ltd | 2.0% | Rs.169 cr | No Change |
| Shally Engineering Plastics | 6.5% | Rs.122 cr | No Change |
| Vaibhav Global | 1.2% | Rs.94 cr | No Change |
| HLE Glasscoat Ltd | 1.4% | Rs.89 cr | No Change |
| Ami Organics | 2.1% | Rs.88 cr | Increased in Q4 |
| Vishnu Chemicals | 4.2% | Rs.80 cr | Reduced in Q4 |
| Acrysil Ltd | 3.8% | Rs.75 cr | No Change |
| VRL Logistics | 1.4% | Rs.69 cr | No Change |
| Garware Hi Tech Films | 3.7% | Rs.62 cr | Increased in Q4 |
The top-10 stocks account for 56% of the value of the portfolio of Ashish Kacholia as of end Mar-22.

Stocks which Ashish Kacholia added in Mar-22 quarter.

Let us look at the fresh addition of stocks to his portfolio first in the Mar-22 quarter. Ashish added 4 fresh stocks to his portfolio in the Mar-22 quarter to the extent of more than 1%.
These 4 freshly added stocks include Fineotex Chemicals Ltd (+1.8%), Stove Kraft Ltd (+1.8%), Gravita India Ltd (+1.4%) and Creative Newtech Ltd (+2.8%). Most additions in the quarter have been small cap stocks, which has generally been his forte anyways.
 
Also Read: Stock holdings of top Stock Market Investors


There were also some stocks where Ashish increased his existing positions. For example, he raised his holdings in XPRO India by 70 bps from 2.9% to 3.6%; Garware Hi-Tech Films by 50 bps from 3.2% to 3.7% and Kwality Pharmaceuticals by 30 bps from 1.7% to 2.0%.
In addition, Ashish also increased 0.2% stake in Bharat Bijlee, 0.2% in Yasho Industries, 0.1% in Ami Organics and 0.1% in United Drilling Tools during the Mar-22 quarter.

What stocks did Ashish Kacholia downsize in his portfolio?

In the Mar-22 quarter, there were several stocks in which he cut down his stake. For example, his stake in Vishnu Chemicals Ltd was cut by 60 bps from 4.8% to 4.2% and he also cut his stake in Somany Home Innovations by 30 bps from 1.6% to 1.3%. In addition, Ashish also reduced his stake in Mold-Teck Packaging and in ADF foods by about 10 basis points in the Mar-22 quarter.

There were two stocks in which the holdings of Ashish Kacholia dropped to below 1%, at which point it is not reported since the reporting limit for SEBI reporting purposes is 1% holding. His stake in Poly Medicure dropped from 1.6% to below 1% while his stake in Mahindra Logistics fell from 1.1% to below 1%. In the case of all the other stocks, his holdings remained static over the close of the previous Dec-21 quarter.

Ashish Kacholia's Portfolio Performance over 1 year and 3 years?

How did his portfolio perform as of the end of March 2022 quarter compared to the year ago period and the 3 year ago period. His portfolio currently stands at Rs.1,844 crore while a year back the portfolio value stood at Rs.1,292 crore.
That is an appreciation of 42.7% for Ashish Kacholia on his portfolio in the last 1 year. However, you cannot deem all these as returns as a good chunk would also have come from fresh investments and fresh infusions.

Let us turn to a 3-year perspective. The value of his portfolio was Rs.638 crore in Mar-2019 and from there it has appreciated to Rs.1,844 crore in 3 years as of Mar-2022. In terms of compounded annual growth rate, the annualized returns stand at 42.44%, which is impressive and better than his 3 year CAGR return at the end of Dec-21 quarter.
However, the caveat remains that this is not pure returns but could also include the impact of fresh fund infusion into his portfolio.
Start Investing in 5 mins*
Rs. 20 Flat Per Order | 0% Brokerage
Open Free Demat Account
Account belongs to
By proceeding, you agree to the T&C.