Best 5G Stocks To Buy in 2023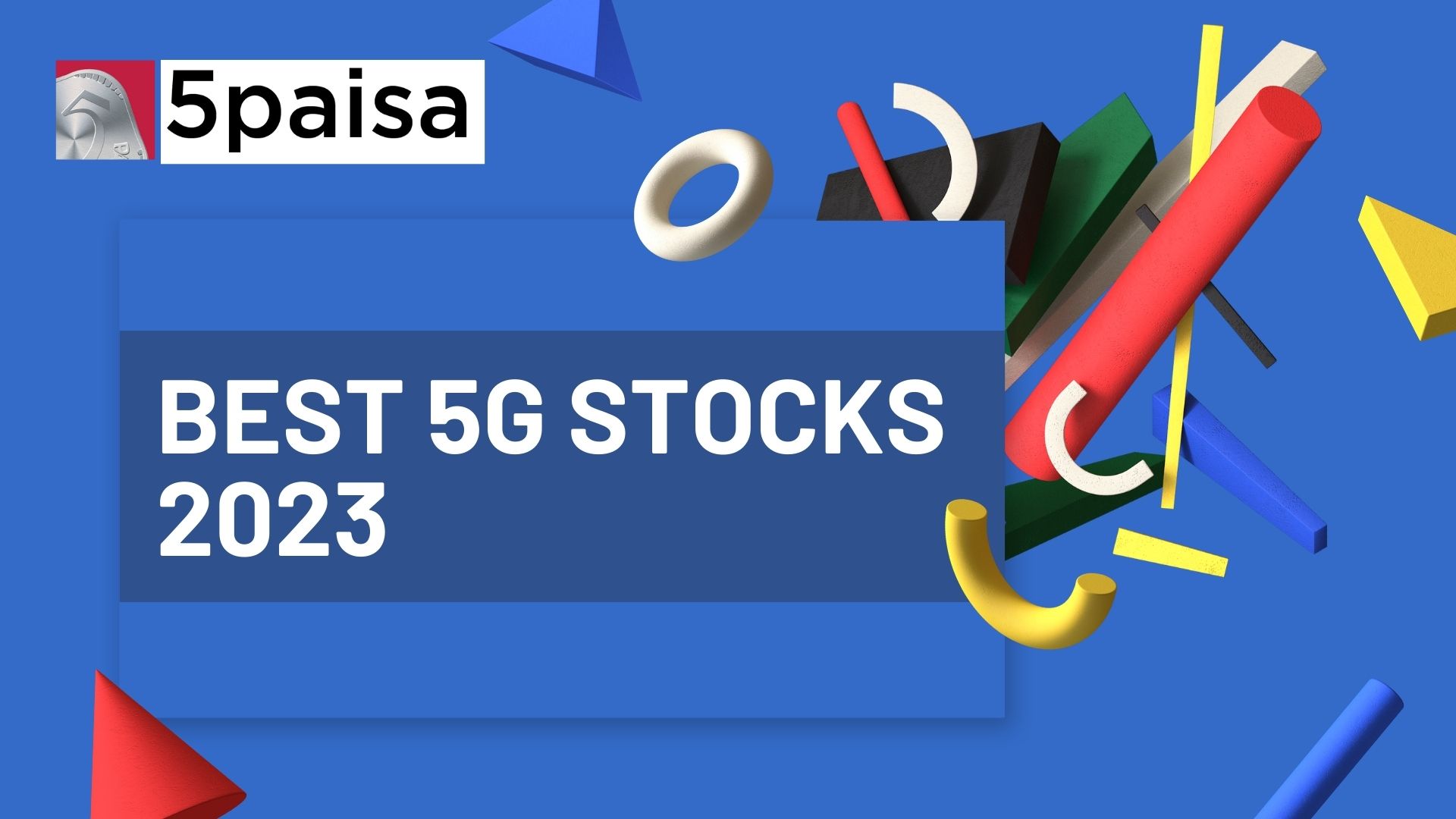 ---

Did you know that in 2022, 5G services from companies like Verizon and T-Mobile gained about 3.17 million subscribers? Moreover, Omedia also predicted that by the year 2026, about 40% of all mobile subscriptions are expected to be 5G. All this talk around 5G and its upcoming fame really intrigues an investor's mind into figuring out the best way to invest money in future technologies and innovations such as these. The following articles make it easy by dialing down the hottest 5G stocks to buy in the market in 2023 that investors must look forward to. Read on to learn more.
Best 5G stocks to invest in India 
For readers new to the scene, 5G is the new age of mobile networks that aims for people worldwide to be able to connect computers and gadgets in a wireless system. Not only is it faster than the 4G network, but it also has machine learning as well as artificial intelligence incorporated into its management. It is, therefore, undoubtedly attracting a huge investor base in the country.
Given below is a list of the best 5G stocks to buy in India in 2023:
Jio practically revolutionized the telecom service-providing industry in India back in 2016 by providing 4G services to the Indian public by providing it at a 95% decrease in price than its competitors. In the financial year 2021, reliance earned a total of INR 4,66,924 cr, of which around INR 90,287 cr came from the JIO sector. Hence, Reliance is one of the leading options in terms of 5G stocks.
In the past five years, Airtel has upheld an average operating margin of about 34.72%. Moreover, the company's average revenue per user (ARPU), may return a 6% increase, which is to say the company is currently in profit. Therefore, now is a safe time to invest in Bharti Airtel 5G stocks, not only is the company one of the most trusted brands in the country, it is also one of the most consumed TSP in the market.
The Vi or the Vodafone Idea is the amalgamation of the two multistarrer corporations
 They came together to bring about new milestones in the field of 5G. The company also introduced several technologies such as Massive MIMO, Cloudification of Cor, and DSR. Moreover, Vi's main network partners are Nokia and Ericsson. Vi has launched 5G experiments in two major Indian cities.
MTNL is essentially the third largest Internet Service Provider (ISP) of India. MTNL will hold 5G trials as allotted by DOT, moreover, the company's shares returned 124% in the last year. In the financial year 2022, MTNL's recorded revenue was over INT 1,149 billion. BSNL is the parent company of MTNL and is a wise investment option in terms of 5G stocks.
 
Telecommunication equipment 
Given below is the list of companies that have the best investment opportunities in 5G telecom equipment:
Himachal Futuristic Communications Ltd or HFCL is a telecommunications company that is building a set of 5G products that range from transport equipment to radio access network RAN. The company aims to gain the 1 trillion INR 5G market opportunity. In the financial year of 2022, HFCL gains INR 4,727 cr in revenue.
Sterlite Technologies Limited is a multinational corporation that essentially specializes in cables, optical fibers, network software, and design. The company aims to build a strong 5G infrastructure for India in order to gain a wireless and virtual deployment method. In the financial year 2021, the company gained a revenue of INR 5,754 cr.
Tejas Network is owned by TATA group owning 43.35% of the telecom equipment providing company. It specializes in data networking products and broadband. The company has 5G equipment that are officially patented and also possesses a contract with Airtel for Optical Network Expansion. In the financial year 2022, the company earned a total revenue of INR 551 cr.
ITI is a government-owned telecom equipment provider in India. The company aims on investing in high-end technologies that include 5G-powered gadgets and other rollout tests. The company has, in the present day and age, provided 50% of India's national telecom network. In the financial year 2022, ITI earned a total revenue of INR 1,861 cr.
Best 5G real estate investments 
One of the crucial requirements of 5G is the need for real estate, as towers are needed in order to send 5G signals. Therefore, REIT or real estate investment funds are a great investment option for income generation when it comes to the 5G space. Given below are some of the top players in the field:
●    American Tower
American Tower is the world's top real estate company in the tech space. The company holds over 221k properties around the world. The company specializes in the location of buildings and towers which is extremely crucial when it comes to mobile and internet network structure. It is an apt example as to how real estate investment in 5G space can help gain capital. 
●    Digital Realty Trust
The clients of Digital Realty Trust include the previously discussed telecom companies that build equipment for 5G networks. The company acquires data centers and other computing units that are necessary in the cloud computing industry. 
●    Crown Castle
Crown Castle is one of North America's leading property managers of communications infrastructure. The company manages over 40k towers and million of thousands of fibers that are required for 5G deployment. It is a fast-growing company that is experiencing a bloom thanks to the increasing demand in 5G technologies.
The aforementioned companies are a wise option for investors as these companies prove to become more and more fruitful in recent and upcoming years with the growing demand in 5G. Moreover, REITs have seen a significant increase in share prices in the last decade.
Conclusion 
Finally the growing need and requirement for 5G and 5 G-powered technologies are on the rise. Seeing this, the world of tech and telecom are subsequently expanding their resources in order to keep up with the increasingly wireless and virtual world we are entering. Evidently, 5G investments are on the rise and are a wise investment option for the investors as it has proved to be fruitful and will grow in value in the future seeing the trajectory of the tech world.
FAQ's
1.    When should you invest in 5G stocks?
The best time to invest in 5G stocks would be when high-profile companies start trading with high-value options. Since the 5G space brings in never-seen-before automation, investors should definitely seek this opportunity.
2.    Where can I find a list of 5G stocks?
Investors can find a list of 5G stocks in the aforementioned article. The top stocks in the market, presently being: JIO, Airtel, Vodafone-Idea, MTNL etc.
3.    What kind of dividend yields do 5G stocks offer?
When it comes to 5G stocks, investors cannot expect a uniform or fixed dividend yield. Various companies in this field adopt various types of dividend policies, hence, there is no consistency.
4.    What factors should I consider before investing in 5G stocks in India?
Some of the factors that affect 5G stocks and investors need to consider are:
Cybersecurity issues, aviation may interfere, duration of time in order to fully establish the 5G network, etc.
5.    What are the growth prospects of 5G technology in India?
It is estimated that by the year 2025-40, India is expected to experience a GDP of $150 billion because of the 5G sources. Moreover, 5G services will help India achieve the &5 trillion economy by the year 2024-25. 
 
Start Investing in 5 mins*
Rs. 20 Flat Per Order | 0% Brokerage
Disclaimer
Investment/Trading in securities Market is subject to market risk, past performance is not a guarantee of future performance. The risk of loss in trading and investment in Securities markets including Equites and Derivatives can be substantial.
Open Free Demat Account
Account belongs to
By proceeding, you agree to the T&C.