Best Endowment Plans To Buy in 2023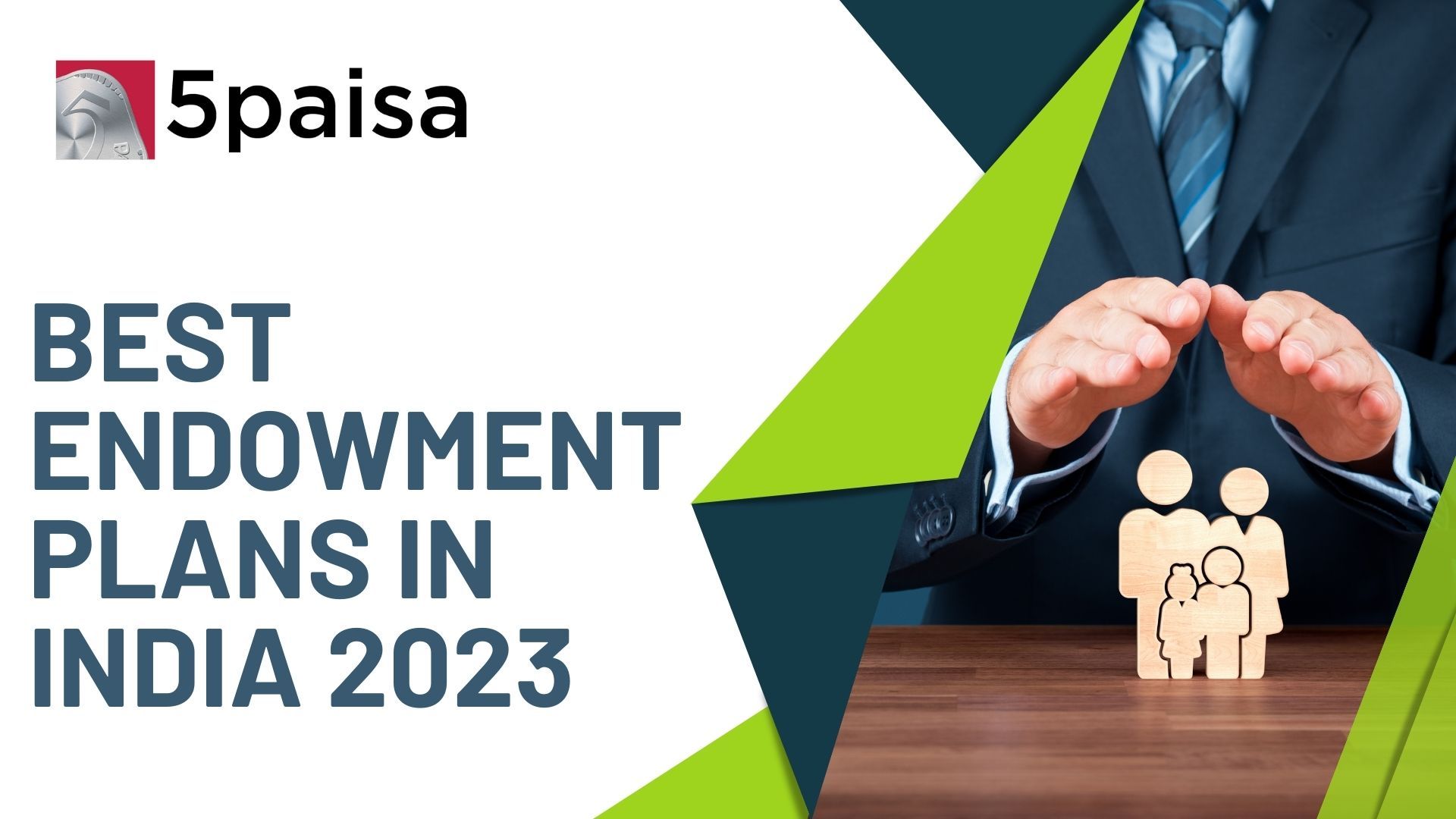 ---

Are you a shopaholic? Or in the habit of frequently purchasing things that are not always of use? After which, you find yourself in a pickle and without savings. Then, endowment plans are what you need. Read on to find out more about the endowment plans 2023. 
What is an Endowment Policy?
An Endowment policy, much like a life insurance policy, helps the policyholder in saving money over a specific and regular time period, which they can get in a lump sum amount when the policy matures. The amount received from this policy can be further used to meet various financial requirements of the policyholder or can even help in case of an emergency. Read on to find out about the best endowment plans. 
Best Endowment Insurance Policies 
Listed below are the best endowment plans in India for the year 2023: 
❖    Aviva Dhan Nirman  Endowment Policy
❖    AEGON Life Premium Endowment Policy
❖    BSLI Vision Endowment Plan
❖    Bajaj Allianz Endowment Policy
❖    Bharti AXA Life Elite Advantage Plan
❖    Exide Life Jeevan Uday Plan
❖    Future Generali Assure Plus
❖    HDFC Life Sampoorn Samriddhi Plus
❖    HDFC Life Endowment Assurance Policy
❖    ICICI Pru Savings Suraksha
Why should you buy an Endowment Policy? 
There are numerous reasons associated with the purchase of endowment plans. Some of them are: 
❖    Financial protection: An endowment plan provides financial protection for your family or dependents in the event of your untimely death. The sum assured is paid out to your nominee as a lump sum, which can help cover expenses such as mortgages, loans, education, or other financial obligations.
❖    Savings: The best endowment plans offer a savings component, which allows you to build up a corpus over time. The premiums you pay are invested in a mix of equity and debt instruments, which can provide higher returns compared to traditional savings accounts.
❖    Maturity benefit: Endowment policies have a maturity period, which means that if you survive the policy term, you will receive a lump sum amount at the end of the policy tenure. This can be useful for meeting long-term financial goals such as retirement planning or paying for your children's education.
Types of endowment life insurance plans 
Listed below are the five different types of the best endowment plans: 
❖    Guaranteed Endowment Plan
As the name suggests, in this type of endowment plan, the policyholder can reap guaranteed benefits. After the policy matures, the concerned person receives a sum assured along with loyalty benefits.  
❖    Unit Linked Endowment Plan 
      The premiums that you pay for unit-linked endowment plans are divided into two parts. The first part gets invested in different investment funds according to your preferences, and the second part gets invested in life insurance.
❖    Low-cost Endowment Plan
Under this type of endowment policy, the policyholder is allowed to build up funds that are generally paid off prior to a fixed period. This plan is most suitable for people looking to pay off their debts and secure their future.  
❖    Full/With Profit Endowment Plan
In accordance with the policy terms, the policyholder receives the sum insured. On the other hand, when the policy matures or when the insured dies, the final payout may be higher depending on whether the company declares a bonus. 
❖    Non-profit Endowment Plan
Due to the fact that they do not participate in the profits of the life insurance company, these endowment plans offer guaranteed additions instead of bonuses. Compared to other plans on the market, these produce better returns for policyholders and also make them more attractive.
Benefits of an Endowment Policy
There are numerous benefits associated with endowment plans. Read on to find out what these benefits are.
❖    Tax Benefits
Under section 10D of the income tax department, the maturity proceeds are tax-free. Further, section 80D allows policyholders to claim tax deductions on the premium paid.
❖    Liquidity
In any case of emergency, you are allowed to ask your insurance company to foreclose the endowment policy. As compared to other investment options, an endowment plan has higher liquidity. You will receive the sum and interest amount as well as bonuses by then. In terms of liquidity, it is among the most popular types of table policies available today.
❖    Rider's Advantage
Being one of the most prominent benefits of an endowment policy, a rider's advantage allows you to add numerous insurance risers that may include your health, double endowment policy or your accidental coverage. Endowment policies also offer riders that can provide additional benefits to policyholders
❖    Compounded returns
Combined with the sum assured, double endowment policies generate compound returns, resulting in hefty returns for the policyholder. Due to their status as part of the sum assured, under Section 80D of the Income Tax act, these returns are tax-free. 
❖    Protection against market volatility
Endowment plans provide protection against market volatility because the payout is guaranteed, regardless of how the underlying investments perform. This can be particularly appealing to risk-averse investors who are looking for a reliable way to save money without taking on too much risk.
❖    Safe and disciplined savings
The endowment life insurance policy is considered as risk-free, and it allows the policyholders to set aside a specific amount of premium to encourage a disciplined approach to savings.
❖    Long-term savings
Having put up an endowment insurance plan policy serves you in a number of ways. One of them is securing you for life. It allows you to have long-term savings. You can choose the policy as per your preference, ranging from 10 to 40 years. 
❖    Flexibility in receiving payouts
Under an endowment policy, as per your preference, you can choose to receive your payments monthly or yearly as per your preference. 
Features of Endowment Policies
After evaluating the benefits of an endowment policy, it is imperative that you are aware of its features. Listed below are the features that come along with the best endowment plans. 
❖    Life Coverage
It is possible for you to choose your life insurance coverage before an endowment policy. If a person passes away before the term, then the amount of the policy is provided to the deceased person's family. By choosing an endowment policy, you can factor in all the future needs of your family and make a wise decision. 
❖    Flexibility in premiums
As part of the best endowment plans for life, you are given full freedom and flexibility in terms of choosing the frequency and mode in which the payment will be made. For instance, you can pay life insurance on a quarterly or a monthly basis as per your preference. Furthermore, you can also choose a limited payment option which provides you with the means to pay the premium for a specific time period and reap the benefits in the long run. 
❖    Low Risk 
As the returns are guaranteed by an endowment policy, thus you are aware of the returns. There is minimal or no risk in an endowment policy. 
❖    Bonus
Along with the benefits provided in the endowment plans, there are certain bonuses that make this policy all the more worthwhile. These bonuses can be seen in the form of interim bonuses and yearly bonuses, among others. 
❖    Dual benefits 
The endowment policy is bestowed with dual benefits, i.e., life cover and savings. It is one of the best ways to save your regular income in small amounts. 
Who should buy an Endowment Policy? 
The purpose of buying the best endowment plan is to have a system of disciplined savings. For anyone who wants to safeguard their future and is thinking about the long run, an endowment policy is the best decision. You may wish to secure your child's education or buy a real estate property in the near future by opting for an endowment policy, you can do so efficiently. Endowment policies can be a good way to save for long-term goals such as college tuition or a down payment on a home. The policyholder pays regular premiums for a set period, and at the end of the term, they receive a lump sum payout that can be used to fund these expenses.
Furthermore, endowment policies are typically less risky than other investment options, as they offer a guaranteed payout. This can be appealing to risk-averse investors who are looking for a reliable way to save money. Moreover, individuals who are approaching retirement or even people who are not in a habit of saving can opt for this policy. Endowment policies provide life insurance coverage, which can give peace of mind to policyholders who want to ensure their loved ones are financially protected in the event of their death.
All in all, the best endowment policy can be a great option for someone who has a specific financial goal or looking to develop a smart saving habit.  
Conclusion 
Maintaining financial security is a crucial aspect of every individual's life. There is no defining age for when to start saving, but there is a definite answer - Endowment policy. However, for anyone looking to purchase this policy, it is advised to weigh the risks, determine the fees and estimate the returns to make an informed and smart decision. Although the best endowment policy offers a plethora of benefits and guaranteed returns, it is recommended to consult with a financial advisor to determine which endowment plan is best suited for your individual needs and financial situation.

FAQ
1.    Do endowment plans offer a life cover?
Yes, an endowment plan offers a life cover. This life coverage protects you and your family by offering a lump-sum amount in case of an emergency. 
2.    Does an endowment plan offer guaranteed returns?
Yes, an endowment plan provides the benefit of guaranteed returns when the policy is matured and the premiums are paid in full. The benefits of the endowment policy are what make it a good option for many people. 
3.    How is an endowment plan different from a term plan?
A term plan involves the benefit to one's family after they have passed away. It provides life coverage after the demise of the insured before the term ends. An endowment plan, on the other hand, has a dual benefit of life coverage and savings. 
4.    What are the additional bonuses associated with an endowment plan?
Along with the numerous benefits of an endowment plan, there are various additional bonuses that you can reap the benefits of. The bonuses may include a terminal bonus and a reversionary bonus, among others. 
5.    When is the right time to buy an Endowment Policy?
The right time to buy an endowment policy is as soon as you have a steady flow of income. This is necessary so that you are able to pay the premium amount and purchase the endowment plan. 
6.    What is the tenure of an Endowment Policy?
The tenure of an endowment policy is between 15 to 20 years. The minimum and maximum age during the policy maturity time is 18 and 70 years, respectively. 
7.    Can I buy an endowment plan for my child?
Yes, you can buy an endowment life insurance plan for your child. In fact, many parents opt for endowment plans as a way to save for their child's future education expenses or to provide financial security for their child in the event of their untimely demise.
8.    Does the endowment plan payout on death?
Yes, an endowment policy has a death benefit. If someone passes away during the contract term, then the family is reimbursed with the amount in a lump sum. 
9.    Are endowment plans tax-free?
The tax treatment of endowment plans varies depending on the country and the specific details of the plan. In India, for instance, endowment plans are eligible for tax benefits under Section 80C of the Income Tax Act. A policyholder may deduct the premium paid toward an endowment plan by up to INR 1.5 lakh from their taxable income. Depending on the plan terms, however, the maturity amount may be taxable.
10.    Is an endowment plan a risk-free insurance policy?
Yes, an endowment plan is a risk-free insurance policy. It comes with additional bonuses, savings, life coverage, and guaranteed returns. Thus, making it a zero-risk insurance policy. 
 
Start Investing in 5 mins*
Rs. 20 Flat Per Order | 0% Brokerage
Disclaimer
Investment/Trading in securities Market is subject to market risk, past performance is not a guarantee of future performance. The risk of loss in trading and investment in Securities markets including Equites and Derivatives can be substantial.
Open Free Demat Account
Account belongs to
By proceeding, you agree to the T&C.