Best Metaverse Stocks In India 2023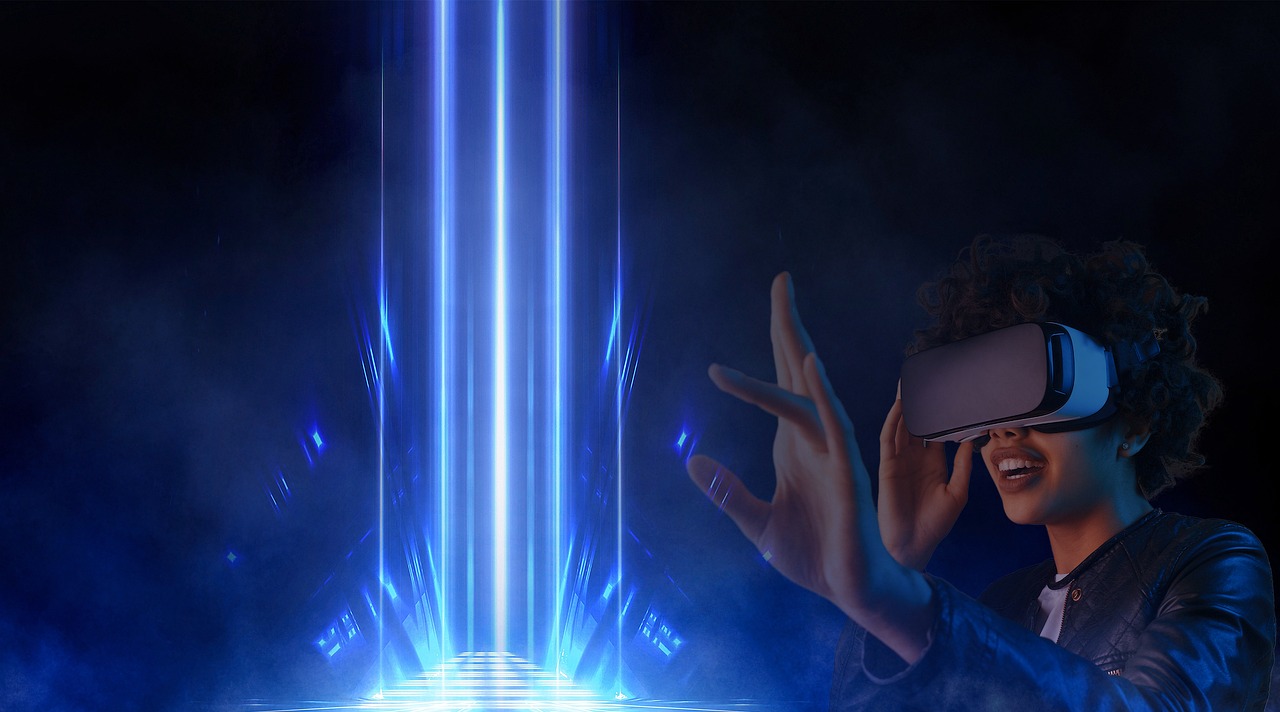 ---

A metaverse is a virtual world where people can interact with each other, participate in activities, and conduct business in a digital environment. Many companies on India and abroad are involved in in the development, implementation, and commercialization of technologies that enable the creation and operation of metaverses. Some of these companies are also listed on stock exchanges, enabling anyone to invest in them.
Metaverse stocks include companies involved in virtual reality (VR), augmented reality (AR), and other related technologies such as blockchain and cryptocurrency. These technologies are essential to the creation of immersive digital environments that can support a wide range of activities and applications.
As the concept of the metaverse continues to gain traction, there is likely to be an increase in the number of companies focused on this area and an increased demand for their stocks.
Metaverse stocks in India
There is no listed company dedicated only to metaverse. However, there are several technology companies in India that are involved in areas such as virtual reality, augmented reality, and gaming that could benefit from the growth of the metaverse industry. Here are some of these companies.
Infosys Ltd
Infosys is one of India's largest IT companies, providing services such as software development, consulting, and outsourcing. Infosys also has a strong focus on emerging technologies such as AR and VR and could benefit from the increased demand for these technologies in the metaverse industry.
The company has set up the Infosys metaverse foundry, which it claims converges the power of domain and design expertise, platforms and digital accelerators, with strong relationships in a rich creator-partner economy. The foundry allows enterprises to harness this confluence of capabilities as services on-tap, with the flexibility to ramp up and down their explorations at will, the company says.
Nazara Technologies Ltd
Nazara Technologies is a diversified gaming and sports media platform with a presence in India and across emerging and developed global markets such as Africa and North America.
The company is focusing on technology in AI and plans to scale up its operations in metaverse and other newer investment areas.
Reliance Industries Ltd
With its telecom and media subsidiaries becoming leaders in their respective markets, Reliance Industries is well poised to take advantage of metaverse popularity. Last year, RIL became the first company in India to host its earnings call on metaverse.
Reliance Industries has also invested $15 million in Two Platforms Inc, a Silicon Valley-based deeptech startup for a 25% equity stake. Two Platforms is an AR startup that builds interactive and immersive AI experiences.
Tata Elxsi
This is a technology company that provides services in areas such as industrial design, engineering, and software development. The Tata Group company has expertise in developing AR and VR solutions for various industries and could benefit from the growth of the metaverse industry.
Wipro
IT company Wipro provides services such as software development, consulting, and outsourcing. Wipro has a focus on emerging technologies and has expertise in areas such as AR and VR that could be useful in the development of metaverse solutions.
Hindustan Media Ventures
Hindustan Media Ventures has invested heavily in Wurkr, which provides virtual workspaces. Wurkr is reported to have over 88,000 subscribers and 2,400 organisations were using its product in India and the UK.
Uses of Metaverse
The metaverse has the potential to be used in a variety of ways. These include:
Gaming: The metaverse can be used as a platform for immersive and interactive gaming experiences that allow players to enter and explore virtual worlds.
Socializing: The metaverse can provide a platform for people to socialize and connect with each other in a virtual environment.
Education and Training: The metaverse can be used for education and training purposes, such as virtual classrooms, simulations, and training programs for various industries.
Virtual Events: The metaverse can be used for hosting and attending virtual events, such as concerts, conferences, and exhibitions.
Commerce: The metaverse can be used for buying and selling virtual goods and services, as well as for conducting transactions using virtual currencies.
Real Estate: The metaverse can be used for virtual real estate development and sales, including virtual office spaces and virtual storefronts.
Healthcare: The metaverse can be used for healthcare purposes, such as telemedicine and virtual consultations with healthcare professionals.
The Dark Side of Metaverse
Like any emerging technology, the metaverse also has potential risks and challenges that need to be considered, including:
Privacy and Security Risks: The metaverse could potentially expose personal data and sensitive information to hackers and other bad actors, leading to identity theft and fraud.
Addiction and Dependency: The immersive and addictive nature of the metaverse could lead to individuals spending excessive amounts of time in virtual worlds, potentially leading to social isolation, neglect of real-world responsibilities, and other negative consequences.
Social and Cultural Impacts: The metaverse could potentially reinforce and amplify existing social and cultural biases and stereotypes, potentially leading to discrimination and exclusion.
It is important to address these risks and challenges through careful consideration, regulation, and responsible development and use of metaverse technologies.
Conclusion
Metaverse could be worth $1 trillion market globally by the end of the decade, according to CB Insights' Industry Analyst Consensus. India, too, has been taking many steps in metaverse industry, including the National Strategy on Blockchain and Central Bank Digital Currency.
Currently, the Indian metaverse is mostly limited to NFT tokens and gaming industry, but it is expanding rapidly.
Frequently Asked Questions
What are metaverse cryptocurrencies?
Metaverse cryptocurrencies are specifically designed to facilitate transactions and interactions within virtual worlds and metaverse environments. These cryptocurrencies are typically built on blockchain technology and are used to buy and sell virtual goods and services, as well as to conduct transactions within virtual economies.
One example of a metaverse cryptocurrency is Decentraland's MANA token, which is used within the Decentraland virtual world to buy and sell virtual land and other assets. Another example is Enjin Coin, which is used to buy and sell gaming items and other virtual assets within various gaming platforms and virtual worlds.
Metaverse cryptocurrencies are often built on the Ethereum blockchain and use smart contracts to enable secure and transparent transactions within virtual economies. As the metaverse industry continues to grow and evolve, it is likely that more metaverse cryptocurrencies will emerge, offering new opportunities for virtual commerce and transactions.
What stocks can be bought for exposure to the metaverse?
Currently, there is no listed company in India that is dedicated only to metaverse. Investors should rather focus on investments by listed companies in metaverse startups.
Which company is best for metaverse?
As of now, there is no single company that is considered the "best" for the metaverse, as the metaverse industry is still in its early stages and is rapidly evolving. However, here are a few companies that are actively involved in the development and deployment of metaverse technologies:
Roblox Corporation: Roblox is a gaming platform that allows users to create and play games in a virtual world. The company is now expanding its offerings to include more immersive and interactive experiences, which could position it well in the metaverse market.
Decentraland: Decentraland is a decentralized virtual world that uses blockchain technology to allow users to create, experience, and monetize their own virtual environments. It has its own cryptocurrency (MANA) and is one of the most prominent metaverse projects.
Facebook (Meta): Facebook has announced its intention to focus on building the metaverse, rebranding as Meta in the process. It has also acquired several virtual reality and metaverse-related companies such as Oculus VR and BigBox VR.
Nvidia Corporation: Nvidia is a company that specializes in graphics processing units (GPUs) and other hardware that is critical for enabling high-quality virtual and augmented reality experiences.
Can you make money in the metaverse?
Yes, it is possible to make money in the metaverse. Here are a few ways:
Buying and Selling Virtual Assets: Within virtual worlds and metaverse environments, users can buy and sell virtual assets such as land, buildings, and other items using cryptocurrencies or other digital currencies.
Creating and Selling Virtual Goods: Users can create and sell virtual goods such as clothing, accessories, and other items within virtual worlds and metaverse environments.
Participating in Virtual Economies: Some virtual worlds and metaverse environments have their own virtual economies, where users can participate in various economic activities such as trading, mining, and crafting.
Monetizing Content: Users can create and sell content such as art, music, and videos within virtual worlds and metaverse environments.
Participating in Gaming Tournaments: Some virtual worlds and metaverse environments host gaming tournaments with cash prizes for the winners.
Start Investing in 5 mins*
Rs. 20 Flat Per Order | 0% Brokerage
Open Free Demat Account
Account belongs to
By proceeding, you agree to the T&C.