Can India become a Semiconductor Manufacturing hub?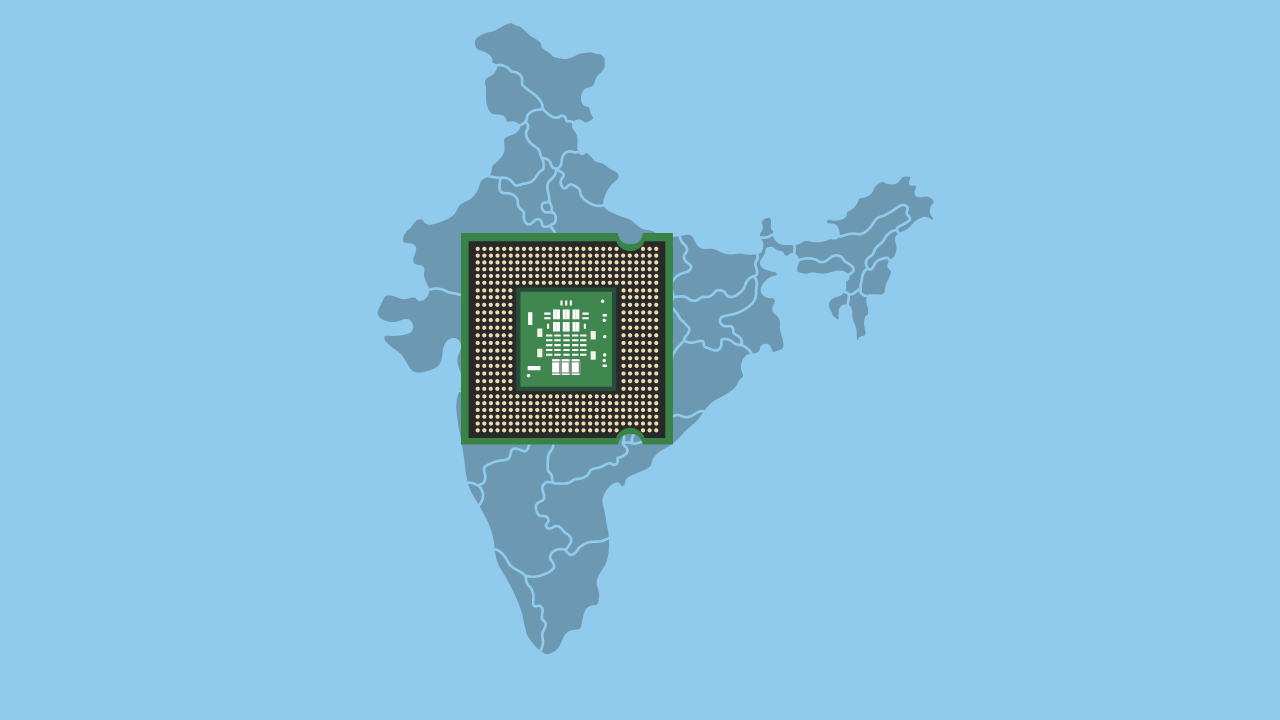 ---

Semiconductor chips have been the talk of the town since the pandemic. Those teeny tiny chips are integral to just about everything electronic: smartphones, trains, cars, washing machines.
However, they weren't noticed by the public until there was a shortage as a result of Covid lockdowns. Due to the shortage of chips, many goods were either unavailable or had become more expensive.
That's when the government of most countries realised that semiconductor production is concentrated in a few countries. 
For instance, Taiwan, accounts for 92% of the world's most advanced semiconductor manufacturing capacity, while the Netherlands is the only country that produces chip-making machines and South Korea is one of the largest chip manufacturers.
When the shelves of electronic companies and showrooms of autombile players went empty because of semiconductor chip shortages, government started taking things seriously and started investing in building semiconductor manufacturing capabilities.
For ex, currently, the US government is looking at investing "at least" $50 billion in the semiconductor sector in order to resolve the problem of semiconductor supply.
India also recently announced its 'Semi-con India Programme' with an investment of over $10 billion. This programme would provide financial support to companies investing in semiconductors, display manufacturing and design ecosystems.
Will, India become a hub for Semiconductor manufacturing?
To know that, we need to understand the industry first!
An integrated circuit (IC) or chip, also called a semiconductor, contains millions of transistors packed onto a few millimeters of silicon (the semiconductor).
Semiconductors allow electronics to function and operate, as well as make computations. That makes them vital for modern electronics.
Semiconductors are highly complex products to design and manufacture. They require high level of investment in both R&D and capital expenditure.To understand how complex the industry is, we need to understand the value chain of the semiconductor industry.
 Electronic Design Automation (EDA)  and IP : Semiconductor chips are used for different purposes. And since their end use is different, they have to designed according to the product. Before the chip is manufactured, a software creates a design of the chip. These EDAs define the performance of the chip. Consider these EDAs to be the minds behind chips.
For ex. Apple is an EDA its designs its chips, while the manufacturing of the chips is outsourced. 
Since this process requires talented engineers and huge investment in R&D, US leads the race in it. 74% of EDA and IPs are based in US.
EDA requires R&D-intensive activities—electronic design automation (EDA), core intellectual property (IP), chip design, and advanced manufacturing equipmen and since has world-class universities, an abundance of engineering talent, and a market-driven innovation ecosystem it leads the industry. 
According to a report by BCG, EDAs have to invest 40% of their Revenue in R&D. The huge investment is due to the changing requirements of customers. For example, If you are using a Macbook with M1 chip once, you would obviously want your next laptop to have a better-performing chip than M1. Due to this EDAs have to continuously invest in R&D.
It is difficult for India to make a mark in this segment as it requires a huge investment in building R&D capabilities.
Next is manufacturing.
Manufacturing semiconductors or establishing a Fabrication unit is a business only a few companies can pull off. Not just these plants require billions in investments. The process of manufacturing is complex. Manufacturing semiconductors involves fitting in nanometer size transistors into a chip. The process is quite complex.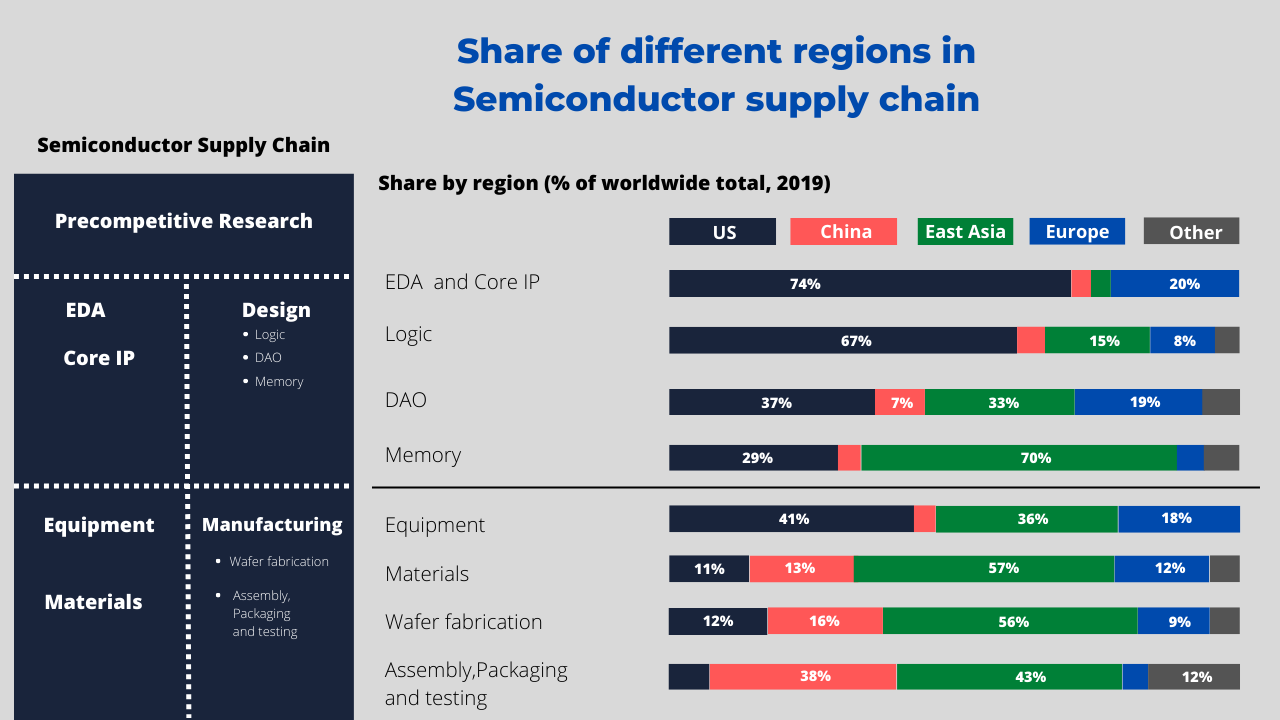 Can India become a Semiconductor Manufacturing hub?
Currently all of the world's most advanced semiconductor manufacturing capacity—in nodes below 10 nanometers—is currently concentrated in just two countries South Korea (8%) and Taiwan (92%). Not a lot of countries have been able to create a manufacturing hub. For India as well becoming a semiconductor hub is a distant dream because:

It requires highly skilled labor as the production of semiconductors as the fabrication process is intricate, involves 400- 1400 complex steps and requires highly specialized inputs like commodity chemicals, specialty chemicals as well as many different types of processing and testing equipment and tools, across a number of stages. For the process, the company requires highly skilled labor.
The production of semiconductor chips has to be done in clean areas as contaminated air particles could alter the properties of the materials that form the electronic circuits. For comparison, the ambient outdoor air in a typical urban area contains 35,000,000 particles of 0.5 micron or bigger in size for each cubic meter, while a semiconductor manufacturing cleanroom permits absolutely zero particles of that size. 
Huge capital investment: Manufacturing of semiconductor chips require huge investments. Also, since the designs of chip change quite rapidly, these companies always have to invest in acquiring newer technologies to produce the chips.  
For instance, the market leader in the industry, TSMC has announced that it will invest $100 billion in its fabrication plants over the next three years.
Chip manufacturing is a cash-hungry business, with a long break even cycle and due to that not a lot of players have survived the industry. In the last 20 years the number of cutting-edge semiconductor manufacturers has reduced from more than 25 to 3 —TSMC, Samsung, and Intel. 
The government though is incentivizing players to establish the units by providing , but a one time incentive may not be enough for them to compete against the giants. For the industry to flourish we need to have R&D capabilities, skilled manpower and of course investors with deep pockets who can bear the long cycles and huge investments.
On top of that players in the industry would require incentives in a phased manner as the investment in the semiconductor business takes a long time to break even.
Start Investing in 5 mins*
Rs. 20 Flat Per Order | 0% Brokerage
Disclaimer
Investment/Trading is subject to market risk, past performance doesn't guarantee future performance. The risk of trading/investment loss in securities markets can be substantial. Also, the above report is compiled from data available on public platforms.
Open Free Demat Account
Account belongs to
By proceeding, you agree to the T&C.