Growing Opportunities in Retail Footwear Industry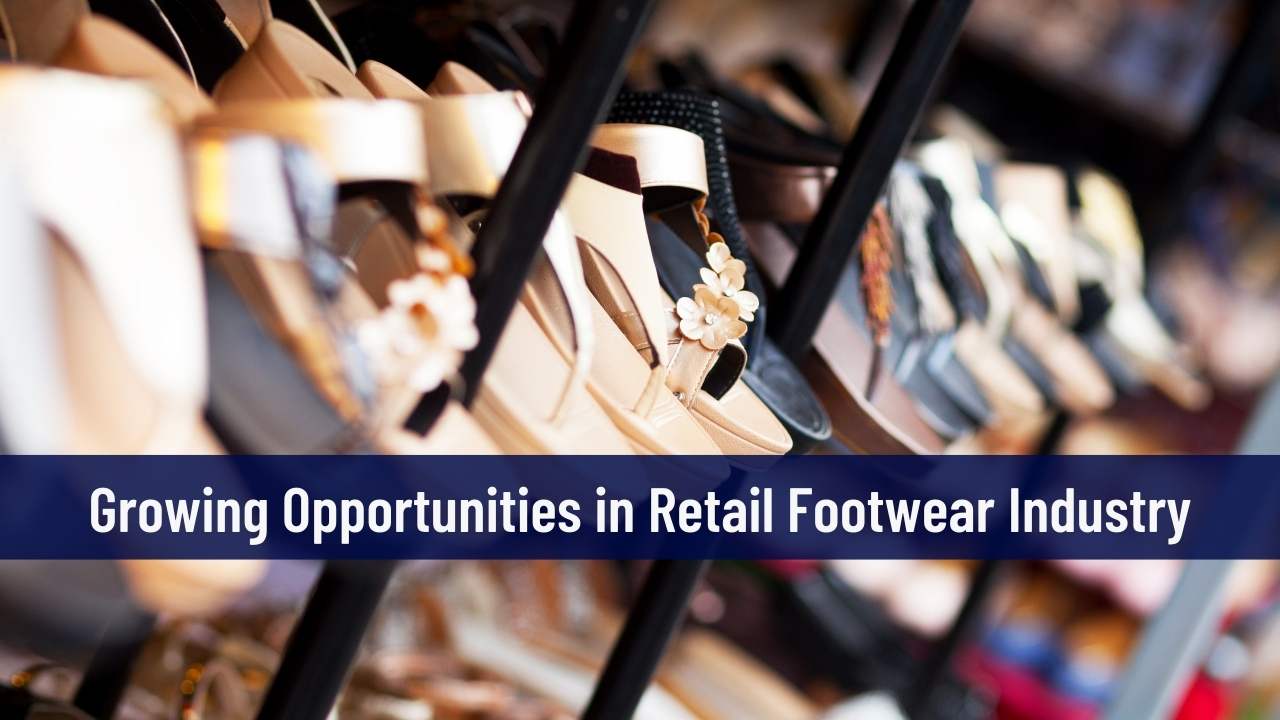 ---

The Indian footwear market grew by 8.8% CAGR to Rs. 960 billion in the last 5 years. According to CRISIL, it should experience a 15–17% CAGR in value terms in the next few years, helped by both volume and price increases. The economy's mass-market segment is giving way to one with higher prices, as well as to mid and premium-priced products.
As of FY20, organized players made up about 30% of the entire footwear industry, which translates to a market worth Rs. 294 billion. This market share is expected to rise to 36-40% by FY25E. Due to rising urbanization levels and Indian consumers' growing acceptance of brands and contemporary retail formats, organized players have expanded at a faster rate over the FY15–20 period (15% CAGR). India's logistics and supply chain network have undergone structural changes as a result of the implementation of GST in FY18.
Future growth for the Organized segment is predicted to be between 20-22 percent CAGR over the years FY22 to FY25, supported by: 
- The transformation of footwear from a utilitarian item to a fashion statement.
- Growing aspiration levels, exposure to international fashion brands, and digital penetration are boosting demand for branded Footwear.
- The development of value brands and increased exclusive brand outlets penetration in Tier II and lower towns.
- A rise in the percentage of online sales as more and more contemporary retailers use a variety of channels to connect with customers of all ages and income levels.
As of CY19, India's annual per capita consumption of footwear was just 1.9 pairs, which is extremely low when compared to its competitors and the global average of 3.2 pairs. Future growth is enabled by this, as annual consumption is anticipated to reach 2-2.1 pairs by FY25.
The Mass segment's (ASP below Rs. 500) market share in Indian footwear decreased from 62% in FY15 to 56% in FY20. The Economy (Rs. 501–1,000), Mid (Rs. 1,001–3,000), and Premium (Rs. 3,001 and above) price range segments, which have clocked over 12% CAGR over FY15–20, have benefited from this decline in market share. Large organized/branded players with their own exclusive brand outlets network primarily serve these segments.
Future trends in the Indian footwear market are predicted to favor higher average selling prices (ASP) segments, such as the Economy, Mid, and Premium price segments. The higher price point segment is anticipated to grow at a faster rate (10-11% CAGR), while the Mass segment, which holds a dominant share, may only register a 6-7% CAGR over FY20-25. This growth is being driven by rising demand for branded footwear, increased organized retail penetration, and the retail network of branded retailers.
The Indian footwear market has expanded as a result of a shift toward high-value goods and a shift in the way people view footwear from a functional item to a fashion statement. Consumer preference is gradually shifting away from mass-market Footwear categories toward premium categories, driven by brand awareness and the demand for trendy designs, which is expected to raise the average selling price for the footwear industry. According to Technopak, the availability of more designs and increased consumer awareness of fashion trends will drive the ASP of the Indian Footwear industry to rise by 5-7% annually.
With more women entering the workforce, the category of women's footwear is growing significantly. Branded players provide better options and designs. Demand for women's formal and comfort clothing has increased the share of the women's category, which should continue to outperform with a 10% CAGR over the FY15–20 period.
The Indian sales and administration market, which is still very underdeveloped, is anticipated to grow by roughly 16% CAGR over the next five years and nearly double than $ 2.6 billion in FY20. The domestic players now have a great opportunity to explore and expand in this market with fresh ideas and goods. India is currently anticipated to experience growth comparable to that of China between FY05 and FY15 (24% CAGR), when leading brands like Anta, Li-Ning, etc. gained a significant market share.
While the Casual segment dominates the Footwear category, sales and administration is growing faster and steadily gaining market share. The majority of retail categories (such as food and grocery, apparel and accessories, gadgets, etc.) are now driven in large part by consumers' growing awareness of health, fitness, and wellbeing.
The same trend is also being seen in the footwear industry, with the sales and administration Footwear market expected to double in size to Rs. 220 billion by FY25 from FY20. Consumer spending on active-wear items will rise as disposable income rises and infrastructure supporting sports and physical activity expands. As India's GDP per capita rises, it is anticipated that increased sports participation will lead to increased spending on sports.
Youth and middle-aged consumers are becoming more active by participating in sports like running, gym, tennis, cricket, badminton, football, and trekking, among others. Sports footwear has a much higher average selling price (ASP) than casual footwear, so there is significant room for growth in the sports footwear market.
Foreign sportswear brands, on the other hand, benefit from cutting-edge technology and have a strong brand value thanks to their widespread distribution and celebrity athlete endorsements. However, due to its high import duties, it only generates meager 40–45% gross margins despite its high ASPs. For domestic players, this results in a significant cost advantage.
Further, despite the high demand for sports footwear in India, 75% of the country's footwear market has prices below Rs. 1,000, making it unaffordable for the majority of people. Indian competitors now have a huge window of opportunity to capture the sports footwear market.
The emergence of the online channel has increased competition because more players can now showcase their product lines to draw customers. The increased competition has forced footwear brands to release new designs and styles more quickly in order to remain relevant.
Strategies of Different Footwear Companies:
- A small number of publicly traded companies, including BATA, Metro Brands, Campus, Relaxo, and a few others, have scaled the market and developed sound financial positions. Sportswear is where most foreign companies with a respectable scale of over Rs. 10 billion are concentrated.
- Localization of products is one of the key elements that has proven effective for a select few players. It has been able to scale up the business by being able to localize the look and feel of its brands and products, with the former being the market leader in terms of revenue market share.
- Given the high demand for footwear, there is a growing trend among players toward premiumization. Players in the footwear industry with higher average selling prices of Rs. 1000+ are doing well. METRO generates a healthy average selling price (ASP) of Rs. 1,400–1,500, while Campus and Bata's ASP is rising due to a better product mix.
- As of March 21, BATA/METRO had a substantial retail network of 1,577/629 stores. As opposed to foreign sports brands that only have a 20% scale and a retail presence in a few select metro areas and Tier I and II towns, the companies have stores in cities across all tiers. On the other hand, firms with lower average selling prices (ASP), like Relaxo and Campus, have developed a wide distribution to promote growth.
- BATA wants to increase its current 300 franchise stores to 500, while Metro wants to add 250 stores over the next three years. Campus should gradually add 125 new stores, mostly using FOFO business models.
Start Investing in 5 mins*
Rs. 20 Flat Per Order | 0% Brokerage
Disclaimer
Investment/Trading is subject to market risk, past performance doesn't guarantee future performance. The risk of trading/investment loss in securities markets can be substantial. Also, the above report is compiled from data available on public platforms.
Open Free Demat Account
Account belongs to
By proceeding, you agree to the T&C.