India doesn't have a Coal Crisis, but a payment crisis!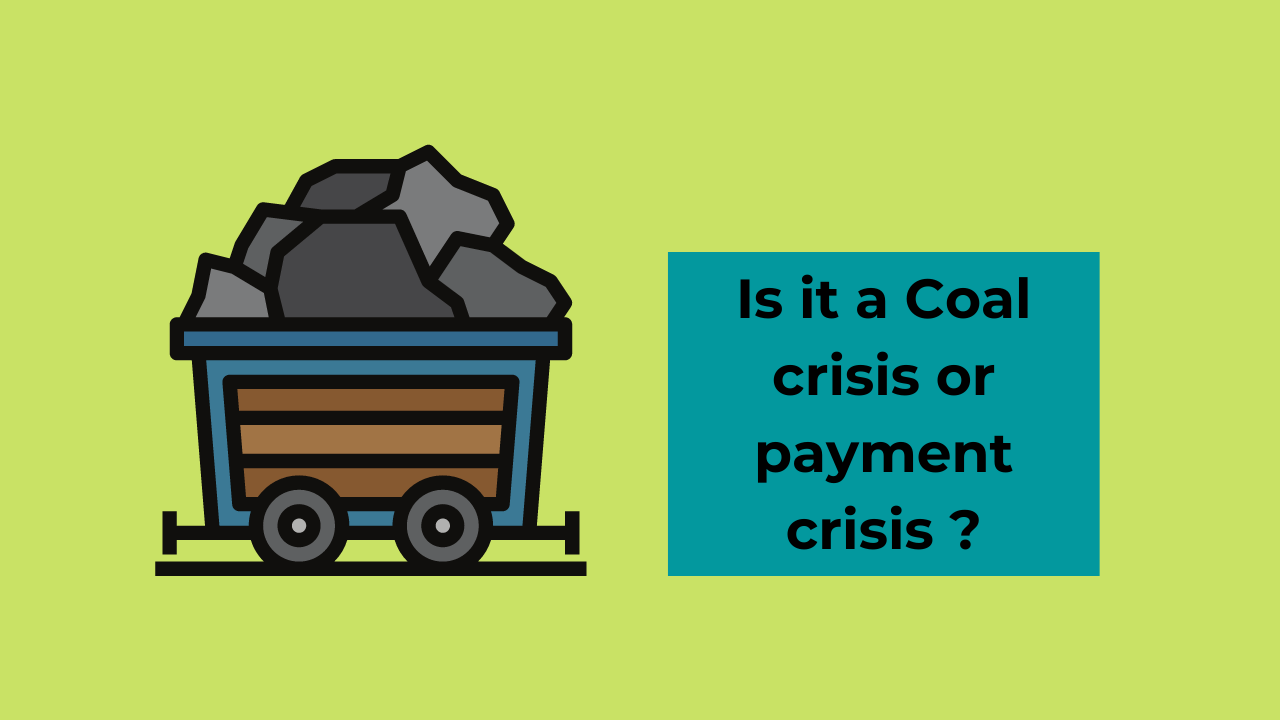 ---

Yesterday I came across a video, where a guy just made a dosa on the back of his activa's seat, and guess what, the seat was so hot, the dosa actually cooked in the heat.
Okay, I am not joking about this one. Summers this year have been super hot. With a temperature of 40 - 50 degrees in most cities in India, it indeed has been one of the hottest summers. 
And whenever the summer comes, people start turning on their AC's, Coolers and the electricity consumption shoots up. Now, suddenly just like you, most people have started the ACs and the electricity consumption shots up and there is a power cut!
What really happens is even today most of the electricity that we consume comes through Coal, yes all that green energy stuff that you read, it would still take years to implement, because you cannot rely on these renewable sources, you cannot ask the sun to shine on a windy day right? That's the reason we still rely on coal for electricity production.
Also, coal is a lot better when it comes to efficiently generating power, while electricity generation from a solar power plant is around 17-20% of installed capacity due to technological limitations. That from a coal power plant can go up to 85-87%.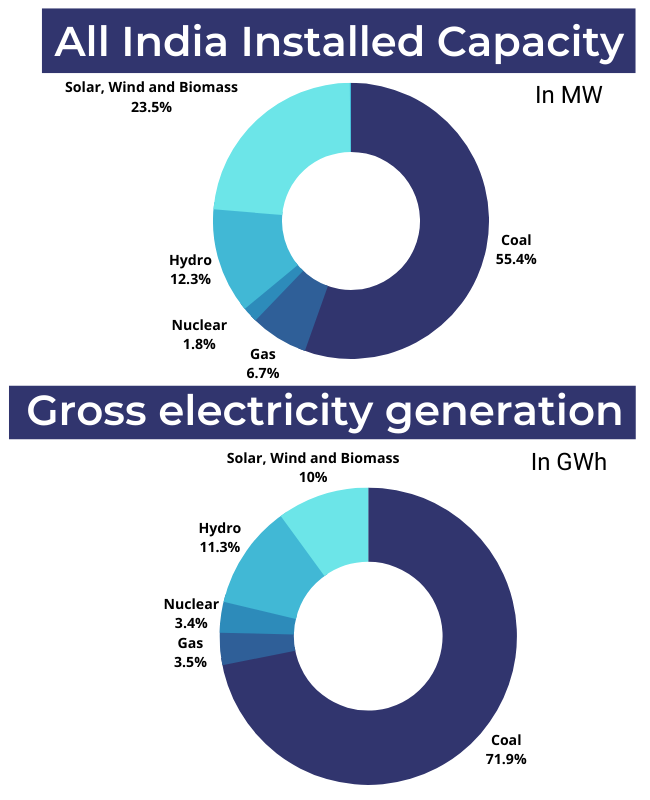 Now the problem here is, due to summers we require our coolers and AC's, and the manufacturing units are also operating in full swing, the demand for power has risen drastically, it has risen so much that the power generators have critically low stock of coal with them. 
India's demand for power has been increasing and is breaking all records. Just a day before on 9th June we witnessed the highest ever peak demand of  210,793MW.
While the demand is increasing by leaps and bounds, coal stocks with the generators has been depleting. 
Out of the 173 power stations, 97 have critical level coal stock (less than seven days of coal). There are around 50 units which have less than 4 days of coal, some left with barely 1 day of coal.

India is a resource rich nation, we boasts about how we have the largest coal reserves in the world and how we don't want to rely on the imported coal, but when things go down you have to look outside the country, the government as well, told states to buy imported coal, but since it was a bit pricey because of Russia Ukraine war and the limited supply, they did not want to buy it. 
But it's 2022, if you don't listen to the center, they have other ways to make their ways. They went ahead and invoked an emergency provision , under which states and power generators have to import 10% of their coal demand. 

The decision did not go well with the distribution companies as they have already been buried in losses, and the increased price of coal would only add to their woes.
It is the first time since 2015 that we are importing coal. Are we really running out of Coal, isn't it the problem? 

The increasing demand isn't the only thing that has been annoying the power companies, they have accused the Railway ministry of not providing enough rakes to carry coal to the generating plants, Rakes are interlinked coaches that carry the coal and transport it to the power plant.
 
The coal ministry believes we have enough coal, but we lack the rakes to supply the coal.
The ministry did act on it and canceled 1900 trains in the last three months to facilitate coal movement.
Lack of Rakes, Increased demand of power are some momentary reasons for the ongoing crisis. The real reason is the payment crisis in power sector that is plaguing it for years now.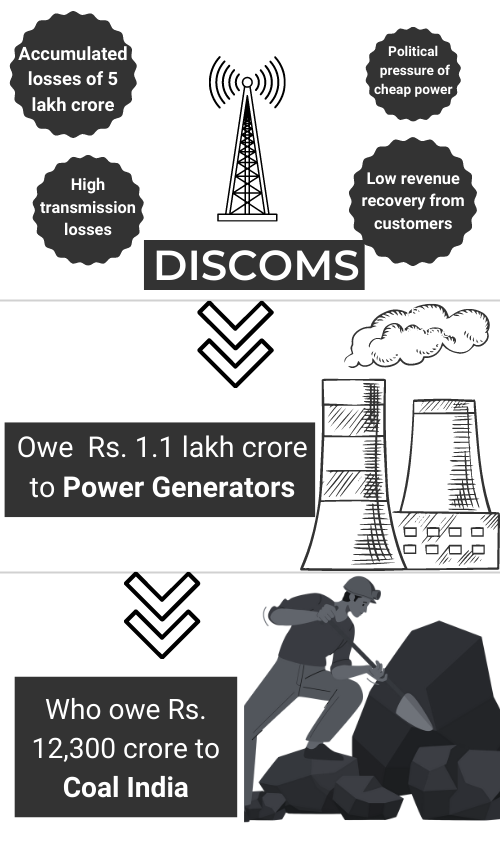 So, Power generation companies in India owe around  Rs.12,300 crore to Coal India, which produces around 80% of the coal consumed in India.

Power distribution companies that bill and charge the customers owe around Rs. 1.1 lakh crore to power generation companies.

Power distribution companies cannot pay them as they have a whopping loss of around 5 lakh crores on their balance sheet.
Now you may ask why they are not paying each other, they are basically supplying electricity for free. What is the reason for such a state of distribution companies?

First is the AT&C losses, these are the losses that are incurred when the electricity is lost during the transmission. In India AT&C losses are 20%, while in other developed economies they are just 4% - 5%.
Another major problem is the non-payment of dues by people, after the billing of electricity a huge percentage of people don't pay up the bills and due to that distribution companies incur losses.' 
Also, electricity is heavily subsidized by the government and the government doesn't pay these companies on time.

So, you see the rot in the system has spread to the whole power sector and is eating it up now. The coal companies don't have enough money to import or stock coal, distribution companies haven't bought enough electricity due to the swelling losses, and there you have these power cuts.
 
Tags : Coal Crisis in India, Coal Crisis, Coal India Energy Crisis, India Coal Crisis, Power Companies
Start Investing in 5 mins*
Rs. 20 Flat Per Order | 0% Brokerage
Disclaimer
Investment/Trading is subject to market risk, past performance doesn't guarantee future performance. The risk of trading/investment loss in securities markets can be substantial. Also, the above report is compiled from data available on public platforms.
Open Free Demat Account
Account belongs to
By proceeding, you agree to the T&C.