Is it the end of Ed-tech Companies?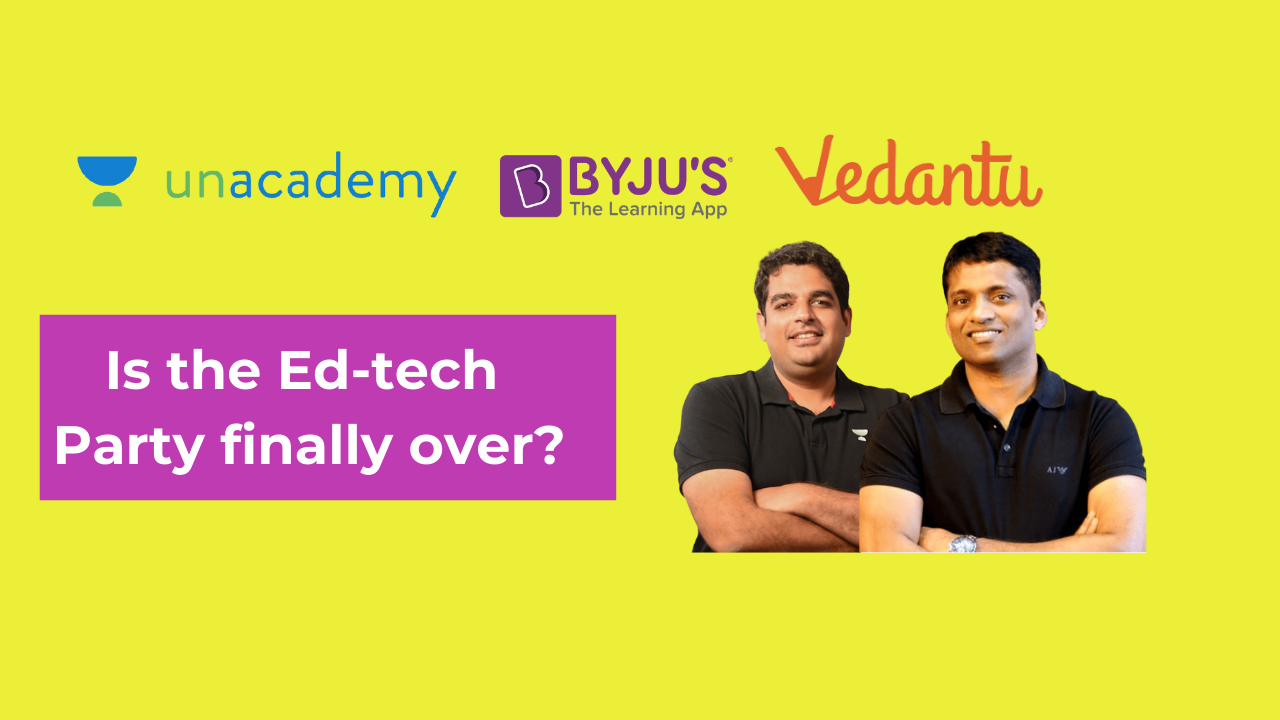 ---


The Ed-tech party is over in India now. 
Vedantu fired 600 employees, Unacademy laid off more than 1000 people in 2022, which is around 10% of its team, and Lido shut down its operations.
Ed-tech was the hottest business in 2017-18, the companies in the industry had their dream run amidst the pandemic when physical learning was impossible. VCs were going gaga over the Ed-tech companies, they were pumping billions of dollars into just visions, but it seems like in the past few months the whole Ed-tech industry has come crashing down. What has caused this crash, and after all this is over who will survive?
So, before going into the crash, I will share my experience with the education sector with you. 
So, In 2016, I overestimated my abilities and made the worst decision of my life, which was to appear for CAT (exam for MBA entrance), just like any other student I enrolled in a coaching institute, which charged me around 60k for one year, which included sessions, study material everything. This was the fee in 2016, now prices have skyrocketed, also I live in a tier-2 city in India, just think of the prices in metros.
Now, during one of those boring Quant classes, I was wondering how much money I would have made if I had opened a coaching institute rather than memorizing these stupid formulas.
Here is what I thought!
Now, they took around 5 batches for CAT students and we had around 20 people in each batch.
In one year their intake was 100 students and from each student, they charged around 60k, so their revenue was 60,00,000 in a year.
Let's say they paid 45k a month to a faculty, and they had 3 faculties for CAT, so quick math would be 45k x 3 x 12 = 16,20,000. 
Okay, so let's say their admin, rent, and other expenses were 13 lakh, they still made a profit of 30 lakhs in a year. 
I was naive enough to think that 30 lakhs went straight to their pockets, but it wasn't the case, these companies had to spend a lot on the marketing of the coaching institutions, and at that time marketing for these institutions was billboards, newspapers, radio, which were all quite expensive mediums, and would have costed around 10 lakhs-15 lakhs.
Also, the working capital requirement in an educational institution was high, they had to spend on rent, salaries etc. Due to this, it was a capital-intensive business.
Now in 2016-17, came Jio, which made the internet cheap, and people started learning through youtube, websites, etc, and we witnessed a boom in online learning, people wanted to learn in the comfort of their homes.
And since here tech is involved in the cost of operations, it comes come down drastically, so previously we discussed how my coaching center had to incur costs of around 35 lakh - 40 lakh to make a profit of 20 lakhs, but for ed-tech companies it was different, all they had to do was hire faculties, for 2 or 3 months, get the lectures recorded, they did not require any teaching facility or admin staff, so the costs they had to incur was decreased drastically. 
Their major expenses were in hiring a sales team and the customer acquisition cost, CAC is basically how much a company spends on acquiring a customer. 
Also, they can sell their courses to the whole world and not just 100 students. So, while the potential customers increased, costs were limited. And this nature of education business lured a lot of people into this industry.
According to a report CAC In 2017 was around Rs. 10,000 for an Ed-tech firm, so if a company was selling a course of Rs. 50,000 they incurred a cost of Rs. 10,000, which means they made a profit of Rs. 40,000 per student.
Now, after the pandemic came, education completely went online, a lot of content creators and companies started selling courses on the internet, all they had to do was to get a website, record courses, and promote! 
A lot of companies backed by billions of funding started to crowd the sector. 
As a result of which companies started offering courses at deep discounts, and some companies were even losing money on every course.
Everyone just wanted a huge piece of the pie, ignoring the fact that, it would be difficult to sustain a long time without any profits.

If A company offered a course for 40k, then B offered it for 30k and C would offer for 5k. So, high competition made these companies offer courses in losses.
And then the pandemic was over, children started going back to schools, parents realized nothing could compare to physical learning, and then boom, all you have is failed companies.
Now, there are primarily three reasons for this ed-tech fall, the first is the customer acquisition costs which increased drastically after a lot of players entered the industry, and it wasn't just the established companies but a lot of YouTubers and content creators that were selling their courses, after they entered the industry and shifted to online learning, the competition increased, people had the option to choose from and hence the cost of acquisition is increased.
The war, inflation, rising interest rates have sucked up the money from the market, and the companies that were only burning VC money have realized, that it is difficult to raise more capital in the current condition and hence either they are scaling down their operations or completely shutting down the business.
Parents have realized that online learning cannot substitute the real experience and physical learning, a mix of both is ideal for the children.
Also, the course packages offered by Edu-tech companies are a bit pricey for a majority of Indians, as in India we have a lot of schools that charge less than 30k a year, and these people would not be willing to pay that much for an online course.
So, what's ahead? Is it the end of Ed-Tech?
Maybe, maybe not.

Edu-tech companies have realized that education cannot be just online and they are working towards a hybrid model in India. Byju's and Unacademy have already started opening their offline institutes to adapt to the changing needs of the customers. But in education content is the king, and these giants may have billions in funding, but in this game, they have to be aware of the small gurus ( Study IQ, Physics wallah, Prashant Dhawan sir ) that may not have the funding, but they rule the hearts of children.
Start Investing in 5 mins*
Rs. 20 Flat Per Order | 0% Brokerage
Disclaimer
Investment/Trading is subject to market risk, past performance doesn't guarantee future performance. The risk of trading/investment loss in securities markets can be substantial. Also, the above report is compiled from data available on public platforms.
Open Free Demat Account
Account belongs to
By proceeding, you agree to the T&C.