Metro Brands IPO - Information Note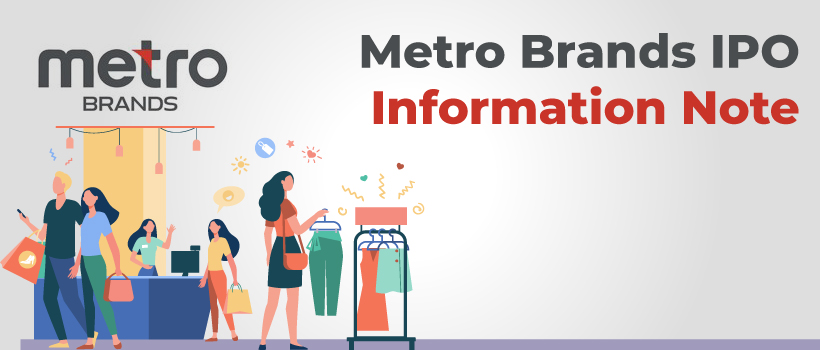 ---

Metro Brands Ltd as a company is 44 years old, but the brand has been in existence for 66 years. It is one of the largest and most reputed footwear retail brands in India catering to the middle and upper mid-market segments.

It sells proprietary brands like Metro, Mochi, Walkway, Da Vinchi and J Fontini as well as third party brands like Crocs, Skechers, Clarks, Florsheim etc. Its existing network of 598 stores across 136 cities comprises exclusive brand outlets (EBOs) and multi-brand outlets (MBOs).

Metro Brands owns the complete customer value chain via the COCO model. The Company Owned, Company Operated (COCO) model underlies its EBOs and MBOs across India. While Metro normally does not sell its brands in departmental stores, it often uses the concept of shop-in-shop (SIS).

Most of the manufacturing is outsourced to third parties, making their business model extremely asset light. Metro Brands is backed by Rakesh Jhunjhunwala, who has been an investor since 2007.
 
Key terms of the IPO issue of Metro Brands Ltd
 
| | | | |
| --- | --- | --- | --- |
| Key IPO Details | Particulars | Key IPO Dates | Particulars |
| Nature of issue | Book Building | Issue Opens on | 10-Dec-2021 |
| Face value of share | Rs.5 per share | Issue Closes on | 14-Dec-2021 |
| IPO Price Band | Rs.485 - Rs.500 | Basis of Allotment date | 17-Dec-2021 |
| Market Lot | 30 shares | Refund Initiation date | 20-Dec-2021 |
| Retail Investment limit | 13 Lots (390 shares) | Credit to Demat | 21-Dec-2021 |
| Retail limit - Value | Rs.195,000 | IPO Listing date | 22-Dec-2021 |
| Fresh Issue Size | Rs.295.00 | Pre issue promoter stake | 84.02% |
| Offer for Sale Size | Rs.1,072.51 crore | Post issue promoters | 74.27% |
| Total IPO Size | Rs.1,367.51 crore | Indicative valuation | Rs.13,575 crore |
| Listing on | BSE, NSE | HNI Quota | 15% |
| QIB Quota | 50% | Retail Quota | 35% |
Data Source: IPO Filings
 
Here are some of the key aspects of the Metro Brands Ltd business model
A)
An asset light business model ensures that the company is able to translate growth in top line directly into margins.
B)
 The COCO model for selling through EBOs and MBOs gives Metro Brands a lot more control over the complete footwear marketing value chain.
C) The fresh issue component will be substantially used to expand its retail presence across India, which is normally value accretive for the stock.

D) Metro enjoys the highest realization per unit (RPU) among the peer group, a key metrics of profitability in the retail business.

E)  As of FY21, only 33.27% of the revenues come from metropolitan cities with the balance coming from Tier-1, Tier-2 and Tier-3 towns, largely de-risking the business model.
 
Check - Metro Brands IPO - 7 Things to Know
 
How is the Metro Brands Ltd IPO structured?
The IPO of Metro Brands combines a fresh issue with an offer for sale. 
1)
 At the upper end of the price band of Rs.500, the company will offer a total of 59,00,000 shares aggregating to Rs.295 crore. Out of this, Rs.225 crore will be allocated to new stores opening between FY22 and FY25.
2) The OFS component will comprise the issue of 2,14,50,100 shares and at the upper price band of Rs.500, OFS value works out to Rs.1,072.51 crore. That takes the total size of the Metro Brands IPO offering to Rs.1,367.51 crore.
3) Out of the OFS of 214.50 lakh shares, the 2 promoter family trusts will sell 37.37 lakh shares and 36.60 lakh shares respectively. In addition, 5 individual promoter shareholders will sell 28.09 lakh shares each in the OFS.
4) Post the offer for sale and the fresh issue, the promoter stake will come down from 84.02% to 74.27%. Public shareholding in Metro Brands will go up to 25.73% post issue.
 
Key Financial parameters of Metro Brands Ltd
 
| | | | |
| --- | --- | --- | --- |
| Financial Parameters | Fiscal 2020-21 | Fiscal 2019-20 | Fiscal 2018-19 |
| Sales Revenues | Rs.800.06 cr | Rs.1,285.16 cr | Rs.1,217.07 cr |
| EBITDA | Rs.170.93 cr | Rs.353.51 cr | Rs.337.33 cr |
| Net Profit / (Loss) | Rs.64.62 cr | Rs.160.58 cr | Rs.152.73 cr |
| EBITDA Margins | 21.36% | 27.51% | 27.72% |
| Net Profit Margins (NPM) | 8.08% | 12.49% | 12.55% |
| Return on Equity (ROE) | 7.63% | 19.33% | 22.82% |
Data Source: Company RHP

The lower revenue and profit numbers in the FY21 financial year are due to the lag effect of the pandemic. Retail is a contact-intensive sector, which had to face severe restrictions during the year. However, this sector is expected to gain from a sharp revival in spending.

Metro Brands Ltd is expected to have a listing market cap of Rs.13,575 crore assigning a P/E ratio of over 80 times on FY20 normalized earnings. That does look like a steep valuation for a retail brand, that has been under pressure over the last one year.

Investment Perspective for Metro Brands Ltd IPO
 
Here is what investors must consider before investing in the Metro Brands Ltd IPO.
a)
 The company has a strong digital front-end and also handles the entire logistics chain with its dedicated warehouses. That gives greater control over the process flow. 
b) Its de-risked model of earning 67% of its sales revenues from non-metros allows the company to benefit from the rural, urban and semi-urban demand.
c) Organized footwear market is expected to growth at 17% CAGR over the next 5 years and that should give them good leverage.
d) The average unit selling price of Metro is more than twice of peer players like Bata, Liberty and Khadim; giving them hold on premiumization of footwear demand.
e) One question investors need to ask is the logic of expanding physical presence, when the shift to digital franchise is strong across products.

The company has a strong business model with deft entry barriers put up. However, it is not clear to what extent the valuations are justified at over 80 times normalized earnings. Investors must take a cautious stand on the stock.
Also Read:-
Start Investing in 5 mins*
Rs. 20 Flat Per Order | 0% Brokerage
Open Free Demat Account
Account belongs to
By proceeding, you agree to the T&C.