Muhurat Trading 2022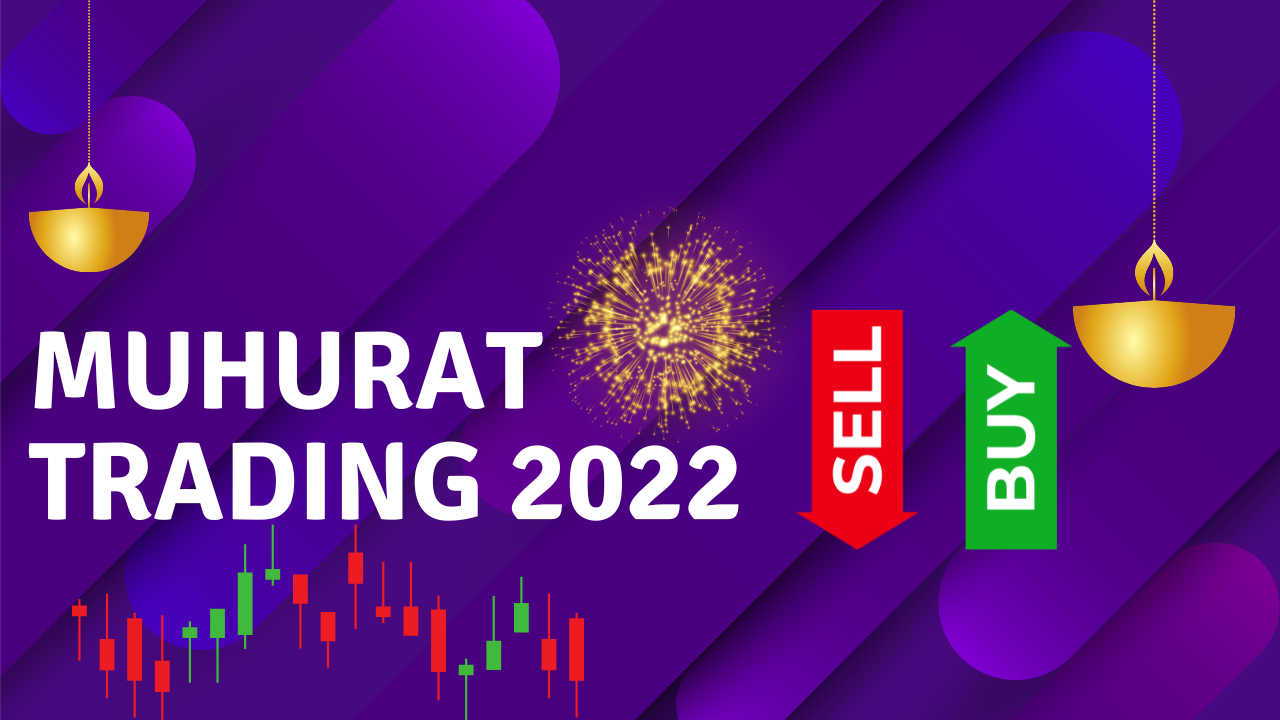 ---

In a culturally diverse country like India, rituals are a part of a few life actions. People try to find an auspicious time or "Muhurat" most important decisions and occasions. Whether it is a wedding, business launch, housewarming, or investing, they check the position of stars and determine whether it's in their favour. Similarly, every year on Diwali, the festival of lights, there is an hour-long trading window to invest in stocks.
What is Muhurat Trading?
"Muhurat" is an auspicious time to start something new or good according to the Hindus. Thus, a remarkable hour of the year when the country's people unite to trade or invest their money is known as the Muhurat Trading. It is the trading window that stays open on the Hindu festival of Diwali for one hour.
Diwali is the New Year in India per the Hindu calendar. This year marks the beginning of Vikram Samvat 2079. The Muhurat window on Diwali signifies that investing or trading on this day will yield good returns. Therefore, the stock exchange opens a trading window for only one hour for individual investors and stockbrokers to trade and make a profit or simply invest during this auspicious time.
History of Muhurat Trading
Business owners and stock brokers in India start their new year on Diwali. They open new accounts on this day for the next fiscal year. The broking community specially performs the Chopda Pujan and worships their books of accounts on Diwali. On this day, they worship Lakshmi, the goddess of wealth, fortune, power, and prosperity.
There are several different beliefs about Diwali Muhurat Trading. A non-data-backed theory is that the Marwari traders and investors believe that money should not enter the house on Diwali and, sell the securities. However, Gujarati traders and investors buy shares during this time.
Asia's oldest stock exchange, the Bombay Stock exchange (BSE), iinitiated the ritual of BSE Muhurat Trading in 1957. The Diwali Muhurat Trading in the National Stock Exchange (NSE) has been conducted since 1992. It has now become a symbolic gesture for individual investors to invest.
While muhurat trading does not promise any profits, it is believed to impact your wealth positively throughout the year. Historically, BSE Sensex has hardly disappointed investors on this auspicious day. In the past few years, Sensex has closed in green almost every year on the Muhurat Trading hour. The past five years of NIFTY and SENSEX performance are given below.
| | | |
| --- | --- | --- |
| Year | Sensex | NIFTY |
|     2021 | +0.50% | +0.50% |
|     2020 | +0.45% | +0.47% |
|     2019 | +0.49% | +0.37% |
|     2018 | +0.70% | +0.65% |
|     2017 | - 0.60% | -0.63% |

It was only in 2017, 2016, 2012, and 2007, the BSE index saw minor losses in the allegedly auspicious hour in the past two decades. However, it is noteworthy that the Sensex went up by 5.86% in an hour-long session on this special day in 2008.
What happens in Muhurat Trading?
Unlike the usual weekdays where the market is open from 9.15 am to 3.30 pm, the Muhurat Trading window is only open for an hour at a pre-decided time. Typically, the Muhurat Trading session is divided into the following parts:
 
Block Deal Session: Here, two parties (buyers and sellers) agree to buy/sell a security at a fixed price and inform the concerned stock exchange about it.
Pre-Open Session: This session usually lasts for eight minutes and determines the equilibrium price.
Normal Market Session: This is the one-hour actual trading session, just like the regular market sessions.
Call Auction Session: This session is especially for illiquid securities to trade.
Closing Session: In this session, traders and investors can place the market order at the closing price.
Muhurat Trading Timings 2022
Muhurat Trading 2022 will be conducted on Monday, 24th October 2022. If you're wondering, "what time is muhurat trading today?", the Muhurat Trading time for this year is as follows.
| | |
| --- | --- |
| Muhurat Trading Session | Capital Market (in hours) |
|     Block Deal Session | 5.45 PM to 6.00 PM |
|     Pre-Open Market | 6.00 PM to 6.08 PM |
|     Normal Market | 6.15 PM to 7.15 PM |
|     Call Auction Session | 6.20 PM to 7.05 PM |
|     Closing Session | 7.25 PM to 7.35 PM |
Importance of Muhurat Trading Hour
More than financial importance, Muhurat Trading presents a cultural significance. Investment flows and festivals clarify their importance as they create the perfect scenario for new players to enter the market with vigour. The Muhurat Trading time will be the centre of attention as all eyes will be on market trends. Businesses of all sizes are invited to buy and sell stock options during Diwali as many people are calculating the new financial year.
Moreover, this trend over the decades has led brokerage firms to adopt the practice and the general perception of profit-seeking drives investment to this day. However, investors should make their decisions carefully as not all Diwali trends deliver the expected returns. The three main major reasons that make Muhurat Trading significantly endearing among investors include the following.
●    Auspicious time to invest: Muhurat Trading hour is believed to be an auspicious time of the year to invest your money for long-term prosperity. The new year marks the start of books of accounts of business owners and several brokerage houses and stock exchanges.
●    A reason for new investors: New year, new investment instrument. Due to its cultural value, Muhurat Trading hour attracts many new investors in the stock market. This day becomes a reason for novice investors to understand the market. Moreover, people tend to trade in stocks on this day, especially passive investors. 
●    Gain in intraday: What is better than earning profits on an auspicious day? Many technical analysts and intraday traders tend to take advantage of their skills and bring in profits. The word of caution here includes that an auspicious day does not guarantee any profits and your hard-earned money should be invested mindfully.
 
Who can benefit from Muhurat Trading?
For those who believe in auspicious planetary alignments, Diwali brings wealth and prosperity. Thus, Diwali can be a good day to start if you have never invested in stocks. Look for quality companies and buy stocks in sync with a long-term view in your investment plan. However, this is the case if you plan to enter the field of stock trading. It might be wise to watch the market while trading during Muhurat and perhaps make a paper trade to get the hang of it.
Muhurat Trading time is ideal to buy and sell stocks due to the high trading volume. Markets are also usually bullish as a celebratory mood centred around prosperity and wealth makes people optimistic about the economy and the stock market Diwali Muhurat Trading. Therefore, it is a good time for both experienced and new investors and traders to profit from Muhurat Trading sessions. The Muhurat Trading time is only one hour open for him, which makes the market very volatile. Therefore, it is advisable to be vigilant as a new trader. Experienced day traders can benefit from this session as most investors/traders are buying or selling shares to acknowledge the day's auspiciousness.
Most activity in Muhurat Trading may not be as focused on profitability. Therefore, an experienced day trader can make big profits by taking a carefully considered position. 
How does Muhurat Trading influence stocks?
Considering stock market uncertainty, experts advise seeking insight from market experts, brokers, etc., or obtaining expertise and knowledge on managing their investments during such times. Even commodities are traded alongside stocks and require the eye of an experienced trader or broker to strategize regarding portfolios.
There is no shortage of information on the market's performance during Muhurat Trading hours during previous Diwali market events, as multiple stock brokers frequently release reports on their performance before and after the trading day.
Considering the past decade, the post-Diwali days market is typically bullish, offering short-term investment opportunities for risk-averse investors. However, gold ETFs during Diwali are generally a safer bet as the price of gold is less affected if the stock market becomes volatile for an extended period. Nevertheless, prices are expected to remain positive by a small margin in the short term.
Even if you decide not to invest during the Muhurat Time, it is essential to monitor your portfolio due to the high activity. Therefore, decisions should be made with a long-term vision while encouraging token investments based on expert advice.
Things to keep in mind during Muhurat Trading
While Muhurat Trading is auspicious, it does not mean you put your money in any stock and make profits. There are a few things to consider before you start trading stocks.
●    Date & Time: Muhurat Trading session will happen on 24th October 2022 at 6.15 p.m.
●    Volatility: Most traders and investors consider this time of year favourable for investing. Thus, there are a large number of traders sitting in front of the screens and the market can be extremely volatile and directionless. If you want to take advantage of the volatility, choose stocks with high trading volume, as the trading window is only one hour. Investments during this period do not guarantee returns.
●    Be mindful as a day trader: You should keep an eye on resistance and support levels to make better trading decisions. 
●    Settlement: All open positions at the end of the Muhurat Trading session become a settlement commitment.
●    Stick to basics: The primary investing mantras still hold, and you should know a company's fundamentals before investing.
●    Stay aware: Be cognizant of the tips that circulate in groups, social media, news, or in any form for that matter. Many companies tend to advertise their schemes which might not be the best for you without proper consideration. Do not fall for any unauthorized advice whatsoever.
Related Article:
Start Investing in 5 mins*
Rs. 20 Flat Per Order | 0% Brokerage
Disclaimer
Investment/Trading in securities Market is subject to market risk, past performance is not a guarantee of future performance. The risk of loss in trading and investment in Securities markets including Equites and Derivatives can be substantial.
Open Free Demat Account
Account belongs to
By proceeding, you agree to the T&C.