RBI Cancels Bond Auction Slated for 11th February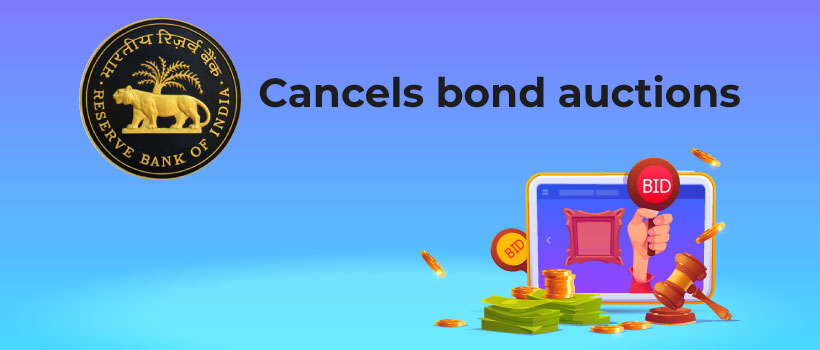 ---

In a rather surprising move, the RBI has chosen to cancel the mega bond issue that the government was planning on 11th February. The plan was to issue bonds worth Rs.22,000 crore on 11-Feb, but the government summarily announced the cancellation of the bond issue without assigning any specific time frame for raising the funds.

The reasons for the cancellation were not too far to seek. Post the Budget, the bond yields on the benchmark 10-year bonds had risen sharply from 6.65% to 6.93%. The government felt that these bond yields were too high and the government was not keen to pay such a high cost to borrow in the market, especially when repo rates were still at 4%.

There was a reason for the sharp spike in bond yields. When the government announced the Union Budget 2022, there was a reduction in the fiscal deficit target to 6.4% of GDP for FY23. This is sharply lower than the 6.9% fiscal deficit as percentage of GDP for FY22. However, what spooked the bond markets was the sharp spike in the annual borrowing target of the central government from Rs.12 trillion to Rs.14.95 trillion.
Explore - Union Budget 2022 and Impact on Capital Markets

A sharp rise in borrowings means that government borrowings would crowd out private borrowings making them more expensive. At the same time, the heavy government demand for loans will also make credit costlier in India leading to higher bond yields. Eventually, the government will have to pay the investors more attractive yields to ensure that these bonds are sold to the target investors.

If the government offers bonds at below the market rate, then the obvious outcome would be that banks and other financial institutions will not be too keen to invest in these government securities at sub-market yields. Also, when bonds are purchased at yields lower than the market, then the first reaction would be for the bond price to go down to adjust the yields. This will result in capital losses to investors, which makes them wary.

That is one reason, a number of bond issues have found no takers and devolved on the RBI. When government bond issues devolves on the RBI, it has multiple implications. It means that the RBI is indulging in deficit financing by printing fresh notes and that is an inflationary indication. Hence devolvement beyond a point is not advisable.

The reason for the postponement of the 11-Feb bond issue is that the government needs to now crystallize its stand in clear terms. If it is keen on meeting the borrowing targets, it has to offer higher yields. Else, devolvement of bond issues is inevitable. Hopefully, the government will quickly arrive at a rational solution to this Catch-22 situation.
Start Investing in 5 mins*
Rs. 20 Flat Per Order | 0% Brokerage
Open Free Demat Account
Account belongs to
By proceeding, you agree to the T&C.