RBI's Masterstroke to kill Buy Now Pay Later Companies!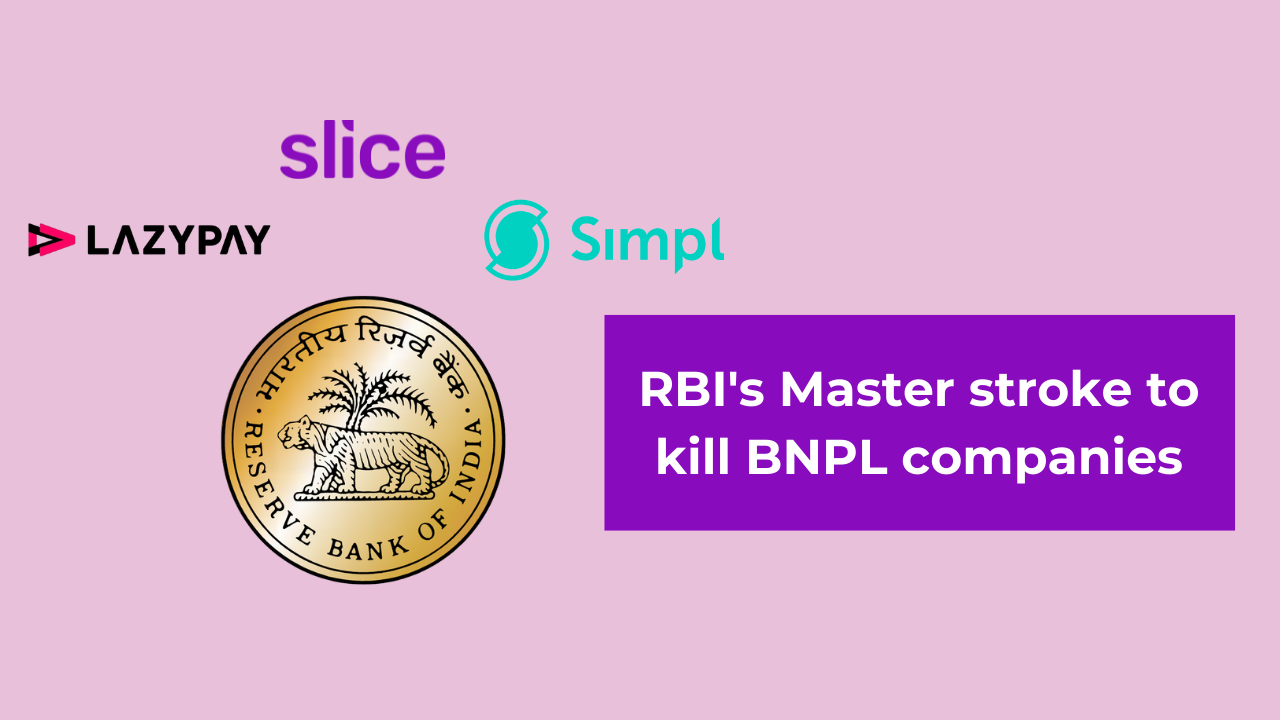 ---

Harsh Patel, a 23-year-old graduate, works with an MNC as a Software engineer. Patel was drawing a CTC of 4 LPA. His company was in Bangalore, and with rent and so many expenses, he could barely make ends meet.   
Just like any other independent millennial, he wanted to shop, party, and buy the newest model of iPhone, because you live only once right?. Now to fulfill, all his luxuries, he thought of getting himself a credit card, he applied for a credit card at HDFC bank, but the bank did a background check and politely refused to issue the card. 
Harsh was adamant on getting the card, so he went to Slice. The BNPL, company-issued him a credit card without asking any questions, they even gave a lot of cashback offers on the card.
Now he could buy an Iphone, pay at a grocery store, and party at a high-end restaurant just by swiping his slice card, and he can do that even when he is broke at the end of the month.
Sounds so cool right? 
It isn't cool now, because RBI recently came up with a regulation that would stop these companies from issuing these cards.
Before diving into that, let's learn a bit about the business of BNPL companies.
Most of the time, whenever I buy groceries from the store near my house, or I order tea from a stall near my office, I always ask them to maintain a khata and pay them at the end of the month.
So buying and paying later was a thing, even before these companies came into the picture. 
But here, I can purchase and pay later at only those stores, where the shopkeeper trusts me, now these companies came in they partnered with merchants like Amazon, Flipkart and they offered to provide buy now pay later services, wherein they would pay these merchants at the time of purchase and customers can pay the company later. 
Here a question that pops up is how these companies made money? Well, if you made a purchase of around Rs. 100, they would pay Rs.95 to the merchant, and the merchant would accept it happily, because it increases the orders and he gets the payment fast.
For people who don't have a good CIBIL score and a credit card, it seemed like a dream. Their hassle-free, no questions asked loans just wooed the people. No wonder, this industry has grown by 637% in 2021, and 539% in 2020.
Customers were happy, Merchants were happy, basically, everyone was happy, but then some of these companies wanted to compete with Banks and Credit Cards, they wanted to provide their customers with a real credit card-like experience.
But there was a problem, you see as per RBI norms, only banks are allowed to issue a credit card, RBI hasn't even allowed NBFCs to issue them, so there was no chance that they could issue credit cards.
But then they did a lot of brainstorming and figured out a way to dodge the RBI guidelines, their solution was PPI.
Prepaid Payments instruments, are just like your Paytm, Phone pe wallets, or gift cards which you can fill up with your bank account, debit card, or credit card. These companies wanted to top these cards with credit.
These companies needed two things to roll out PPI, first a bank that can issue PPI because BNPL companies don't have the license to do that, and second a lender who could extend credit.
You see BNPL companies lend to people which are at the bottom of the pyramid, people that don't have a good CIBIL score or a credible background, and banks don't really want to dirty their hands by lending to these people, so they had to partner with NBFCs to extend the credit. 
For example, Uni offers a pay later card product where customers can split their large purchases into three installments. Uni has partnered with RBL Bank and SBM Bank to issue these cards, and with DMI Finance ( NBFC ) to extend the credit line. Now, if any customer defaults on the payments, the loss would be shared between Uni and DMI Finance, while RBL and SBM bank won't be affected as they have just issued the card.
PPIs were a revolutionary thing for BNPL companies like Slice, Uni, and Dhani, these cards provided customers with a credit card-like experience, without being a bank. People could shop and pay in installments to these companies.
Indian's indeed are Jugadoo, look how these companies figured out a way to dodge the central bank. And this jugaad has made millions for these BNPL companies. After all, some reports suggest that fintech firms have been issuing nearly 2 million of these pseudo credit cards a month compared to the 1.5 million credit cards issued by banks. 
But,  our central bank doesn't like companies sneaking around like that, and therefore it came out with a circular, which said that these BNPL companies now cannot top up their cards through their lending partners. So, now these BNPL companies have two options, either ask banks to extend the credit line or just stop issuing these cards.
Stopping these cards would be like a death sentence for them, as these cards contribute the majority of their revenue. For instance, Slice's biggest revenue item in 2020-21 was internet handling fees or card processing fees. This made for Rs 26.9 crore of its Rs 35.25 crore revenue from operations.
The second option of bank lending this money is not in the picture, because these banks wouldn't want to risk their asset quality by extending these loans.
This move of RBI has created a lot of chaos in the fintech space, but the question is why RBI doesn't like these BNPL companies?
For starters, these companies BNPL companies are on RBI's radar because they aren't really playing by the rules in the fintech space. These companies are flushed with VC money and are willing to lend to anyone and everyone.
A lot of these companies have been lending to customers without even a KYC check, not submitting credit details to credit bureaus, and reportedly giving loans to minors even without their consent.
For example, 
Going against the rules of RBI, LazyPay issues BNPL credit through PayU's NBFC arm, PayU Finance. A customer need not submit any documents or undergo a KYC process to get a minimum ongoing credit limit on the LazyPay app. This limit varies from Rs 500 to Rs 3,000 and sometimes higher, depending on the profile of the user. 
So without even knowing the name of the person, the company is extending credit to it.
Another BNPL company Simpl does the same and gives flexible credit limits to the users without KYC and they mind you, these loans are not even reported to credit bureaus, and this practice is a violation of RBIs guidelines.
On top of that, these companies can charge humongous late fees and interest rates from these people, their charges aren't regulated by law.
These companies claim that they are providing seamless services and hassle-free loans, but there is a very thin line between providing frictionless loans and putting a person into a debt spiral. So, what do you think BNPL companies have crossed it?
Start Investing in 5 mins*
Rs. 20 Flat Per Order | 0% Brokerage
Disclaimer
Investment/Trading in securities Market is subject to market risk, past performance is not a guarantee of future performance. The risk of loss in trading and investment in Securities markets including Equites and Derivatives can be substantial. Also, The
Open Free Demat Account
Account belongs to
By proceeding, you agree to the T&C.