Russia adopts gold standard; pegs Rouble to gold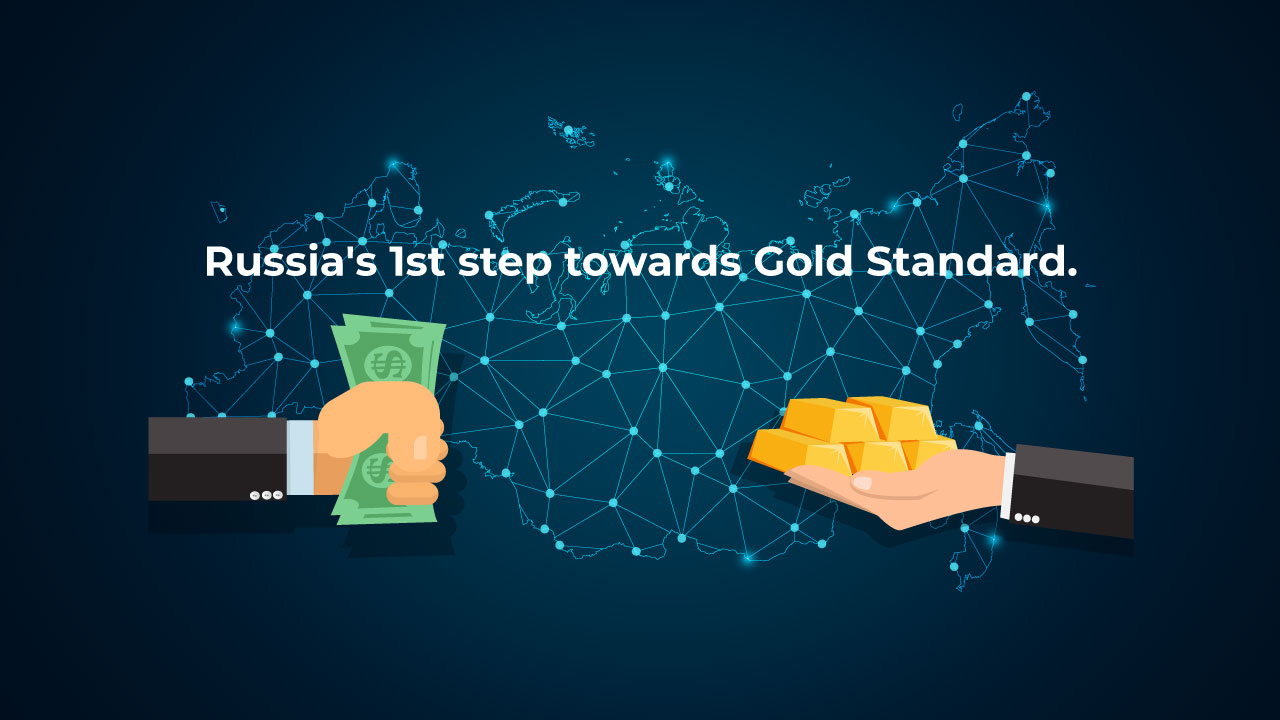 ---

In a swift move, Russia on Wednesday, 30th March decided to shift the Rouble to a gold peg. In other words, the Russian Rouble will now be measured against gold and not against the US dollar as it is normally done.
This will largely reduce the role of dollar and could have larger ramifications. Here is how Russia is planning to roll out its gold pegging plan. Needless to say, it will be done gradually.
1) Firstly, Russia has fixed a price for gold at which the Russian banks can profitably exchange gold for Roubles. Currently, it is Rouble 5,000 for 1 gram of gold.
2) Secondly, the Rouble will be strengthened globally by insisting on energy payments in Roubles or gold. This will lead to a surge of gold into Russia and also enhance the value of the Russian Rouble.
3) Rouble will eventually shift into the gold standard with the Rouble becoming a credible gold substitute at a fixed rate.

For now, the Rouble 5,000 to 1 gram of gold window is open till June-30th and it is not clear what happens after that. Of course, as a safety measure, one can still buy gold and get it exchanged for roubles at any point of time.
Russia has already asked EU to pay in gold or Roubles for all future purchases of oil instead of in dollars or Euros. Let us look at the above three stages and its implications in greater detail.

How much does it make sense to exchange Roubles for gold in the current window for Russian banks. Would Russian banks be interested? They would be because most of the Russian banks cannot sell the gold as Russian gold is sanctioned in most markets.
 


This becomes a kind of liquidity window for domestic banks who can monetize their gold holdings with the help of the special window.

As the rouble strengthens, the second step that Russia is planning is to drain the world of its gold. For example, most of the European central banks have large reserves of gold and Russia has been eyeing them for a long time.
EU can hardly manage without Russian oil and gas and they have to either pay in gold or in Roubles. As the Rouble becomes more valuable, more gold would gravitate towards Russia, which is what they really want.

One of the best ways for Russia to undermine the dollar is to move to a gold standard and that is the final step. Once Russia goes into gold standard, many other countries including China and some of the Middle Eastern nations would be keen to shift too.
That would mean that EU cannot any longer pay for Russian oil in dollars or in Euro but has to either buy Rouble or trade gold. Either ways, Russia ends up becoming the biggest hoarder of gold.

In a way, one perspective is that Russia has suddenly stolen the thunder from the Americans by turning the sanctions to their advantage. America should be worried that if the gold standard idea succeeds, there is going to be a queue.
As a result, the exorbitant privilege of gold will come under question. These are going to be interesting times. But, certainly, the US dollar is likely to come under a very stern test during this period.
Start Investing in 5 mins*
Rs. 20 Flat Per Order | 0% Brokerage
Open Free Demat Account
Account belongs to
By proceeding, you agree to the T&C.