Shriram Properties IPO - Information Note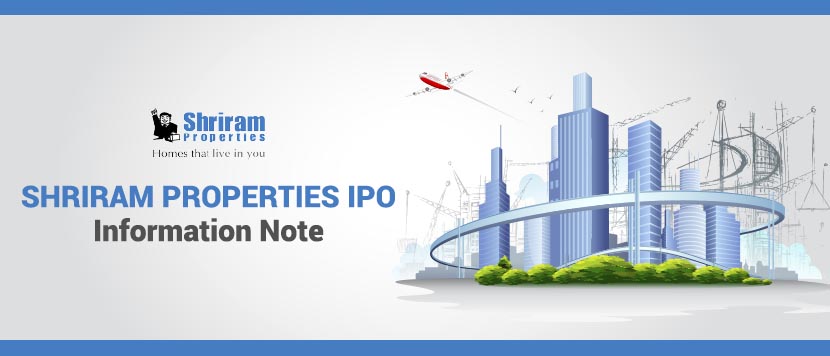 ---

Shriram Properties Ltd is part of the reputed Shriram Group in Chennai which has listed companies like Shriram Transport Finance and Shriram City Union Finance under its fold. Shriram Properties is a key player in the mid and affordable housing segments in South India with presence predominantly in Chennai and Bengaluru. Shriram Properties also has a growing presence in Coimbatore, Visakhapatnam and Kolkata.

While Shriram Properties Ltd essentially focuses on the mid and affordable housing segments, it also has an exposure to luxury housing, commercial spaces and even office spaces in South India.

Out of the 29 projects completed by Shriram Properties, 24 projects are based out of either Chennai or Bengaluru. It currently has an additional 35 projects under development with estimated saleable value of 46.72 million SFT.
 
Key terms of the IPO issue of Shriram Properties Ltd
 
| | | | |
| --- | --- | --- | --- |
| Key IPO Details | Particulars | Key IPO Dates | Particulars |
| Nature of issue | Book Building | Issue Opens on | 08-Dec-2021 |
| Face value of share | Rs.10 per share | Issue Closes on | 10-Dec-2021 |
| IPO Price Band | Rs.113 - Rs.118 | Basis of Allotment date | 15-Dec-2021 |
| Market Lot | 125 shares | Refund Initiation date | 16-Dec-2021 |
| Retail Investment limit | 13 Lots (1,625 shares) | Credit to Demat | 17-Dec-2021 |
| Retail limit - Value | Rs.191,750 | IPO Listing date | 20-Dec-2021 |
| Fresh Issue Size | Rs.250 crore | Pre issue promoter stake | 31.98% |
| Offer for Sale Size | Rs.350 crore | Post issue promoters | 27.98% |
| Total IPO Size | Rs.600 crore | Indicative valuation | Rs.2,001 crore |
| Listing on | BSE, NSE | HNI Quota | 15% |
| QIB Quota | 50% | Retail Quota | 35% |
Data Source: IPO Filings
 
Here are some of the key aspects of the Shriram Properties Ltd business model
A)
The brand name carries a lot of trust and nostalgia among the people of South India and that works in favour of Shriram Properties among the retail segment.
B)
Its projects are largely focused in Bengaluru and Chennai, which are among two of the fastest growing and promising markets in India.
C)
The group is well capitalized and the backing of the Shriram brand name gives the projects an added sense of stability and trust in the Southern markets.
D)
The promoters are not diluting their stake in the OFS and that should give further confidence to the IPO investors as well as to the demand segments.  
How is the Shriram Properties Ltd IPO structured?

The IPO of Shriram Properties Ltd is a combination of a fresh issue and an offer for sale (OFS) and here is the gist of the offer

1) The fresh issue portion will consist of the issue of 2,11,86,441 share and at the upper price band of Rs.118, the fresh offer size works out to Rs.250 crore.
2) The OFS component will comprise the issue of 2,96,61,017 shares and at the upper price band of Rs.118, OFS value works out to Rs.350 crore. The total issue size, therefore will be for 5,08,47,458 shares with total issue size of Rs.600 crore.
Check - Shriram Properties IPO - 7 Things to Know
3) Out of the OFS of 296.61 lakh shares, early investors Omega TC, TCFSL, TPG Asia and WSI/WSQI will sell 77.08 lakh shares, 7.07 lakh shares, 78.14 lakh shares and 113.13 lakh shares respectively. Promoters are not selling shares in this OFS.
4) Post the offer for sale and the fresh issue, the promoter stake will come down from 31.98% to 27.98% due to the impact of the fresh issue.
These share numbers are based on the assumption that the price of the IPO will be discovered at the upper end of the band.

Key Financial parameters of Shriram Properties Ltd
 
| | | | |
| --- | --- | --- | --- |
| Financial Parameters | Fiscal 2020-21 | Fiscal 2019-20 | Fiscal 2018-19 |
| Sales Revenues | Rs.501.31 cr | Rs.631.84 cr | Rs.723.78 cr |
| Total Assets | Rs.3,299.49 cr | Rs.3,417.30 cr | Rs.3,365.63 cr |
| Net Profit / (Loss) | Rs.(68.18) cr | Rs.(86.39) cr | Rs.48.79 cr |
| Net Profit Margins (NPM) | (13.60)% | (-13.67)% | 6.74% |
| Asset Turnover Ratio | 0.15X | 0.18X | 0.22X |
Data Source: Company RHP

The real estate segment being a highly contact intensive segment had a serious problem of migrant laborers returning to their home towns during the pandemic. This impacted their sales and profit performance in FY20 and also in FY21.

Shriram Properties Ltd is expected to have a listing market cap of Rs.2,001 crore assigning a P/E ratio 41X on FY19 earnings. With the real estate demand already looking robust, the valuation should look more reasonable in the coming quarters.

Investment Perspective for Shriram Properties Ltd IPO
 
Here is what investors must consider before investing in the Shriram Properties Ltd IPO
 
a) Shriram Properties has the backing of the reputed Shriram Group which has a strong hold among the small and medium sized market for homes.
b) Its plans are predicated around Chennai and Bengaluru and they are two of the fastest growing markets, and likely to benefit the most from the demand turnaround.
c) This is the first realty IPO since Macrotech and the stock of Macrotech has done extremely well post listing. Shriram Properties can emerge as a good proxy for the affordable homes segment in India.
d) With a strong base in asset finance, leasing and business finance, there are huge opportunities for cross selling that open up for Shriram Properties.

One big challenge is the extremely low asset turnover ratios of the company which would be the key to enhancing the ROE.

Secondly, there is the risk of the recovery assumptions being belied by the Omicron variant. In a nutshell, Shriram Properties is a value proposition but with inherent risks.
Also Read:-
Start Investing in 5 mins*
Rs. 20 Flat Per Order | 0% Brokerage
Open Free Demat Account
Account belongs to
By proceeding, you agree to the T&C.