Stock market tips for investors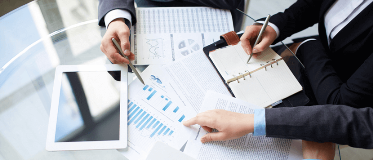 ---

Investors enter the Indian share market in order to make big money. While the stock market provides numerous opportunities to build wealth, many investors come out unsuccessful and lose their money while trading.
As the share market is highly volatile, there is no saying what can go wrong. To avoid losses and make a profit, you must consider following the stock market tips given below:
img src="https://www.5paisa.com/cms/images/default-source/Blog-Articles/stock-market-tips.jpg?sfvrsn=2" alt="Stock Market Tips" title="Stock Market Investing Tips" class="img-responsive" />
Consult your stockbroker
It could be true that you are capable of making profitable decisions regarding your investments, but it can never hurt to consult your stockbroker before finalizing it. Stockbrokers are financial wizards and experts in the working of the share market.
Stockbrokers know how to do proper research in a company, and one can trust their judgment on dealing shares. Taking their advice in every decision you make will always go a long way in avoiding losses and making profits while buying shares online.
Research before investing
One of the best ways to be successful in share trading is to research about the investment and the company's background thoroughly. It would mean that you look at the financial statements, long and short-term earnings; past and present market performance, future growth potential and their ability to distribute dividends to the shareholders. Only when you are satisfied that the company is financially sound enough to let you make profits, you should decide to invest.
Know your risk appetite
How much are you comfortable losing on your investments? This is the question you must ask yourself before taking any financial decision tobuy stocks online. As there is a fair possibility that you can lose all of your invested money in the share market, you must figure out what amount you are comfortable losing. Once you have figured out your risk appetite, you should only invest an amount of money which will not create a financial burden on you if you lose it.
Avoid emotional trading
Investors suffer huge losses when they invest in stocks online as they let their emotions in the way of their decisions. The possibility of making a profit on investment is the lowest when the decision for that investment has been taken emotionally. When the market is at its peak, the investors get emotionally involved and sell their shares in a hurry and lose out on bigger opportunities to make more profits. Thus, you should avoid getting emotionally attached and should take an informed decision after consulting your stockbroker.
Don't time the market
The worst thing you or anyone can do while stock trading is trying to time the market. When you time the market, you make decisions based on the predictions that the market will go in a particular direction at a particular time. Even prominent investors like Warren Buffett have warned about the negative repercussions of timing the market. Stock market predictions should be used only as a tool to prepare you for what can come in the future and nothing else. No one can predict the future, and you should also keep away from trying.
Avoid the herd mentality
An investment can prove to be the best investment for someone, but at the same time, it can destroy your whole financial career. It is only you who knows what type of investment will be best for you as it is you who has to spend the money on buying the stake. You must avoid basing your decisions on the fact that everyone else is buying the shares of a particular company. Even Warren Buffett once said: "Be fearful when others are greedy, and be greedy when others are fearful!"
Diversify
One of the best ways to counter the negative effects of losses on your overall portfolio is Diversification. It requires an investor to invest in multiple companies rather than spending all of the money in one or two companies. Diversifying allows you to spread the risk across numerous investments and the money you lose in one investment is covered by the profit you make in another. While the level of diversification can differ from investor to investor, it is one of the critical factors to earn profits on your overall portfolio.
Monitor your investments
The best way by which you can know when to buy or sell your shares is to monitor your investments regularly. If an investment is not doing great, you can sell it immediately to avoid further losses, and if an investment is at its peak price, you can sell it to book huge profits.
If you don't have enough time to monitor your investment consistently, you can always ask your stockbroker to do the same for you. He/she will tell you the ideal time to buy or sell shares in the share market and help you become successful in your investing career.
Start Investing in 5 mins*
Rs. 20 Flat Per Order | 0% Brokerage
Open Free Demat Account
Account belongs to
By proceeding, you agree to the T&C.