Vijay Kedia Portfolio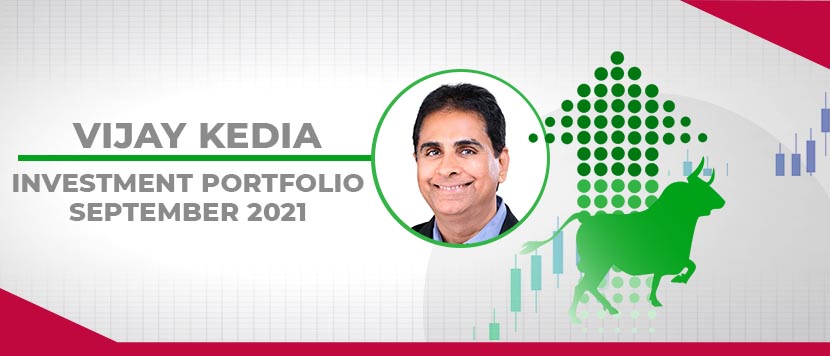 ---

Vijay Kedia may have started out in a family of stockbrokers, but his heart always lay in long-term research-based investing. That is what he has fine-tuned over time. Over the last few years, his out of the box thinking and his ability to identify and hold on to small and mid-cap stocks with conviction has been well appreciated. It is not surprising that his investment actions are closely tracked.

As of the close of September 2021, Vijay Kedia held 15 stocks in his portfolio with a market value of Rs.816 crore as of 20th October. Here is a snapshot of his top holdings in rupee value terms.
 
Here is Vijay Kedia's portfolio as of Sept-21.
 
| | | | |
| --- | --- | --- | --- |
| Stock Name | Percentage Holding | Holding Value | Holding Movement |
| Vaibhav Global | 1.8% | Rs.211 crore | No Change |
| Tejas Networks Ltd | 3.4% | Rs.147 crore | Reduced in Q2 |
| Cera Sanitaryware | 1.0% | Rs.77 crore | No Change |
| Sudarshan Chemicals | 1.4% | Rs.64 crore | No Change |
| Repro India | 7.5% | Rs.52 crore | No Change |
| Mahindra Holidays | 1.0% | Rs.33 crore | No Change. Bonus Adj. |
| Ramco Systems | 1.8% | Rs.26 crore | No Change |
| Heritage Foods | 1.1% | Rs.24 crore | No Change |
| Neuland Laboratories | 1.0% | Rs.21 crore | No Change |

The top-10 stocks account for 80% of the value of the portfolio of Vijay Kedia as of end Sep-21.
Stocks where Vijay Kedia added to the holdings

Let us look at the fresh addition of stocks to his portfolio in the Sep-21 quarter. There have been no significant new additions made by Vijay Kedia during the Sep-21 quarter. While there may have been some minor additions, only additions taking the stake to above 1% of the company get reported and there have been no such specific cases in the quarter.

There were also no significant accretions to the stock holdings during the quarter, although there have been some minor additions in certain stocks. In the case of Mahindra Holidays, the number of shares have gone up by 50% while the percentage holding remains the same. That is because of the effect of the 1:2 bonus issue effected in the quarter, which is largely value neutral to the shareholders.
 
What stocks did Vijay Kedia downsize in his portfolio?
 
There were a number of stocks in which Vijay Kedia has used higher levels to reduce his stake marginally like Vaibhav Global and Elecon Engineering. In terms of significant reductions, there were 3 stake reductions worth noting.

a) Despite being a small stake overall in value terms, Vijay Kedia did reduce his stake in Lykis Ltd by 70 bps from 10% to 9.3%.
b) His holdings in Cheviot Company used to be 1.3% till the June quarter and the fact it is not reported in this quarter shows it has fallen below the 1% reporting threshold.
c) A significant stake reduction was Tejas Networks where the stake has come down by 200 bps from 5.4% to 3.4%. As a result, Tejas has dropped to being the second largest holding in his portfolio after Vaibhav Global.

All the above reductions in stake happened during the Sep-21 quarter.
 
Check - Vijay Kedia's Portfolio - June 2021
 
Vijay Kedia Portfolio Performance in retrospect
 
In a way, Vijay Kedia's portfolio came a full circle between 2015 and 2020 and despite a sharp rally in 2017, the portfolio value came back to the 2015 levels by September 2020. Hence most of the returns that Vijay Kedia portfolio earned in the last 6 years has been predominantly driven in the last one year only. Let us look at this last one year show.

Between Sep-20 and Sep-21, the portfolio value of Vijay Kedia has gone up from Rs.229 crore to Rs.816 crore. That translates into annualized portfolio appreciation of 256%. It is perhaps a classic case of conviction and staying power in mid and small caps.
Also Check -
1) Radhakishan Damani Portfolio - Sept 2021

2) Ashish Kacholia Portfolio - Sept 2021

3) Rakesh Jhunjhunwala's Portfolio - June 2021
Start Investing in 5 mins*
Rs. 20 Flat Per Order | 0% Brokerage
Open Free Demat Account
Account belongs to
By proceeding, you agree to the T&C.