What You Need to Know About the Natural Gas Price Rally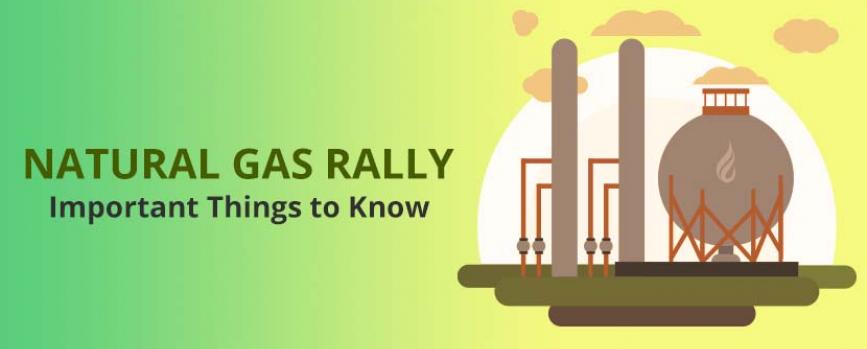 The US markets have seen a phenomenal rally in natural gas prices. Just to get a heads up, the price of natural gas on the bourses has moved up from $3/NTG to $5.49/NTG since the beginning of May 2021. In other words, gas prices have rallied by over 80% in the last 4 months. Here is a quick look at the reasons for this really and what it holds for the future of natural gas trading.

•    The biggest reason for the massive rally was the short squeeze in natural gas in the global market. For example, the CFTC report on open positions had indicated heavy shorts built up in natural gas contracts. This was on expectations of a sharp fall in the price of natural gas.
•    However, what transpired was exactly the opposite. An unusually hot summer in the US led to a surge in demand for natural gas for cooling support. The shorts soon found that there was nobody left to sell and the prices were moving higher. This led to a rush to cover shorts and the short squeeze triggered the sharp spike in natural gas prices.
•    If hot weather was a major factor, the other key factor was Hurricane Ida which resulted in a spurt in demand for natural gas. However, the short covering rally may have played out if you consider the bounce. Also, for the rally to continue, this year's winter must be exceptionally cold so natural gas demand remains buoyant for heating needs.
•    Many of the traders who shorted natural gas in the range of $3.20 to $3.50 found themselves running out of margin power by the time natural gas crossed $4.00. That resulted in the massive squeeze.
•    The bottom line is that natural gas could become a lot more expensive before it sees a fall. The best approach would be to wait for the markets to get overbought and then look to sell Natural Gas futures in the market. The Indian natural gas contracts more or less mirrors the global price. 
 
About the Author
Open Demat Account

Start investing in just
5 minsFree Demat account,
No conditions apply
0%* Brokerage
Flat ₹20 per order
Start Investing Now!
Open Free Demat Account in 5 mins