Best High EPS Stocks To Buy in 2023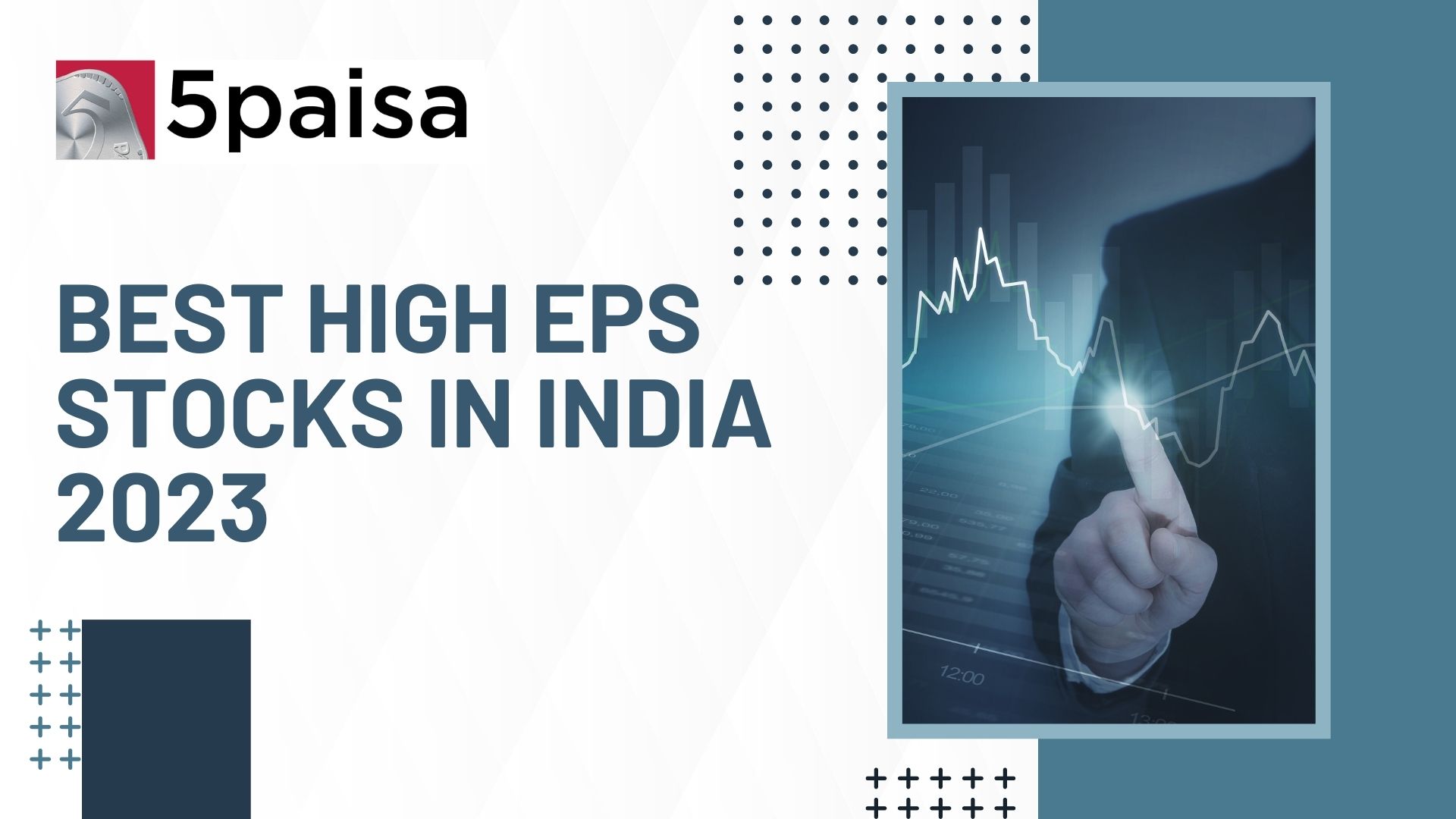 ---

As the Indian economy continues to grow and expand, investors are on the lookout for stocks that are high performing and with a strong earning potential. Are you one of these investors? Then look no further than the EPS stocks. Many companies with high Earnings Per Share (EPS) poised for growth and profitability roll out high EPS stocks. These stocks have a high potential and profitability for investors. Read on to find out everything there is to know about the best high EPS stocks. 
Best High EPS stocks in India in 2023 
Listed below are the best high EPS stocks to buy in 2023 India: 
❖    Shree Cement Ltd. 
❖    Page Industries Ltd. 
❖    Bajaj Holdings and Investment Ltd. 
❖    Ultratech Cement Ltd. 
❖    Nestle India Ltd. 
❖    Bajaj Auto Ltd.
❖    Hindustan Aeronautics Ltd. 
❖    Larsen & Toubro Infotech Ltd
❖    Dr. Reddy's Laboratories Ltd
❖    Maruti Suzuki India Ltd
What is EPS in the Share Market?
EPS, or Earnings Per Sharev, is an important financial indicator of a company that is used to determine the profitability of the organization. The EPS is an important parameter used by investors to evaluate a company's financial health and determine its stock value. 
EPS, which stands for earnings per share, is determined by dividing a company's net profit by the number of outstanding shares. Certain investors may prefer to invest in high EPS stocks in order to reduce the overall volatility of their investment portfolio.
To make a decision for the best high EPS stocks to buy, you must be aware of what is a good EPS. Read on to learn more. 
What is a Good EPS? 
After understanding what an EPS is, it is necessary to evaluate the meaning of what a good EPS entails. The deciding factor for a good EPS is largely dependent on the organization and the expectations of the market. In simple terms, the higher the EPS, the more will be the profitability. As a rule of thumb, a company with an EPS that is consistently increasing over time is considered to be performing well.
Moreover, it is necessary to keep in mind that a good EPS relies on the earnings and expenses of the organization. In simpler words, factors like the company's revenue growth, operating margins, return on equity (ROE), and debt levels, among others, determine whether the EPS is good or not. Additionally, it's crucial to compare a company's EPS with its competitors and industry average to assess its relative performance.
High EPS Penny Stocks 
Listed below are the high EPS penny stocks:
❖    Timescan Logistics India Ltd 
❖    SPV Global Trading Ltd
❖    RICHA INFOSYSTEMS LIMITED
❖    Hindustan Housing Company Ltd
❖    Sobhaygya Mercantile Ltd
❖    Brandbucket Media & Technology Ltd
❖    Ekennis Software Service Ltd
❖    Elcid Investments Ltd
Stocks With Low PE And High EPS 
While investing in the stocks of a company, fundamental ratios are the key metrics that are crucial to take into consideration. This is due to the fact that it helps you determine whether the stock will be profitable in the long run or not. Among these key metrics, two of the most important ones are PE and EPS. Investors use the PE ratio to determine whether the price of the stock is less or more. The price to Earnings or PE ratio provides an indication of whether the stock is cheap or expensive in the market. 
Every investor strives for a unique combination in today's market. In this case, the combination is of a low PE and best high EPS stock. Some of the stocks under this combination are: 
❖    SPV Global Trading Ltd. 
❖    Aurum Proptech Ltd. 
❖    Hindustan housing company Ltd. 
❖    Global Offshore Services Ltd. 
❖    Gold Rock Investments Ltd. 
To determine and reap the benefits of the combination of low PE and the best high EPS stocks 2023 , there are certain factors that you as an investor should keep in mind. Some of these factors are: 
❖ Use a stock screener: You can use a stock screening tool or website to filter stocks based on various criteria, including PE and EPS ratios. Examples of stock screeners include Yahoo Finance, Google Finance, and Finviz.
❖ Set your criteria: Set the P/E ratio filter to a low value, such as 10 or below, and the EPS ratio filter to a high value, such as 2 or above. You can also set additional filters such as market capitalization, industry, and dividend yield to determine the high EPS stocks 2023. 
❖ Analyze the results: Once you have a list of top high EPS stocks that meet your criteria, review each stock's financial statements, including income statements, balance sheets, and cash flow statements. Look for trends in revenue growth, profit margins, and cash flow, as well as any potential risks or concerns.
Conclusion
In conclusion, for an investor in search of a steady source of income, EPS can help them determine the growth prospects of the company. Being a crucial and prominent tool, EPS should not be looked over. As a matter of fact, it should be used with caution and the result should be compared with other companies so as to roll out the best investment option. It is highly necessary to evaluate the risks and stay on top of industry trends to make smart and informed decisions pertaining to the best high EPS stocks to buy.

FAQ

1.    Is a high EPS stock ratio good?
An EPS ratio determines the profitability and value of the company. Simply said, the higher the EPS, the better the profitability of the company. Therefore, yes, a high EPS ratio is good. 
2.    Should I buy a stock with negative EPS?
In some cases, even if the company has a negative EPS ratio, meaning it is losing its profitability, it does not mean that the stock is not worth it. Therefore, you can buy a stock with negative EPS, but only after evaluating all the aspects and risks. 
3.    What's more important, EPS or revenue?
Both the metrics, Revenue, and EPS are crucial aspects of a company. Where revenue determines the total amount of money a company earns from its operations, EPS measures the profitability of the company. When comparing both components, EPS is more important as it measures the growth prospects of the business. 
4.    What is EPS TTM?
EPS, which stands for Earnings Per Share is followed by TTM, meaning Trailing Twelve Months. Combined together EPS TTM means the overall profits or earnings of the company in the span of the last 12 months. 
 
Start Investing in 5 mins*
Rs. 20 Flat Per Order | 0% Brokerage
Disclaimer
Investment/Trading in securities Market is subject to market risk, past performance is not a guarantee of future performance. The risk of loss in trading and investment in Securities markets including Equites and Derivatives can be substantial.
Open Free Demat Account
Account belongs to
By proceeding, you agree to the T&C.