Delhivery: Should you get an express delivery of its IPO?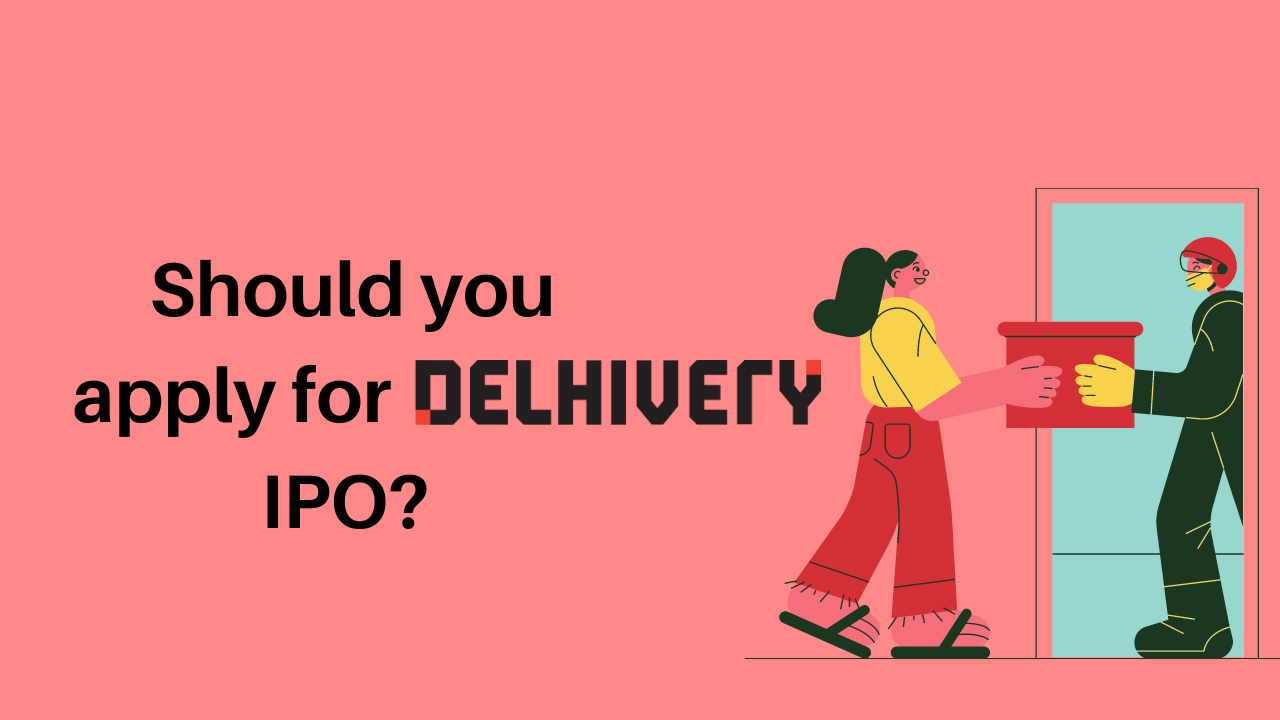 ---


The journey of your favorite apparel from the mobile screen to your hands, is what Delhivery is all about?
On the surface, the business of Delhivery seems quite simple.
Collect the parcel, transport and deliver! But just think about it, they have to estimate the demand of the products from their clients ( Myntra, Flipkart ), arrange for the transport for the destination, Also, they have to manage the cash payments, return orders. Further, if the company is shipping a parcel through a truck, it should contain the minimum number of parcels that would at least cover its transportation costs. So on the face of it, the business looks quite simple, but when you peel the layers, you see how complicated its business is. But worry not, we are here to tell you everything about Delhivery.

Unboxing its business!
Broadly, Logistics consists of three major segments:
Warehousing: At warehouses, the company stores and sorts the orders to be delivered.
Transportation: Generally, logistics companies own their transportation fleet or partner with other companies
Technology: To bind everything together, logistics leverage technology for smooth operations.
Delhivery is India's largest fully integrated logistics company. It provides logistics solutions to 3rd party companies. It services 17,000+ pin codes in India, which 88% of the total pin codes, 22,000+ clients,  As per a report by Red seer, it is India's fastest growing logistics company and 20 out of 100 e-commerce orders in India are delivered through Delhivery!
What makes Delhivery special?
Point to Point Distribution model v/s Traditional Hub and Spoke model: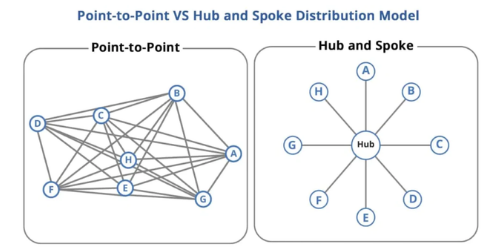 Traditionally logistics companies operate on a hub and spoke model, where deliveries are sent to central distribution centers, from their they are sent to sorting hubs after which they are sent to local distribution centers where further sorting happens.
Now this model works well, but is time consuming and the delivery often happens in a week or so but Delhivery operates on a mesh network model, where each facility in this model acts as its own hub and sorting facility. This allows Delhivery to pick up packages from anywhere and directly send it to the nearest sorting facility which further processes it directly to the facility closest to delivery destination.
This model is fast and with a lot of help from technology Delhivery is able to reduce the delivery time from a few weeks to a one or two days.


Source: RHP

Also, the company leverages its technology, as it has automated sorting facilities, through which the orders are sorted and delivered quickly to the customers.
Technology + Logistics = Match Made in heaven!
What makes Delhivery the fastest growing logistics company is its technology. While it may seem like it is a logistics company, it is more of an IT company as it has built more than 80 applications that helps it in delivering the products seamlessly across the country. It has invested heavily in building the technology to manage its operations.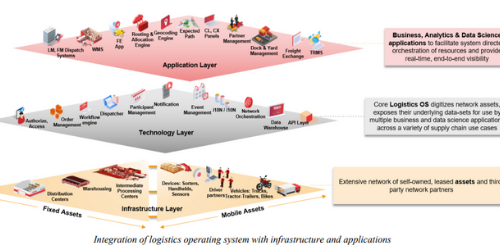 Source: RHP

An example of how powerful its tech game During the pandemic, when the whole nation went into the lockdown and selected cities were open for operations. 
Delhivery by leveraging its 'Logistics OS' was able to selectively activate 8300 pin codes for essential delivery and re-establish operations overnight simply by looking at unstructured data (announcements by local, state and national authorities).
Technology and Data combined together is the most powerful tool that a company can have. Delhivery has the data of millions of customers and its Machine learning algorithm uses data points to predict and assist the team. 
Amazon used the same machine learning to become the fastest logistics company in the world!
In fact, now Delhivery wants to operate as a SaaS platform, under which it would  externalize its operating system and help other logistic companies, enterprises, developer partners and our customers, in India and globally, to build their own applications on top of our underlying operating system.
If this is successful, this could contribute meaningfully to the company's topline!
Why own it, when you can lease it?
Logistics is an asset heavy business, you require a delivery fleet, Warehouses, Delivery centers, thousands of employees even before you make a penny due to which the companies have to make a lot of capital expenditures but Delhivery leases most of its infrastructure requirements, and relies mostly on its partners for its delivery fleet. 
The company takes advantage of the small players in the industry, it sources its delivery fleet through its application Orion, which helps it match demand with shippers and truckload facilities available.
Another moat of Delhivery is its partnership which the global firms like Fedex and Aramex, under which Any packages coming through the FedEx or Aramex networks to India will be delivered via Delhivery through its domestic logistics set up. Similarly any packages originating out of India to International destinations on Delhivery network will be serviced by FedEx and Aramex.
Some key risks
70% of its revenue in FY21 or 2,550cr out of 3,635cr came from express shipment of deliveries for other eCommerce websites.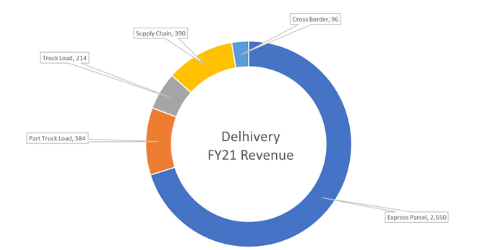 The rest 30% of revenue is divided between Part Truck Load (11%), Supply Chain Services (11%), Full Truck Load (6%) and Cross Border Delivery Services (3%).
This clearly means that the business and growth of Delhivery is highly dependent on the growth of e-commerce sites in India, Also these e-commerce sites have their own delivery networks too, which means they only use the services of the company, when they aren't able to cater to deliveries themselves.
This concentration could be a risk as when the e-commerce companies expand their captive capabilities, the business of Delhivery would be impacted a lot.



Currently the share of captive players is 59% and the share of 3rd party providers is 41%.
High revenue concentration: Although the company boasts of 21,000+ customers, around 45% of its revenue comes from the top 5 customers, which is probably Flipkart, Myntra etc.
So, if these players expand their capacities, it would affect the business a lot. The company though is trying to reduce its dependence on them as it is now focusing on increasing its D2C business. So, these days small retailers and vendors are trying to sell products through social media platforms and they are using the services of Delhivery, this segment is growing at a fast pace and Delhivery plans to increase its share from the D2C space.
Financials
Delhivery like most start ups is a loss making entity, though it is growing its revenue at a high rate. In the last one year, its revenue has grown by 75%, which is a huge number.
Particulars

9 months ended 

31se Dec 2021

9 months ended

31st Dec 2020

FY 20-21
FY 19-20
FY 18-19

Revenue

    4911.41
    2806.53
  3838.29
  2988.63
  1694.87

Revenue growth

     75%
 
  28.43%
   76.33%
 

Net Profit

   -891.14
   -297.49
  -415.74
   -268.93
  -1783
(Figures are in Cr)
Although its losses have been mounting, In 9 months ended 31st Dec 2021, the company had a net loss of 891 crores. Speaking of debt, its total debt as of FY 2021 is around 370 crores.
Conclusion
Delhivery is a high growth company in a fragmented industry, which has a huge potential to grow, its ability to manage the costs, and improve the unit economics would define how it performs in the future.
Start Investing in 5 mins*
Rs. 20 Flat Per Order | 0% Brokerage
Open Free Demat Account
Account belongs to
By proceeding, you agree to the T&C.