What Traders and Investors Expect from this Union Budget 2022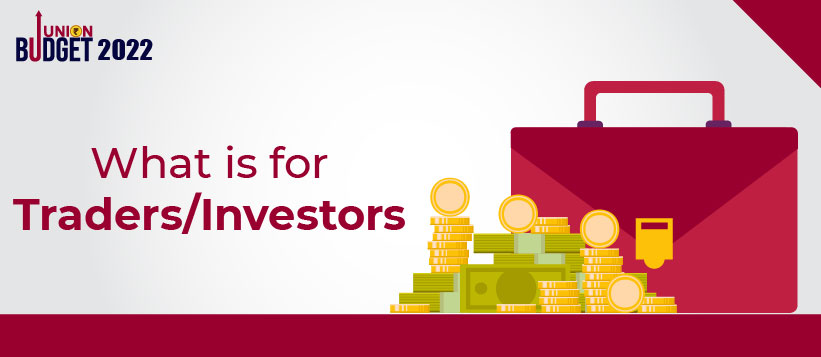 ---

One of the segments of the stock market that closely tracks the Union Budget is the capital markets segment. The movements of the Nifty and the Sensex are closely tracked around the Budget time to assess the impact of the Union Budget. As a result, budget expectations of the capital markets matter a lot. Let us look at some of the key expectations that traders have and investors have from the Union Budget.
Key expectations of traders and investors from Budget 2022

Here is what traders and investors would expect from the Union Budget

1) For a long time, a major demand of traders and investors has been cutting the long-term capital gains tax on equities to zero. This is more so after LTCG was introduced in 2018 at 10% on equities above Rs.1 lakh. This is over and above the STT or securities transaction tax.

This makes it too expensive in terms of equity trading costs. Also, for long term financial planning, LTCG can be a huge cost as it applies to equity funds also and the 10% rate is flat, without any indexation benefit.
2) The investors, in particular would be keen to have the dividend tax, either reduced or scrapped in toto. Effective 2019, when dividend distribution tax or DDT was scrapped, the dividends are being taxed at the peak rate.

Now, this is double taxation as dividends are already a post-tax appropriation. Markets would be happy if the dividend tax is reduced to 10%. Reduction of dividend tax and scrapping of LTCG tax is more practical than scrapping STT since the latter generates over $2 billion each year.
3) If you want the markets to be robust, put more money in the hands of people. How can this be achieved? One way is to cut GST on items of mass consumption.

More disposable income can also be achieved by reducing personal taxes or offering higher exemptions. A plan to control inflation would be a big boost to the markets.
4) Historically, foreign institutional investors have preferred disciplined economic management where fiscal deficit does not spiral out of control. Fiscal deficit was 9.4% in FY21, estimated at 6.8% in FY22 and possibly 6.5% in FY23.

Agreed that the COVID has put pressure on the fiscal deficit. However, the foreign investors do expect a clear time-table to bring fiscal deficit back to 3.5% levels. 
5) A big boost to sectors that are valuation friendly will be a major thrust for the traders and the investors. It has been observed that generally the valuations are relatively more favourable in futuristic business segments like green energy, digital shift, electrical vehicles etc.

All that the government needs to do is to ensure incentives that would encourage these specific sectors. They are the one most likely to create value for shareholders in the coming years and that is what the Union Budget should focus on.
6) For the markets to provide opportunities to the traders and investors, the economy must revive in a more genuine and substantive manner. For that to happen, the worse impacted contact-intensive sectors have to get a boost. Yes, we are referring to the 4T sectors or what is also known as trade, transport, travel and tourism (4T).

If Budget 2022 can structure a special package for the 4T sectors, there can be a multiplier effect. These 4T sectors are not only job-intensive sectors but also have strong externalities for economic growth. The time is ripe for a full-fledged 4T action plan and if the government dedicates a special package for these 4T sectors then the confidence of the markets would automatically get a leg-up.
7) Now, the Budget 2022 must look at a total focus on the start-up and the IPO ecosystem. Remember, the relationship between the two is getting more and more intense in India. For example, Start-ups plus robust IPO markets can drive capital market growth. In the last couple of years, India saw the emergence of several Unicorns and Decacorns.

These are companies with valuations of $1 billion and $10 billion respectively. The budget needs to give them a clear and credible pathway to monetize their investments in a proper manner. For Indian start-ups to emerge as value creators, they need innovative structures like SPACs and the Budget 2022 can make  start.

What traders and investors expect from Budget 2022 is a combination of an infrastructure thrust, fiscal prudence, more disposable income, a favourable tax system. Many of these may run counter to each other, but that is where the challenge of Budget 2022 lies.
Start Investing in 5 mins*
Rs. 20 Flat Per Order | 0% Brokerage
Open Free Demat Account
Account belongs to
By proceeding, you agree to the T&C.