IPO Subscription Details
Open Date

27 Jan

Close Date

01 Feb

Lot Size

65

IPO Size

₹ 3,600 Cr

IPO Price Range

₹ 218 - ₹230

Min Investment

₹ 14,170

Listing Exchange

NSE, BSE

Basis of Allotment

03 Feb

Refunds

04 Feb

Credit to Demat Account

07 Feb

Listing Date

08 Feb
Adani Wilmar Ltd IPO Subscription Status
|   | QIB | NII | Retail | Employee Reservation | Parent Shareholder Reservation | TOTAL |
| --- | --- | --- | --- | --- | --- | --- |
| Day 1 | 0.30x | 0.54x | 0.96x | 0.05x | 0.10x | 0.57x |
| Day 2 | 0.39x | 0.88x | 1.85x | 0.18x | 0.85x | 1.13x |
| Day 3 | 5.73x | 56.30x | 3.92x | 0.51x | 33.33x | 17.37x |
IPO Synopsis
IPO Synopsis 
The 50:50 joint venture company between the Adani Group and Wimar Group, Adani Wilmar received SEBI's approval for its Rs.3,600 crore IPO. The draft red herring prospectus was filed on August 2, 2021. 
The book running lead managers to the this anticipated issue are ICICI Securities, HDFC Bank Ltd and BNP Paribas. The promoters are Adani Enterprises Ltd, Adani Commodities and Lence Pte Ltd. 
Objectives of the issue
1. Rs.1,170 crore is to be used for the repayment and prepayment of debt
2. Rs.500 core is to be used to fund investments and new acquisitions
3. Rs.1,900 crore is to be set aside for the funding of capital expenditure for expansion of the current manufacturing facilities and developing new ones
About Adani Wilmar Ltd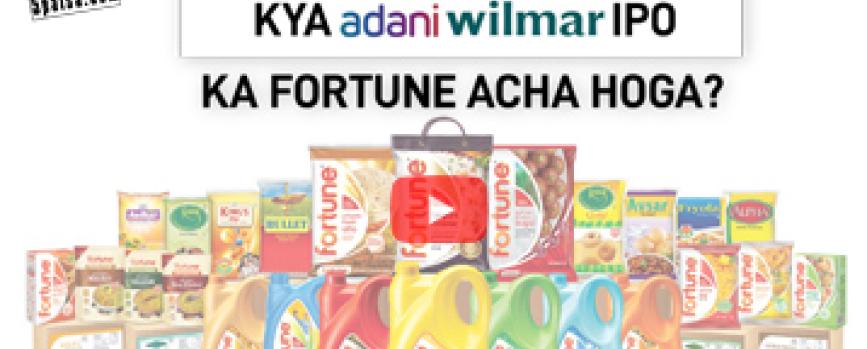 Adani Wilmar, a joint venture between the Adani Group and the Wilmar Group in 1999, is an FMCG company that offers a substantial amount of kitchen essentials that are required by an Indian household and the company also supplies industry essentials like castor oil, oleochemicals and de-oiled cakes.
The company has a product portfolio which is categorized into 3 parts- edible oil, FMCG and packaged foods and industry essentials. Adani Wilmar entered the food products market in FY13 and now are one of the fastest growing companies in the sector.
Also, Fortune, the flagship brand of Adani Wilmar, is the largest selling edible oil brand in the country with a market share of 18.3%, as of 31 March,2021. As of March 31,2020, the company was the country's largest importer of crude edible oil. 
The company has 10 crushing units and 18 refineries and these are located across 10 states in the country. The company's 5,566 distributors are spread across 28 states states and 8 union territories. They cater to more than 1.6 million retail outlets.
In 2021, packaged wheat flour and basmati rice under the Fortune brand name accounted for 3.4% and 6.6% of the market share. This makes them second and third in India, respectively, in terms of volume. The revenue generated by soaps witnessed a rise of 175.60% YoY from Rs.15.96 crore in FY20 to Rs.44.01 crore in FY21.
Adani Wilmar is also one of the largest manufacturers of basic oleochemical in India, in terms of revenue. They also have the largest market share of glycerine and stearic acid standing at 23% and 32% respectively.
You can also view our Exclusive Adani Wilmar IPO Interview on our Youtube Channel.
Profit and Loss
Balance Sheet
| Particulars (in Rs. Crores) | FY21 | FY20 | FY19 |
| --- | --- | --- | --- |
| Revenue | 37,090.42 | 29,657.03 | 28,797.45 |
| EBITDA | 1,430.55 | 1,419.47 | 1,253.45 |
| PAT | 727.64 | 460.87 | 375.52 |
| Particulars (in Rs. Crores) | FY21 | FY20 | FY19 |
| --- | --- | --- | --- |
| Total Assets | 13,326.64 | 11,785.91 | 11,602.87 |
| Share Capital | 114.29 | 114.29 | 114.29 |
| Total Borrowings | 605.35 | 1,014.82 | 776.22 |
Peer Comparison
| Company | Revenue(In Rs cr) | EBITDA(In Rs cr) |
| --- | --- | --- |
| HUL | 3,878.5 | 1,008.5 |
| Dabur | 862.3 | 209.8 |
| ITC | 4,680.7 | 2,067.6 |
| Britannia | 1,098.7 | 212.5 |
| Godrej | 547.4 | 153.8 |
| Adani Wilmar | 2,976.7 | 141.9 |
IPO Key Points
Strengths

1. The company has a well diversified product portfolio with many products acquiring the most or second most market share. All the products in totality have captured a large share of kitchen spends of the country
2. The company has a pan-India presence with a 33% growth in the number of distributors, from FY19 to FY21. All the distributors have a total of 5,150 salesmen going shop-to-shop in order to service retail outlets
3. Being a joint venture of the Adani Group and the Wilmar Group, the company has a strong parentage along with a very skillful and experienced senior management
4. The company has a strong manufacturing capacity


Risks

1. The edible oil and food industry is very sensitive to the weather conditions such as floods, droughts and natural disaster
2. The raw material is supplied by third parties and the company does not have any long term contracts with the suppliers. So any disruption in supply will adversely affect the financials of the company
3. Since Adani Wilmar offers a wide range of products, the company needs to be able to manage the diversified operations efficiently


Key Strategies

1. The company wants to focus more on increasing brand awareness. Consequently, the advertising expense of the company rose from Rs.135.67 crore in FY19 to Rs.156.37 crore in FY21, accounting for 0.42% of the revenue from operations
2. They have a line of potential new products ready, in order to capture new consumer trends. These products include noodles and pasta, biryani rice kit, masala oats, dalia, honey and instant dry mixes for dosa, idli, poha and khaman
3. They intend on empowering kirana shops with "Fortune Business", a recently launched mobile app which provides business access to a wide variety of products in one place. Distributors of the products could also potentially earn cars, overseas trips and motorcycles as rewards

How to apply for IPO?
Login to your 5paisa account and select the issue in the
current IPO section

Enter the number of lots and price at which you wish to
apply for

Enter your UPI ID and click on submit. With this, your
bid will be placed with the exchange

You will receive a mandate notification to block funds in
your UPI app

Approve the mandate request on your UPI and funds
will be blocked
Open account in 5 minutes
Be a part of the 5paisa community now with 10 million mobile app users
There is some issue, try later
Please keep below documents handy:
 PAN Card
 Aadhar Card
 Bank Account Number
IPO Related Articles
Adani Wilmar IPO - 7 Things to Know
Adani Wilmar Ltd, has finally announced the dates for the proposed IPO. The IPO of Rs.3,600 crore will be entirely by way of a fresh issue of shares. It will open for subscription on 27th January 2...Read More
5paisa Research Team
21 Jan 2022