Listing Details
Listing Exchange

BSE, NSE

Listing Date

06 Sep 2022

IPO Price Range

₹ 308

Listing Price

₹ 505

Listing Change

54.9 %

Last Traded Price

₹ 569.1

Current Change

74.6 %
IPO Subscription Details
Open Date

24 Aug

Close Date

26 Aug

Lot Size

46

IPO Size

₹ 562.10 Cr

IPO Price Range

₹ 308 - ₹326

Min Investment

₹ 14,168

Listing Exchange

BSE, NSE

Basis of Allotment

01 Sep

Refunds

02 Sep

Credit to Demat Account

05 Sep

Listing Date

06 Sep
DreamFolks Services Ltd IPO Subscription Status
|   | QIB | NII | Retail | TOTAL |
| --- | --- | --- | --- | --- |
| Day 1 (Aug 24) | 0.25x | 1.39x | 7.93x | 1.96x |
| Day 2 (Aug 25) | 0.60x | 8.40x | 19.10x | 6.09x |
| Day 3 (Aug 26) | 70.53x | 37.66x | 43.66x | 56.68x |
IPO Synopsis
DreamFolks Services Ltd IPO will open on 24th August 2022 and close on 26th August, 2022. Anchor investors will be allowed to bid for the IPO on August 23, the day ahead of the opening. The price band is fixed at ₹308 to ₹326 per share and lot size is set at 46 shares per lot. The tentative listing date is set for 6th September, 2022 and the tentative allotment date is set for 1st September, 2022.
The initial public offer (IPO) is entirely an offer-for-sale of up to 1.72 crores equity shares by promoters -- Liberatha Peter Kallat, Dinesh Nagpal, and Mukesh Yadav.
The public issue will constitute 33% of the post-offer paid-up equity share capital of the company.
Equirus Capital and Motilal Oswal Investment Advisors are the book running lead managers to the issue.
Objective of the Issue
The object of the issue is for:
1.    to carry out the Offer for Sale of up to 1.72 crores Equity Shares by the Selling Shareholders
2.    enhance visibility and brand image and provide liquidity to the shareholders
3.    also provide a public market for the equity shares in India
 
About DreamFolks Services Ltd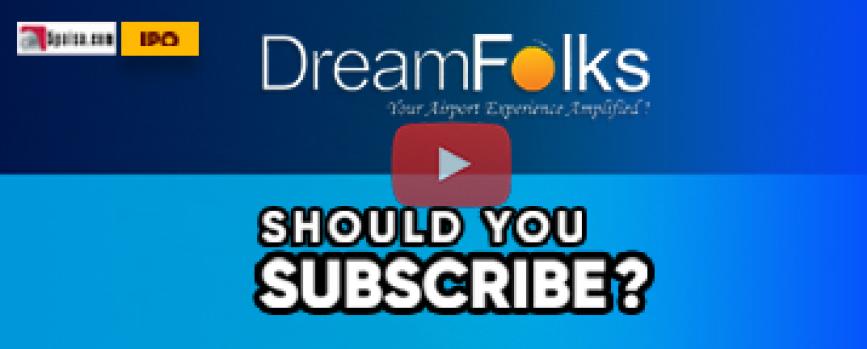 DreamFolks Services Ltd is a dominant player and India's largest airport service aggregator platform, facilitating an enhanced airport experience to passengers leveraging a technology driven. The company's asset-light business model integrates global card networks operating in India, credit card and debit card issuers and other corporate clients, including airline companies, with various airport lounge operators and other airport related service providers on a unified technology platform. It commands a market share of over 95% of all India issued credit card and debit card access to airport lounges in FY 2020 and also accounted for around 67% of the overall lounge access volume in India.
It facilitates consumers' access to the airport related services like lounges food & beverages, spa, meet & assist airport transfer, transit hotels or nap room access, and baggage transfer services.
It provides services to all the Card Networks operating in India including Visa, Mastercard, Diners/Discover and RuPay, and many of India's prominent Card Issuers including ICICI Bank Limited, Axis Bank Limited, Kotak Mahindra Bank Limited, HDFC Bank Limited (in respect of debit card lounge program) and SBI Cards and Payment Services Limited.
The company has 100% coverage of operational lounges in Indian airports lounges including in Bengaluru, Chennai, Mumbai and New Delhi operated by various entities including Premium Port Lounge Management Company Private Limited, Travel Food Services Private Limited and Saptagiri Restaurant Private Limited. 
It has tied up with various entities to facilitate access to around 69 restaurants / F&B outlets at 19 airports across India and also caters a special menu under its names as these outlets.
Consumers can avail of specified massage therapies such as head, neck and shoulder massage, and foot reflexology.
It also facilitates end-to-end assistance to the consumers at the airports and have also entered into an agreement with an international airport concierge service provider facilitating the 'meet and assist' services at various airports across countries such as Australia, Austria, Canada, Belgium, Brazil, France, Germany, United Kingdom, United Arab Emirates and United States of America.
 
Profit and Loss
Balance Sheet
| Particulars (in Rs. Crores) | FY21 | FY20 | FY19 |
| --- | --- | --- | --- |
| Revenue | 105.63 | 367.04 | 248.28 |
| EBITDA | 2.10 | 45.85 | 23.62 |
| PAT | -1.45 | 31.68 | 15.27 |
| Particulars (in Rs. Crores) | FY21 | FY20 | FY19 |
| --- | --- | --- | --- |
| Total Assets | 122.50 | 137.76 | 89.16 |
| Share Capital | 4.75 | 4.75 | 4.75 |
| Total Borrowings | 2.02 | 3.09 | 2.04 |
| Particulars (in Rs. Crores) | FY21 | FY20 | FY19 |
| --- | --- | --- | --- |
| Net cash generated from / (used in) operating activities | 6.25 | 22.44 | 17.57 |
| Net cash from / (used in) investing activities | -26.85 | 0.26 | -7.14 |
| Net cash flow from / (used in) financing activities | -1.53 | 0.70 | -5.48 |
| Net increase (decrease) in cash and cash equivalents | -22.13 | 23.40 | 4.95 |
Peer Comparison
There are no listed peer companies in India.
IPO Key Points
Strengths:

1. Dominant player in the airport lounge aggregation industry in India with strong tailwinds
2. Entrenched relationships with marquee Clients including global card network providers in India and prominent Indian and global banks and corporates
3. Strong business moat due to flywheel effect led by Clients and Operators network
4. Ability to capitalize on growing Consumer base with no associated costs of direct Consumer acquisition
5. Asset and human resource light business model with a strong track record of delivering consistent growth
6. Proprietary technology platform that ensures scalability

Risks:

1. Success is majorly dependent on our long-term relationship with card networks, card issuer financial institutions, airport lounge operators and other airport services providers
2. Operations are heavily dependent on the travel industry, in general, and on the air travel industry, in particular
3. It is heavily reliant on a few clients, and derives a significant part of the revenue from lounge access related services and from select clients
4. Potential saturation of Indian markets and requirement of expansion in global markets
5. Inability to compete effectively may lead to a lower market share or reduced operating margins
How to apply for IPO?
Login to your 5paisa account and select the issue in the
current IPO section

Enter the number of lots and price at which you wish to
apply for

Enter your UPI ID and click on submit. With this, your
bid will be placed with the exchange

You will receive a mandate notification to block funds in
your UPI app

Approve the mandate request on your UPI and funds
will be blocked
Open account in 5 minutes
Be a part of the 5paisa community now with 10 million mobile app users
There is some issue, try later
Please keep below documents handy:
 PAN Card
 Aadhar Card
 Bank Account Number
IPO Related Articles
Dreamfolks Services Ltd IPO - 7 things to know
Dreamfolks Services Ltd, an airport services aggregator platform, had filed its draft red herring prospectus (DRHP) on 21st January 2022 and it is waiting for SEBI to give its observations and appr...Read More
5paisa Research Team
20 Mar 2022